Carl Gentile
From KeyWiki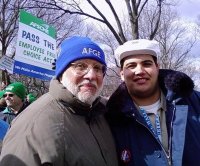 Carl Gentile is a Maryland activist.
WEB DuBois Clubs of America
In 2014, Carl Gentile, was listed a a friend on the DuBois Clubs Facebook page.[1]
Supported Communist Party call
In May 1992 the Communist Party USA newspaper Peoples Weekly World published a May Day supplement which included a call to "support our continuing struggle for justice and dignity"
Endorsers of the call included Carl Gentile, Baltimore, MD.[2]
Communist Party Labor Day call
The Communist Party USA paper People's Weekly World issued a statement to mark Labor Day 1995, entitled "We honor the dead and fight like hell for the living."
Of the more than 100 endorsers listed, almost all were identified members of the Communist Party USA.
Carl Gentile, Baltimore, was on the list.[3]
Anti Bush statement
In May 1995 the Communist Party USA newspaper Peoples Weekly World published a May Day supplement. Included was an anti Bush/Quayle statement signed by several Maryland supporters of the party, including Carl Gentile[4].
Communist Party tribute
In July 2007, the Communist Party USA paper Peoples World published a tribute "We salute Joyce Wheeler" to retiring Baltimore public school teacher and Communist Party member Joyce Wheeler. Carl Gentile signed the tribute page. Most of the more than 100 signatories were identified Party members.[5]
Cuba visit
On Friday, May 7, 2010, in Washington, DC, leaders of the U.S. trade union solidarity delegation "will speak about our experiences in Cuba when we visited Havana this past January. We will discuss our work with the Central de Trabajadores de Cuba (CTC), the country's national labor federation, during our visit to the sovereign, independent, and revolutionary nation of Cuba. We will also explain why the U.S. must end the ban on U.S. travel to Cuba and, more generally, must end the U.S. blockade against Cuba. We will be joined by a diplomatic representative of the Republic of Cuba at the Cuban Interests Section in Washington, DC, who will provide an update on U.S.-Cuba bilateral relations."
The Baltimore-Washington Area Peace Council, the chapter of the U.S. Peace Council (in turn a member of the World Peace Council) "right here in the national capital region of the U.S. will sponsor the event. Participants in this, our inaugural U.S. Peace Council Forum, include":
The "event will begin at 6:30 pm on Friday, May 7 at the Postal Workers Union hall at 6139 Chillum Place NE in Washington, DC 20011. The location, being in DC and therefore within the national capital Beltway, complies with the onerous travel restrictions imposed by the U.S. on diplomats from Cuba."[6]
USFSP Board of Directors
As of April, 2013, Carl Gentile served on the Board of the U.S. Friends of the Soviet People.
Labor Division Chair, USFSP Washington, D.C. – Baltimore ; AFL-CIO .[7]
References