Byron Dorgan
From KeyWiki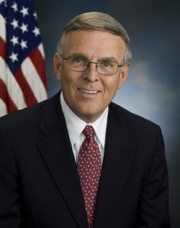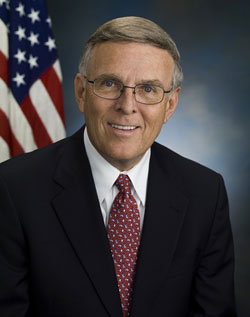 Byron Dorgan is a former Democratic member of the United States Senate, representing North Dakota. He was first elected to his seat in 1992. Prior to his career in the Senate, he was elected in 1980 and served six terms in the U.S. House of Representatives.
Dorgan was raised in Regent, North Dakota. At age 26, he became North Dakota's youngest-ever constitutional officer when he was appointed State Tax Commissioner.
Dorgan earned his Bachelor of Science degree from the University of North Dakota and his Master of Business Administration from the University of Denver.
Dorgan is married to Kim Dorgan and has four children: Scott, Shelly (deceased), Brendon, and Haley.
Dorgan is the author of theNew York Timesbestselling book Take This Job and Ship It: How Corporate Greed and Brain-Dead Politics Are Selling Out America, and a newly released book Reckless: How Debt, Deregulation, and Dark Money Nearly Bankrupted America (And How We Can Fix It!).[1]
"Knows about" DSOC"
Nancy Lieber, International Committee chair of the Democratic Socialist Organizing Committee, wrote a June 30, 1981 letter to Danielle Page, a staffer for Canadian Member of Parliament Ian Waddell.
Dear Danielle Page,
I'm sending along a list of Congresspeople and senators who know about us, democratic socialism, and -- perhaps Canada.
Only the first one is an open socialist, but the others are sympathetic in varying degrees.
The list was;
Hope this is of help and you recruit them to the cause!
In Solidarity,
Nancy Lieber
Chair, Intl. Committee
Supported by Council for a Livable World
The Council for a Livable World, founded in 1962 by long-time socialist activist and alleged Soviet agent, Leo Szilard, is a non-profit advocacy organization that seeks to "reduce the danger of nuclear weapons and increase national security", primarily through supporting progressive, congressional candidates who support their policies. The Council supported Byron Dorgan in his successful Senate run as candidate for North Dakota.[2]
DSA interest in campaign funders
Re-elected
Sen. Byron Dorgan was reelected[3]to a third term in the Senate in November 2004 with nearly 70 percent of the vote after serving two previous terms in the Senate and six terms in the U.S. House of Representatives. He has served in the Democratic Leadership since 1996, first as an assistant Democratic floor leader and currently as chairman of the Senate Democratic Party Policy Committee, a position that he has held since 1998.
As chairman of the Energy and Water Appropriations Subcommittee and a member of the Energy Committee, Dorgan has worked to bring about a new, comprehensive approach on this nation's energy policy. He has been a leader in the Senate in the fight to stop excessive oil speculation and the push for renewable energy, especially in his home state of North Dakota. In addition, Dorgan serves on the Commerce Committee and as chairman of the Committee on Indian Affairs, and he has devoted his career to fighting for the interests of rural America.
Fighting the Cuba travel ban
According to Boston Democratic Socialists of America's The Yankee Radical June 2009;[4]
This travel ban, enacted in 1962, is now under attack from a left-right coalition including the Chamber of Commerce, agribusiness, Human Rights Watch and civil liberties groups. The other side, comprised of cold war hard liners and much of the Cuban émigré community, is using the lack of free elections and democratic rights in Cuba as arguments for keeping the ban. Although as Sam Farber notes in his recent book on the Cuban revolution, the original justification for the travel ban and trade embargo had nothing to do with reasons like these—it was Castro's interference with the "freedom" of American corporations to dominate the Cuban economy.
According to Amnesty International, Cuba now has 58 political "prisoners of conscience", down from the thousands of years past. Amnesty nonetheless opposes the American trade embargo and travel ban, as do most Cubans, including Oswaldo Paya, the leading democratic oppositionist. And this year efforts to at least lift the travel ban might actually succeed, give[[n our new President and Democratic Congress. The Senate bill, S.428, is sponsored by Senator Byron Dorgan (D-ND) and Dick Lugar (R-IN); in the House, Cape Cod Congressman]] Bill Delahunt is a key advocate. Contact his office for more information..
Committees
Chairman of the Committee on Indian Affairs
Committee on Appropriations
Chairman of the Subcommittee on Energy and Water
Subcommittee on Agriculture and Rural Development
Subcommittee on Commerce, Justice and Science
Subcommittee on Defense
Subcommittee on Interior
Subcommittee on Transportation, Housing and Urban Development
Committee on Commerce, Science and Transportation
Chairman of the Subcommittee on Aviation Operations, Safety and Security
Subcommittee on Communications and Technology
Subcommittee on Competitiveness, Innovation and Export Promotion
Subcommittee on Consumer Protection, Product Safety and Insurance
Subcommittee on Surface Transportation and Merchant Marine Infrastructure, Safety and Security
Committee on Energy & Natural Resources
Subcommittee on Energy
Subcommittee on National Parks
Subcommittee on Water and Power[5]
External links
References