Buzz Davis
Jump to navigation
Jump to search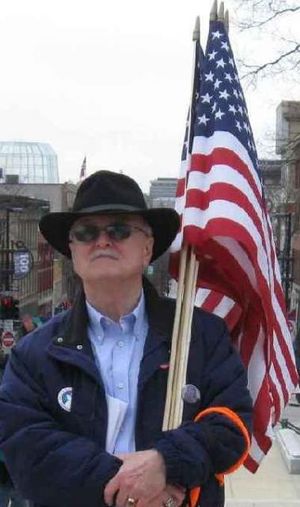 Template:TOCnestleft Leslie "Buzz" Davis is a former Dane County Wisconsin, Supervisor. he is married to Kay Davis.
Davis is a retired state government planner, union activist and former VISTA volunteer, Army officer and elected official.[1]
He is a member of Veterans for Peace.[2]
Iran Peace rally
On the first Saturday of 2020, local groups gathered at De Anza Park to rally against war, especially any escalation against Iran. The event was organized by Tucson Anti-War Committee and sponsored by Veterans for Peace Chapter 13 in conjunction with demonstrations across the United States. 30 Minutes featured excerpts from the event which began with Veterans for Peace member Buzz Davis who introduced the speakers and also spoke. Additional speakers included Jim Byrne, United States Representative Raul Grijalva's District Director Ruben Reyes, World Beyond War Board President Leah Bolger, Catherine Euler from Women for Survival, and Mary Somers from Women's International League for Peace and Freedom.
Organizerswere Tucson Anti-War Committee - Contact: Jim Byrne. Co-Sponsors: Veterans for Peace Chapter 13 Tucson Contacts: Cara Bissell 718-721-5527 or Buzz Davis.[3]
DSA member
In 2005 Buzz Davis was member of Madison Democratic Socialists of America.[4]
"Emergency Town Meeting"
Stoughton resident and Democratic Socialists of America member Buzz Davis issued a press release calling an "Emergency Town Meeting for All Public Workers, Concerned Citizens & Retirees" 6:15 p.m. Friday, March 4, 2011
Stoughton's River Bluff Middle School, 320 North St., Stoughton
"Discuss the budget crises facing our public schools, city and county the Norwegian way" – over coffee and Norwegian baked goods. Assailing Gov. Walker's budget proposals as "mean spirited,"
Davis has invited state Rep. Gary Hebl, state Sen. Mark Miller, local union leaders and members of the Stoughton school board and common council to speak.[5]
"Recall Scott Walker"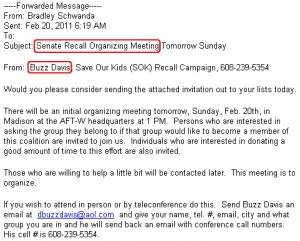 Buzz Davis was heavily involved in the "Recall Scott Walker" campaign.
References