Bruce Raynor
Jump to navigation
Jump to search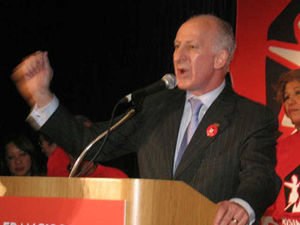 Template:TOCnestleft Bruce Raynor was elected General President of UNITE HERE, an SEIU affiliated union representing 150,000 workers in the U.S., Puerto Rico and Canada, in 2004 at the union's founding convention. He is known for working on numerous southern organizing drives, including the successful J.P. Stevens organizing campaign in the late 1970s and for combining aggressive rank and file organizing and alliances with civil rights and community leaders to build worker power.[1]
Raynor lives in Nyack, New York, with his wife Joan.[2]
Union career
Raynor has handled many key negotiations and has collective bargaining relationships with companies including Levi Strauss & Co., Liz Claiborne, T.J. Maxx/Marshall's, the Hartmarx Group, Xerox, Delaware North, Hilton, Starwood, and national food service and laundry industry employers such as Aramark, Compass and Sodexo. He has forged productive labor-management relationships in the apparel, textile, hotel, laundry and other industries which have contributed to improved wages and benefits and safer working conditions for working people across North America.
Raynor began his career in the education department of the former Textile Workers Union of America in 1973 and went on to organize tens of thousands of workers in the South while based in Atlanta, including nearly 1,000 Lichtenberg Curtain and Drapery workers in Georgia, 500 shirt workers in Crystal Springs, Mississippi, 3,200 Tultex workers in Martinsville, Virginia, and the giant Cannon Mills complex in Kannapolis, North Carolina. He eventually became the elected leader of 50,000 Southern clothing and textile workers.
Using a combination of aggressive rank and file organizing and alliances with civil rights and community leaders to build worker power, Raynor built the Amalgamated Clothing and Textile Workers Union's (ACTWU) organizing program throughout the United States and Canada. In 1993, he was elected Executive Vice President of ACTWU. At its founding convention in 1995, he was elected Executive Vice President of the Union of Needletrades, Industrial, and Textile Employees (UNITE). In 1999, he became UNITE's Secretary-Treasurer and went on to become President in 2001. He was then elected General President of UNITE HERE at the union's founding convention in July 2004. Upon Worker United's affiliation with SEIU in 2009, Raynor was elected as an International Executive Vice President of SEIU and currently serves on the SEIU Executive Committee and SEIU Executive Board.
Education
Raynor has been a member of Cornell University's Board of Trustees since 1988 and currently serves on the Advisory Board for the Cornell School of Industrial and Labor Relations. He graduated from Cornell's ILR School in 1972, and in 1999, he received the ILR School's Groat Award for Distinguished Alumni.[3]
SDS activist
Raynor was active in Students for a Democratic Society at Cornell university in the late 1960s.[4]
DSA solidarity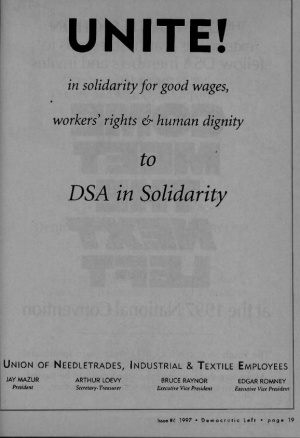 Boston DSA awards committee
Boston Democratic Socialists of America presents awards annually in memory of Eugene V. Debs, Norman Thomas, Julius Bernstein and Michael Harrington.
The Awards Committee in 2001 consisted of:
Doug Butler, Kathy Casavant, Jack Clark, Harris Gruman, Julie Johnson, Eleanor LeCain, Marcia Peters, Mike Prokosch, Bruce Raynor, Bob Ross, Rep.Frank I. Smizik.[5]
Chicago DSA connections
Chicago Democratic Socialists of America's 41st Annual Eugene V. Debs - Norman Thomas - Michael Harrington Dinner was held on May 7th 1999, at the Holiday Inn City Centre. The Program Book, 40 pages of congratulations to Awardees Jackie Kendall of the Midwest Academy and James Tribble of UNITE, was a record.
The presenter of the Award to James Tribble was UNITE's secretary - treasurer, Bruce Raynor.
Bruce Raynor established a great record of militant organizing in the South and is likely to be the next President of UNITE. Raynor spoke of Jim Tribble's leadership on the front lines in organizing and negotiating, and his contributions at the International Board meetings of UNITE by being a union man who spoke his mind.[6]
The 46th Annual Debs-Thomas-Harrington Dinner May 7, 2004 Holiday Inn Mart Plaza, Chicago.
Buce Raynor was an award presenter.
Eliseo Medina, Lynn Talbott and Congresswoman Jan Schakowsky were honorees.[7]
Socialist Debs award
Every year since the mid 1960s the Indiana based Eugene V. Debs Foundation holds Eugene Debs Award Banquet in Terre Haute, to honor an approved social or labor activist. The 2004 honoree, was Bruce Raynor.[8]
Economic Policy Institute
Bruce Raynor serves on the Board of Directors of the Economic Policy Institute.[9]
References
Template:Reflist Template:Eugene V. Debs Award recipients