Brian Higgins
From KeyWiki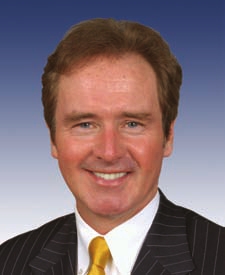 Brian Higgins currently serves as a Member of Congress representing Western New York. Higgins represents New York's 27th Congressional District, which includes a large portion of the city of Buffalo, most of eastern and southern suburban Erie County, and all of Chautauqua County.
Background
Brian Higgins is the son of the late Daniel Higgins, Sr., a bricklayer, union leader, and statewide official, and Mary Higgins, a retired schoolteacher. Brian, his wife Mary Jane and their two children, John and Maeve, reside in South Buffalo, New York.[1]
Education/career
Previously, Brian Higgins served as a member of the New York State Assembly from 1999 through 2003, and prior to that as a member of the Buffalo Common Council.
Higgins was an instructor in the History and Economics departments at Buffalo State College, where he previously earned his undergraduate degree in Political Science. He also earned an advanced degree in Public Policy and Administration from Harvard University's John F. Kennedy School of Government.[2]
Congress
For the 112th Congress, Higgins was appointed to the House Committee on Homeland Security and the House Committee on Foreign Affairs, where he aims to position the Western New York border community in the forefront of national discussions and help to advance the Peace Bridge project and improve our border operations to strengthen economic ties with our Canadian neighbors.
Brian's appointment to the Committee on Foreign Affairs is timely given the existing conflicts in the Middle East and ongoing relations with China whose currency policies deeply affect the American economy.
Brian served on the Ways & Means Committee from 2009 through 2010, stepping down this month due to a change in the ratio of committee seats. He will maintain his seniority on the committee and rejoin it when seats become available. He served on the Committee on Transportation and Infrastructure and the Committee Government & Oversight from 2005 through 2008.[3]
"Progressive Democrat"
Communist Party USA members Elena Mora and Gabe Falsetta wrote a report for the People's World, of November 19 2004 "Many positives in N.Y. elections," commenting on the gains made by "progressive" candidates.[4]
At press time, Democrat Brian Higgins appeared very close to winning the 27th Congressional District seat, which represents parts of Buffalo. The GOP has held the seat for 12 years. The vote tally was extremely close and continuing.
Higgins had the strong support of labor and the Working Families Party. The WFP also attracted 150,000 votes on its line for Sen. Charles Schumer, and about 120,000 for Kerry. War Resisters League leader David McReynolds ran against Schumer as a Green Party candidate and garnered 33,000 votes.
References