Blase Bonpane
From KeyWiki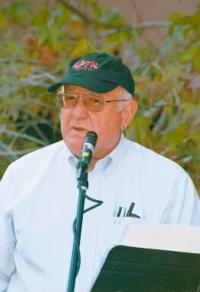 Blase Bonpane...
Tribute to Ben Dobbs
On Sunday, June 7, 1981, the Los Angeles Chapter of the New American Movement sponsored a Tribute to Ben Dobbs for "His lifelong commitment to socialism". The event was held at the Miramar-Sheraton Hotel, Santa Monica, California. Sponsors of the event included Blase Bonpane.[1]
Open Letter to the Colombian People, Press and Government, Aug. 1996
"Stop the Bloodshed in Uraba, Due Process for Jose Antonio Lopez, Nelson Campo and others, and an End to Faceless Justice and Political Repression".
We, the undersigned, are North Americans and others who are deeply disturbed by the human rights situation in Colombia.
Massacres, disappearances and torture happen continually in the anguished region of Uraba. We can not understand how paramilitary groups operate so freely in this militarized region where the Colombian army is present in massive numbers, and which does not perform its constitutional function of defending the civilian population. And we can not understand why the regional paramilitary leader is not apprehended and brought to justice for his crimes against humanity.
We call upon all armed parties -- paramilitary units, guerrillas, army, police, urban militias and commandos -- to immediately cease all attacks upon both the civilian population and upon each other. Justice, peace and a fruitful life is never found through murder, torture, kidnapping and intimidation.
Blase Bonpane signed the letter, from the Colombia Support Network .[2]
Socialists organize to "challenge for power" in Los Angeles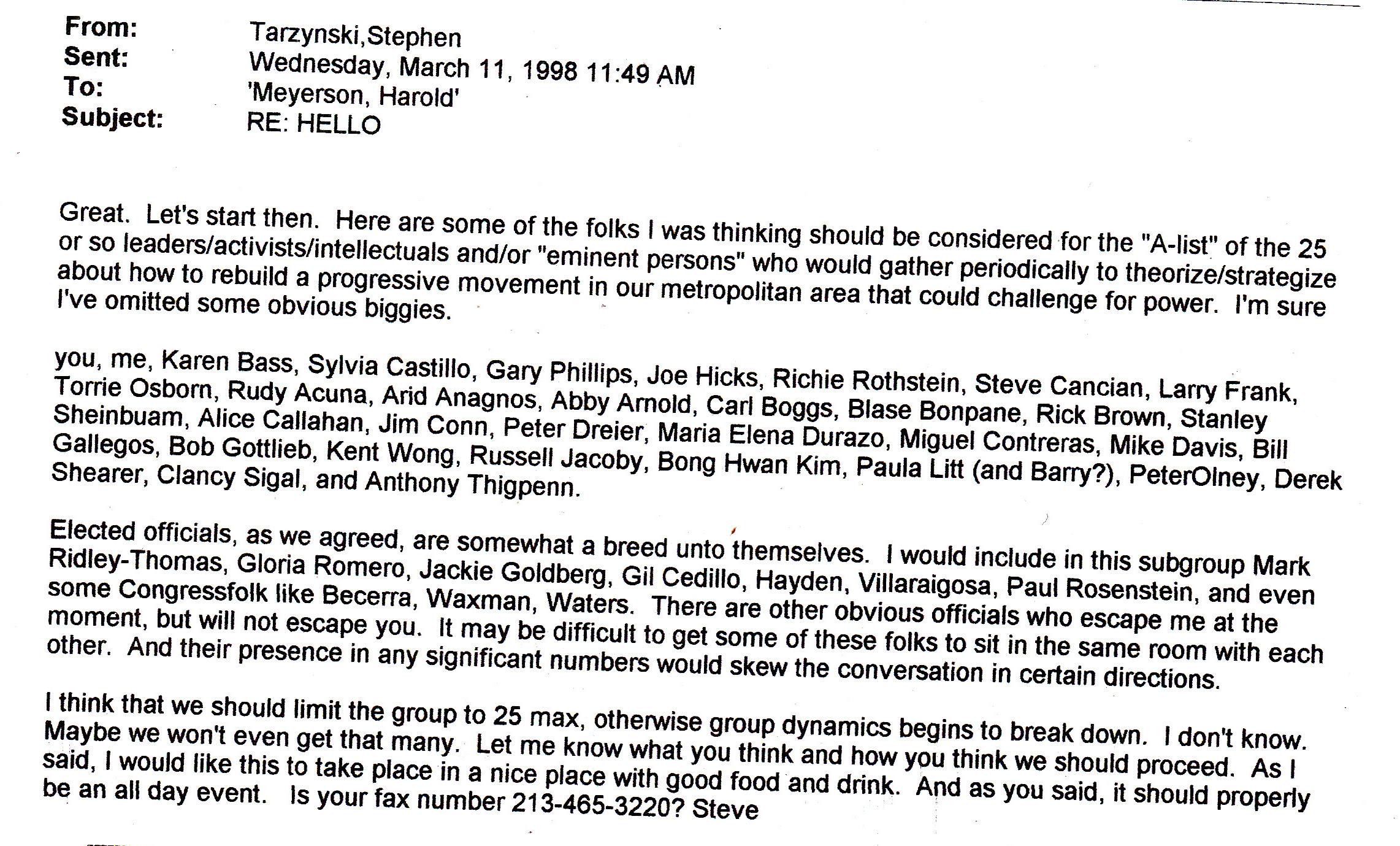 On March 11, 1998, Los Angeles Democratic Socialists of America leader Steve Tarzynski wrote an email to another Los Angeles DSA leader Harold Meyerson.
Tarzynski listed 25 people he thought should be on an "A-list" of "25 or so leaders/activists/intellectuals and/or "eminent persons" who would gather periodically to theorize/strategize about how to rebuild a progressive movement in our metropolitan area that could challenge for power."
Tarzynski listed himself, Harold Meyerson, Karen Bass, Sylvia Castillo, Gary Phillips, Joe Hicks, Richard Rothstein, Steve Cancian, Larry Frank, Torie Osborn, Rudy Acuna, Aris Anagnos, Abby Arnold, Carl Boggs, Blase Bonpane, Rick Brown, Stanley Sheinbaum, Alice Callahan, Jim Conn, Peter Dreier, Maria Elena Durazo, Miguel Contreras, Mike Davis, Bill Gallegos, Bob Gottlieb, Kent Wong, Russell Jacoby, Bong Hwan Kim, Paula Litt (and Barry Litt, with a question mark), Peter Olney, Derek Shearer, Clancy Sigal and Anthony Thigpenn.
Included in a suggested elected officials sub-group were Mark Ridley-Thomas, Gloria Romero, Jackie Goldberg, Gil Cedillo, Tom Hayden, Antonio Villaraigosa, Paul Rosenstein and Congressmen Xavier Becerra, Henry Waxman and Maxine Waters.
Tarzynski went on to write "I think we should limit the group to 25 max, otherwise group dynamics begins to break down....As i said, I would like this to take place in a nice place with good food and drink...it should properly be an all day event."
War Times
In January 2002, a group of San Francisco leftists, mainly involved with STORM or Committees of Correspondence, founded a national anti-Iraq War newspaper[3] War Times.
Endorsers of the project included Blase Bonpane, director, Office of the Americas.
Endorsed Marcy Winograd
In 2006 Blase Bonpane of the Office of the Americas was a Peace & Social Justice Community endorser of Marcy Winograd of the Los Angeles Progressive Democrats of America in her unsuccessful primary bid for the Democratic Party nomination 26th Congressional District in California[4]
Colombia Support Network
As of 2009, the Colombia Support Network Advisory Board consisted of ;[5]
References