Billy Wharton
Jump to navigation
Jump to search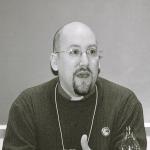 Template:TOCnestleft Billy Wharton is the former co-chair of the Socialist Party USA and the editor of The Socialist and the Socialist WebZine[1].
His articles have recently appeared in the Washington Post, Monthly Review Webzine, Dissident Voice, The Indypendent, Common Dreams and Links International Journal of Socialist Renewal. Billy Wharton lives in the Pelham Bay section of the Bronx.[2]
2011 YDS Winter Conference
On the weekend of March 18th-20th, 2011, the Young Democratic Socialists held their annual Winter outreach conference "Their Crisis, Our Pain: The Democratic Socialist Response to the Great Recession". Cornel West "will be the featured speaker on Saturday the 19th, and we will also host John Nichols, Bertha Lewis, Mark Engler, and Dan Cantor from the Working Families Party.
Other listed speakers included Komozi Woodard, Corey Walker, Fabricio Rodriguez, Christian Parenti, Stephanie Fairyington, Christine Kelly, Sheila Collins, Billy Wharton, Liz Shuler, Martin Weinstein, Michelle O'Brien, Skip Roberts, Joseph Schwartz.
Panels on race, the environment, organizing, and other topics will allow participants to learn from and communicate with fellow activists on some of the most important domestic and international issues. The event is perfect for both newcomers to Democratic Socialism/YDS, as well as activist veterans.
Add your name to the list here and you'll be notified when online registration goes live. Invite all your friends!
Location, Bayard Rustin High School 351 W 18th St New York, NY 10011.[3]
Socialist Party USA support for OWS
Members of the Socialist Party of New York City were arrested October 2, 2011, during a march over the Brooklyn Bridge as part of the ongoing Occupy Wall Street demonstration. Arrestees included Billy Wharton, co-chair of the Socialist Party USA, Lawrence Rockwood, chair of the Socialist Party of New York State, Kristin Schall, chair of the Socialist Party of New York City and SP-NYC members Nick Pelman and Nick Daka. The group faces misdemeanor charges for disorderly conduct and one felony charge for criminal riot. Court dates are set for mid-November.
The march and action on the Brooklyn Bridge were a part of the ongoing occupation of Downtown Manhattan by the activist group Occupy Wall Street. Socialist Party USA members have actively supported this occupation since its inception and will continue to collaborate with all those interested in challenging the power of the richest 1% and Wall Street.
"The media has claimed that the protesters have no demands", said Billy Wharton, co-chair Socialist Party USA. "Socialists have demands. We want a democratic society – we demand healthcare for all, the right to a good job and to live in a peaceful, non-militaristic world. That's what we were marching over the Brooklyn Bridge for."
The five arrested socialists join dozens of other Socialist Party USA members who have participated in direct actions since the economic crisis began in 2008. These actions have challenged anti-union legislation, have opposed budget cuts and have called for an end to war and occupation.[4]
Left Forum 2012
Party Building and Organizing on the Left
This is a round table dialogue with various parties on the Left. It is a discussion that will look at the rewards and challenges of building a party of the Left, areas of common experience and difference with other Leftists, and how future action may be structured to assist our party building efforts.
Chair: Stephon Boatwright
Speakers: Billy Wharton, Socialist Party USA, Peter Ikeler, Socialist Alternative, Libero Della Piana, Communist Party USA Michael Hirsch, Democratic Socialists of America, Larry Holmes, Workers World Party, Ahmed Shawki, International Socialist Organization, Juliet Ucelli, Freedom Road Socialist Organization.
References