Benjamin L. Cardin
From KeyWiki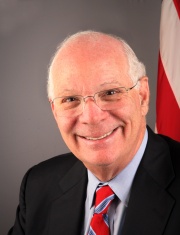 Benjamin L. Cardin is a Democratic member of the United States Senate, representing Maryland. He was elected to his position in 2006. Prior to his career in the Senate, Cardin was a representative in the House since 1987, representing Maryland's 3rd District.
Cardin served in the Maryland House of Delegates from 1967-1986 and he was Speaker from 1979-1986.
He graduated from the University of Maryland School of Law in 1967, the first in his class. He earned his Bachelor's of Arts degree in 1964 from the University of Pittsburgh.
Cardin is married to Myrna Edelman Cardin.
Cardin served as chairman of the Maryland Legal Services Corp. from 1988-1995. From 1988-1999, he served on the St. Mary's College Board of Trustees, and in 2002 he was appointed to St. Mary's Advisory Board, Center for Study of Democracy. He has been a Trustee of the Baltimore Council on Foreign Affairs since 1999, and in 2003 joined the Johns Hopkins University's Institute for Policy Studies' National Advisory Board. He served on the Goucher College Board of Trustees from 1999 to 2008. In 1991, he was appointed to the University of Maryland School of Law Board of Visitors, and in 1998, he was appointed to the UMBC President's Board of Visitors. In 2007, he was appointed to the U.S. Naval Academy's Board of Visitors.[1]
Working Families Legislative Conference
On Saturday, January 19, 2001, Progressive Maryland and the Campaign for America's Future co-sponsored an event — The Working Families Legislative Conference — designed to link local Maryland issues with a national progressive agenda. The conference will focus on key local and national issues including: Affordable Housing, Health Care, Living Wage, Public Financing of Campaigns, and Afterschool Programs.
The conference took place at Martin's Crosswinds, 7400 Greenway Center, Greenbelt, MD from 11:00 AM to 4:00 PM.
Speakers listed included Lieutenant Governor Kathleen Kennedy Townsend (likely), Congressman Ben Cardin, Congressman Elijah Cummings (likely), Robert Borosage, from the Campaign for America's Future, State Senator Chris Van Hollen, Delegate Mark Shriver, and Delegate John Hurson.
The Working Families Legislative Conference was part of a series of regionally based Next Agenda conferences, "representing a new kind of partnership between CAF and state-level progressive organizations — unity coalitions which are coming together around a progressive action agenda for their state and for the nation".
"We are proud to be helping to co-sponsor this remarkable conference," said CAF co-director, Roger Hickey. "Through our collaboration with state-level citizen groups, like Progressive Maryland, we are able to rally support for an economic recovery agenda that works for states and for the country. This mission was important before September 11. Now it is essential."
"We must organize at the grassroots, build power in localities and states, and create in theses 'laboratories of democracy' the formula for economic success in Washington, DC." said Sean Dobson, one of the leaders of Progressive Maryland.[2]
Supported by Council for a Livable World
The Council for a Livable World, founded in 1962 by long-time socialist activist and alleged Soviet agent, Leo Szilard, is a non-profit advocacy organization that seeks to "reduce the danger of nuclear weapons and increase national security", primarily through supporting progressive, congressional candidates who support their policies. The Council supported Benjamin L. Cardin in his successful Senate run as candidate for Maryland.[3]
Council for a Livable World, 50th Anniversary
On June 6, 2012, Council for a Livable World, along with its sister organizations Center for Arms Control and Non-Proliferation and Council for a Livable World's PeacePAC, celebrated the 50th Anniversary of their founding by Leo Szilard in 1962.
An evening celebration was held at the Newseum in Washington, D.C. Congressman Barney Frank acted as the Master of Ceremonies and, in the process, received a lifetime achievement award from former Rep. Tom Downey, a member of the Council's Board of Directors. The Robert F. Drinan Peace and Human Award was presented to former Representative and PeacePAC Chairman David Bonior and the late Edith Wilkie, a longtime advocate and leader for peace and justice.
Six sitting Senators joined CLW in an afternoon national security forum in the U.S. Capitol to speak on the issues Council has been working on for 50 years. Sen. Jeff Merkley (D-OR), Sen. Jack Reed (D-RI), Sen. John Kerry (D-MA), Sen. Tom Udall (D-NM), Sen. Carl Levin (D-MI) and Sen. Ben Cardin (D-MD) all spoke eloquently on these pressing issues.[4]
Council for a Livable World has a long and close relationship with each of the Senators. They have all been leading advocates in the Senate for sensible national security policies, such as reducing the dangers posed by weapons of mass destruction, reigning in the bloated defense budget, and bringing an end to the War in Afghanistan.
Senator Cardin discussed what he termed "big picture" concerns. He stated we need to conceive of national security spending as including much more than the military budget, such as investments in international development and diplomacy. However the budgets for development and diplomacy don't reflect their essential importance to national security. He argued that the US must exhibit stronger leadership in these areas. Senator Cardin also lamented the situation in Syria and Russia's role in aiding Assad. He noted that while he believes Assad must resign, there is no guarantee that his replacement will be better.[5]
Credit for New START treaty
According to the Council for a Livable World, in December 2010, After a battle that lasted many months, the Senate voted 71-26 to give its advice and consent to the New START Resolution of Ratification.
The effort to win the Senate's two-thirds majority was like riding a roller coaster, with optimism followed by pessimism followed by optimism and back and forth.
Ultimately, the vote was a remarkably bipartisan victory in an intensely hyper-partisan atmosphere. It is a victory for the consensus of former national security officials of both parties and both active duty and retired military.
Ratification of the treaty is only the beginning. The U.S. and Russia should take advantage of the momentum created by the approval of New START to pursue negotiations on reductions in all types of nuclear warheads, including non-deployed and non-strategic warheads, in a timely manner.
Lots of credit goes to Senators Kerry and Lugar (R-IN), who managed the treaty, other Senators who have been active for the treaty such as Casey (D-PA), Shaheen (D-NH), Cardin (D-MD), Franken (D-MN) and others, the Obama Administration who put together a terrific campaign (and I will not name everyone because there are too many to name) and a terrific effort by the arms control community.[6]
Netroots Nation
At the 2011 Netroots Nation conference the LIUNA sponsored a Fight Back for Good Jobs rally featuring LIUNA President Terry O'Sullivan, Van Jones, Sen. Ben Cardin, Rep. Keith Ellison, Rep. Tim Walz, Minneapolis Mayor R. T. Rybak, St. Paul Mayor Chris Coleman and other political, business and community leaders.[7]
Anti "speculator" bill
in April 2012 Ben Cardin joined a group of his Senate colleagues in sponsoring a bill, S. 2222, which "will give federal regulators immediate authority to invoke emergency powers to rein in speculators who are responsible for rapidly rising gasoline prices".
There is broad agreement among energy experts and economists that speculators are one of the causes for the rapidly rising price of gas. Domestic oil production has risen to its highest level in a decade, oil supplies are greater today than they were three years ago and demand for oil in the United States is lower today than it was in 1997. Yet gas prices continue to soar.
There is something wrong with this equation. There is no logical reason why gas prices should continue to rise if oil supplies are up and demand is down.
The American Trucking Association, Delta Airlines, the Petroleum Marketers Association of America, the Federal Reserve Bank of St. Louis, and other experts all say excessive oil speculation in the futures markets significantly increases crude oil and gasoline prices. A Feb. 27, 2012 article in Forbes Magazine cited a recent report by the investment bank Goldman Sachs pointing out that excessive oil speculation adds 56 cents to the price of a gallon of gas.
This "speculators" bill would set a 14-day deadline for the Commodity Futures Trading Commission (CFTC) to take emergency steps to stop excessive speculation by Wall Street traders in the crude oil, gasoline and other energy futures markets. Also co-sponsoring the measure were: U.S. Senators Bernie Sanders (I-VT), Richard Blumenthal (D-CT), Sherrod Brown (D-OH), Al Franken (D-MN), Amy Klobuchar (D-MN) and Bill Nelson (D-FL).[8]
Progressive Maryland endorsement
In 2012 Progressive Maryland endorsed U.S. Senator Ben Cardin for re-election, and also urges members to support four out of eight Democratic candidates for Congress:
Committees
Senate Committee on Environment and Public Works
Chairman of Subcommittee on Water and Wildlife
Subcommittee Transportation and Infrastructure
Subcommittee Clean Air and Nuclear Safety
Senate Committee on the Judiciary
Subcommittee of Terrorism and Homeland Security (Chairman)
Subcommittee of Administration Oversight and the Courts
Subcommittee on The Constitution
Subcommittee on Crime and Drugs
Senate Committee on Foreign Relations
Subcommittee on African Affairs
Subcommittee on International Development and Foreign Assitance, Economic Affairs, and International Environmental Protection
Subcommittee on Near Eastern and South and Central Asian Affairs
Subcommittee on Western Hemisphere, Peace Corps, and Global Narcotic Affairs
Senate Committee on the Budget
Senate Committee on Small Business and Entrepreneurship
Chairman of the Commission on Security and Cooperation in Europe (U.S. Helsinki Commission)[10]
External links
References