Barney Frank
From KeyWiki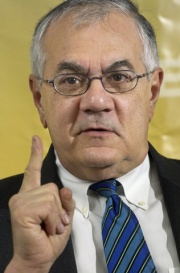 Barney Frank was, until the 2012 elections, a far left, openly homosexual Democratic member of the United States House of Representatives, representing the 4th district of Massachusetts.
Background
Since 1980, Barney Frank has represented the Fourth Congressional District of Massachusetts in the House of Representatives. In the 107th Congress, Congressman Frank serves on the Committee on Financial Services and the Committee on the Judiciary.
Frank graduated from Harvard College in 1962. He served as Chief Assistant to Mayor Kevin White of Boston for three years and Administrative Assistant to Congressman Michael J. Harrington for one year. In 1972 Congressman Frank was elected to the Massachusetts Legislature, where he served for eight years. During that time he also graduated from Harvard Law School and became a member of the Massachusetts Bar in 1979.
While serving in local and state government Congressman Frank taught part-time at the University of Massachusetts at Boston, Harvard's Kennedy School of Government, and Boston University. Frank has published numerous articles on politics and public affairs, and a book in 1992 titled Speaking Frankly, an essay on the role the Democratic Party should play in the 1990s. [1]
Frank won election to the Massachusetts House in 1972, on the unlikely coattails of Sen. George McGovern, the Democratic candidate for president that year. "I was one of the few politicians in America to benefit from McGovern's success," he joked for years. Frank ran behind McGovern in his own district — in the only state that McGovern carried that year.
When Frank first ran for the House in 1980, the contest against a conservative dentist and former member of the John Birch Society brought out some of his worst characteristics.
His campaign manager that year was Jim Segel, a former student of Frank's at Harvard who had been his colleague in the Massachusetts House. "Part of our job," Segel later told Frank's biographer, Stuart Weisberg, "was to keep Barney away from people. He was alienating everyone he came in contact with. . . . If he wasn't such a good friend, I would have walked out. You have to love Barney Frank to like him."
But he won, and won a second difficult race two years later when redistricting forced him to run against a popular Republican incumbent, Margaret Heckler. By then he was a national political figure, thanks to his clever quips and insights, both beloved of political reporters everywhere. When polled by news organizations, they chose him as the most promising freshman member in 1981.[2]
His sister Ann Lewis, is a political consultant.
National Student Congress
Reporter Robert G. Kaiser met Barney Frank when he was 21 years old, and I was 18, half a century ago. We were both delegates to a "long-forgotten event" called the National Student Congress. Frank was the delegate from Harvard who knew Robert's Rules of Order backward and forward, and who seemed conversant with all the big national issues of the day. [3]
Coming "out"
Frank first told some intimates that he wanted to come out of the closet in 1980, but they discouraged him from doing so, arguing that this would end his political career. When he told a wider circle that he was going to come out in 1987, many people (including me) were surprised. But he was determined, and the results were far better than he had feared. He loved to tell the story of how his mentor, Thomas P. "Tip" O'Neill, the speaker of the House, took the news. O'Neill was shattered, not because Frank was gay, but because "I thought you would be the first Jewish speaker.[4]
Frank alone weathered a hostile media, personal scandal and vicious attacks from his Republican colleagues. In 1995, former Texas GOP House Majority Leader Dick Armey was caught referring to Frank as "Barney Fag." His apology was grudging.
"I rule out that it was an innocent mispronunciation," responded Frank. "I turned to my own expert, my mother, who reports that in 59 years of marriage, no one ever introduced her as Elsie Fag."
Frank married his longtime partner, Jim Ready, in July 2012. He successfully worked to place marriage equality into the 2012 Democratic platform, which President Obama endorsed.[5]
Protecting James Patterson
When James Patterson was named Gay, Lesbian, Bisexual Program Manager at the Department of Agriculture in 1993, he immediately notified Frank's office of his appointment.[6]
It was a good thing I did, as Sen. Jesse Helms (R-N.C.) soon attacked me for using government re- sources to support "a homosexual agenda." Frank's staff gave me early warning of Helms' action and assured me I would be safe in my position.
Long term political consequences of the Hughes campaign
Opposing Ted Kennedy in the 1962 Massachusetts Democratic Primary was Edward McCormack, nephew of House Speaker John McCormack; Kennedy's Republican opponent was Yankee scion George Cabot Lodge; and on the left was Independent peace candidate Harvard Prof. H. Stuart Hughes, chair of the Committee for a Sane Nuclear Policy.
Jerome Grossman was Hughes' Campaign Manager and Chester Hartman was the organizer of the massive signature drive required to place Hughes on the ballot. According to Grossman;[7]
Hughes needed 72,000 signatures, a purposely prohibitive number in that era of McCarthyism and nobody in fact had tried to reach it since the law had first been passed.
In this talented field, Hughes polled 50,013 votes, 2.3% of the votes cast. However, we collected a startling 149,000 signatures in ten weeks for a "peace candidate." The Cuban Missile Crisis arrived in October just before the election. With the integrity that was his hallmark, Hughes went against the popular hysteria: he accused President Kennedy of acting over hastily in imposing the blockade of Cuba, of bypassing the United Nations, and unnecessarily stirring up an atmosphere of national emergency. His position cost Hughes thousands of votes.
In the process we built a town-by-town organization all over the state, a structure that remains in place today. A clear result has been the election over recent decades of so many progressive voices to the state's first-rate Congressional delegation, including Michael Harrington, Father Robert Drinan, Gerry Studds, Jim McGovern, Barney Frank, Ed Markey, John Tierney, Michael Capuano and John Kerry.
DSA connections
Barney Frank has long term ties to Democratic Socialists of America and its preceding organization Democratic Socialist Organizing Committee.
"Knows about" DSOC"
Nancy Lieber, International Committee chair of the Democratic Socialist Organizing Committee, wrote a June 30, 1981 letter to Danielle Page, a staffer for Canadian Member of Parliament Ian Waddell.
Dear Danielle Page,
I'm sending along a list of Congresspeople and senators who know about us, democratic socialism, and -- perhaps Canada.
Only the first one is an open socialist, but the others are sympathetic in varying degrees.
The list was;
Hope this is of help and you recruit them to the cause!
In Solidarity,
Nancy Lieber
Chair, Intl. Committee
DSA interest in campaign funders
DSA 1982 campaign support
In June 1982 Boston Democratic Socialists of America chapter members were working on the campaigns of State representatives Tom Gallagher and John Businger (both DSA members), State Senator George Bachrach and representative Barney Frank.[8]
American Solidarity Movement
The American Solidarity Movement was announced in early 1984 by Democratic Socialists of America, as a vehicle to support American labor unions it considered under attack, or on strike and in need of support.
Members of the Initiating Committee for an American Solidarity Movement were: Michael Harrington (convenor), Stanley Aronowitz, Balfour Brickner, Harry Britt, Harvey Cox, Rep. Ron Dellums, Bogdan Denitch, Barbara Ehrenreich, Cynthia Epstein, Jules Feiffer, Rep. Barney Frank, Msgr. George Higgins, Irving Howe, Eleanor Holmes Norton, Frances Fox Piven, Jose Rivera, Ray Rogers, Gloria Steinem, Peter Steinfels, Ellen Willis.[9]
Supported DSA conference
In May 1986, Democratic Socialists of America "supported" a New Directions conference in the Washington DC Convention Center. Conference organizer was Jo-Ann Mort of DSA.
The conference, supported by DSA, will bring together activists, analysts and elected officials to develop new directions for the Democratic Party and the broad democratic left.
Initial sponsors of the event included Reps. Charles Hayes and Barney Frank, labor leaders William Winpisinger and Jack Sheinkman (ACTWU), Joyce Miller (ACTWU and CLUW) and Jack Joyce, (Bricklayers), feminist leaders Gloria Steinem and Judy Goldsmith and policy analysts Robert Kuttner, Jeff Faux and Eleanor Holmes Norton.
DSA Hearing on Economic Insecurity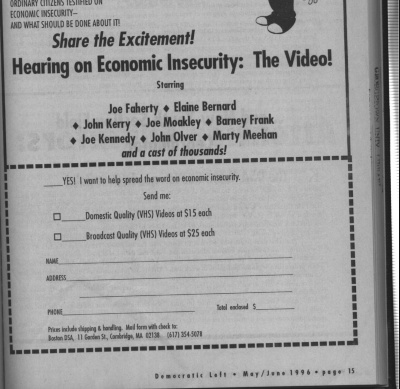 Boston Democratic Socialists of America organized a January 1996 28, Boston Hearing on Economic Insecurity, at Fanueil Hall, Boston . Participants included Joe Faherty, DSA member Elaine Bernard, John Kerry, Joe Moakley, Barney Frank, Joe Kennedy, John Olver, Marty Meehan.[10]
Boston DSA and its allies have formed the Committee on Economic Insecurity and are gearing up for Boston's public hearing on economic insecurity. The hearing will be held January 28 from 1-3 PM at historic Faneuil Hall, and Congress members Barney Frank and John Olver will participate. [11]
Joining Boston DSA in sponsoring the event were ACORN, the Immigrant Workers' Resource Center, Communications Workers of America District I.[12]
DSA endorsement
In July 1996, the Democratic Socialists of America Political Action Committee endorsed Barney Frank, Massachusetts 4 in that year's Congressional elections.[13]
Take Back America Conferences
Barney Frank was MC at the 2003 Take Back America conference, which was organized by the Institute for Policy Studies, and Democratic Socialists of America dominated Campaign for America's Future.[14]
Frank spoke again in 2006.
America's Future Now Conferences
Barney Frank was on the list of speakers at the 2009 America's Future Now conference, which was organized by the Institute for Policy Studies, and Democratic Socialists of America dominated Campaign for America's Future.[15]
Take Back the American Dream Conference 2011
Barney Frank was one of the 158 speakers who addressed the Take Back the American Dream Conference 2011 . The Conference was hosted by the Institute for Policy Studies, and Democratic Socialists of America dominated Campaign for America's Future, [16]
Supporting HR 676
According to Boston Democratic Socialists of America member Rand Wilson, On Sept. 1 2005 Congressmen John Tierney and Maurice Hinchey heard testimony in Boston, in support of a "Medicare for All" solution to the health care crisis. Lobbyists at the meeting included members of Democratic Socialists of America and Sandy Eaton of Committees of Correspondence for Democracy and Socialism.
The growing severity of this crisis brought together over 40 grassroots organizations for an impressive—and unusual—showing of political unity for health care reform based on extending Medicare to everyone.
According to Wilson Reps Barney Frank, Jim McGovern, John Olver and John Tierney were sponsoring legislation in the House, John Conyers' —HR 676—that would implement this approach.
"When we started organizing the hearing, only one member of the Massachusetts Congressional delegation had signed on. Now we have four out of the ten," said Paul Cannon, President of Teamsters Local 122 and co-chair of Jobs with Justice's Health Care Action Committee. "We've got our work cut out for us. It's time to step-up the pressure on our policymakers for comprehensive reforms that cover everyone."[17]
Campaign against defense spending
In 2009 Krishna Dasaratha wrote an article for the Boston Democratic Socialists of America newsletter, The Yankee Radical, June 2009, "The 25% solution"; .[18]
United for Justice with Peace has launched the "25% Solution" campaign to mobilize support for cuts in military spending. In the current economic climate, cutting the military budget is both viable and necessary. We need DSA to join this effort.
Dasaratha wrote approvingly of Barney Frank's complementary efforts;
"If we do not make reductions approximating 25 percent of the military budget starting fairly soon it will be impossible to continue to fund an adequate level of domestic activity," Congressman Barney Frank wrote in the March 2, 2009, edition of The Nation. At the recent Massachusetts Democratic Convention Congressman Frank ran a workshop on "Cutting the Military Budget." He is not alone in Congress—the Congressional Progressive Caucus's alternate budget calls for cutting defense spending by $158.7 billion.
At a Boston Democratic Socialists of America July 25, 2010 "important members meeting" at the home of David Knuttunen and Susan Davidoff, the "main topic of discussion will be proposed candidate endorsements for the 2010 elections, especially the September primary. The Boston DSA Executive Board may have some recommendations, and of course members can make their own. Time permitting we may want to also discuss organizing for Barney Frank's proposal to cut the Defense budget by 25 percent, or other projects DSA is involved".[19]
The Sustainable Defense Task Force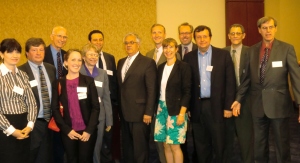 The Sustainable Defense Task Force was formed in response to a request from Representative Barney Frank (D-MA), working in cooperation with Representative Walter B. Jones (R-NC), Representative Ron Paul (R-TX), and Senator Ron Wyden (D-OR), to explore possible defense budget contributions to deficit reduction efforts that would not compromise the essential security of the United States.
The Democratic Socialists of America controlled Project on Defense Alternatives coordinated the work of the Task Force. Carl Conetta drafted the main body of the Task Force report in ongoing consultation with Task Force members who developed or digested proposals from the diverse sources cited in the report. A sub-committee of the Task Force reviewed the final draft before publication.[20]
DSA lobbying
Boston Democratic Socialists of America has lobbied Cynthia Creem and Barney Frank over the housing foreclosure issue. According to Boston DSA's The Yankee Radical, February/March 2010;[21]
So this January DSAers in Brookline, Newton and parts of Wellesley took action to help the victims fight back against the perpetrators. We made calls to two of our elected representatives: Congressman Barney Frank and State Senator Cynthia Creem, who chair committees that are of vital importance on these issues.
The Massachusetts Alliance Against Predatory Lending (MAAPL), a coalition that includes Boston DSA, has filed four bills in the State Legislature to help predatory lending victims in Massachu-setts. All are currently in the Judiciary Committee, whose Senate chair is Cyn-thia Creem. Her DSA constituents called to ask her to have these bills reported favorably out of her committee.
Congressman Barney Frank is Chair-man of the House Financial Services Committee. He could initiate a process that might lead to using the remaining TARP funds to save community banks, instead of just handing them over like tasty morsels to be devoured by the big banks that precipitated the crisis. This would be a much more community-friendly use of the funds than other ideas to create a capital gains tax holiday! Constituents called to ask him to schedule a committee hearing to discuss this proposal.
Midwest Academy Awards
In 2011, Barney Frank , was honored with a "Lifetime Achievement Award" by the Democratic Socialists of America controlled Midwest Academy - a school based on the teachings of radical "community organizer" Saul Alinsky.
"Thanks to everyone who helped us celebrate the 2011 Midwest Academy Awards! We were proud to present our 2011 Awards to: Rep. Barney Frank, Rep. Keith Ellison, Teresa Vilmain, Anna Lefer Kuhn and Lenore Palladino."[22]
2014 Debs-Thomas-Bernstein Award
Boston Democratic Socialists of America's Debs-Thomas-Bernstein Awards Reception, took place Sunday, June 8, at the Workmen's Circle, 1762 Beacon Street, Brookline.
Honorary Chairs for the DSA Awards Reception were;
Former Rep. Barney Frank; Rep. Ruth Balser; Sen. Patricia Jehlen; Dick Bauer—Co-Chair, New England Jewish Labor Committee; Arthur Bernstein—former YPSL, brother of Julius Bernstein; Jules Bernstein—labor attorney; Sheila Decter—Director, Jewish Alliance for Social Action; Ellen Feingold—former Director, Jewish Community Housing for the Elderly; Michael Felsen—past president, Workmen's Circle; Shelagh Foreman—Director, Massachusetts Peace Action; David Harris—Managing Director, Charles Hamilton Houston Institute for Race and Justice, Harvard Law School; Georgia Hollister Isman—Director, Mass Alliance; John McDonough—Director, Center for Public Health Leadership, Harvard School of Public Health; Rabbi Barbara Penzer—Co-Chair, New England Jewish Labor Committee; Steve Tolman, President, Massachusetts AFL-CIO; Rand Wilson—Communications and Policy Director, SEIU Local 888.[23]
NEXT AGENDA Conference
NEXT AGENDA was held at the National Press Club, Main Ballroom, Feb. 28,2001.
At Feb. 28 Conference on NEXT AGENDA, progressive activists, Congressional leaders will unite to forge strategy for "working families" agenda -- the day after President Bush delivers his plans to joint session of Congress.
-- Calling themselves the real "democratic majority," organizers and thinkers, led by the Campaign for America's Future, to release new book outlining an agenda for changes they insist most voters endorsed in 2000 elections.
On Feb. 28, a national conference on the NEXT AGENDA, will bring together progressive activists, intellectuals and allies in the Congress for the first time since the disputed election and battles over President Bush's cabinet nominees. It will frame the next two year's debate.
Sponsored by the progressive advocacy group, the Campaign for America's Future and its sister research organization, the Institute for America's Future, the Conference on the Next Progressive Agenda has been endorsed by a who's who of prominent leaders from the labor unions, women's organizations, civil rights groups, environmentalists and individual members of the House and Senate. Their goal: to forge a progressive movement to fight for the "working family" agenda they insist was endorsed by a majority of the voters in the 2000 election.
Organizers of the conference would release a new book, THE NEXT AGENDA: Blueprint for a New Progressive Movement, edited by Robert Borosage and Roger Hickey and published by Westview Press.
MC: Cong. Barney Frank
Remarks:
Received communist "front" award
The National Emergency Civil Liberties Committee was founded in 1951 by the Communist Party USA as an alleged alternative civil rights advocate group to the American Civil Liberties Union but in reality, it was designed as a Party legal attack mechanism aimed at America's national security program. The NECLC did not require an oath denouncing Communism, which the group believed the ACLU required. Edith Tiger was the director of the NECLC from from 1968 until it merged into the Center for Constitutional Rights in 1998.[25]
According to an article in the November 28, 1989 issue of the Communist Party USA newspaper "Peoples Daily World", "Civil Rights Defenders to be Honored Dec. 1", Barney Frank was to receive an award from the National Emergency Civil Liberties Committee:
"Edith Tiger, NECLC director, said Frank was chosen to receive the Tom Paine Award in recognition of his role in the successful effort to end "the shameful and unconstitutional" practice of barring people from the United States because of their political beliefs. Frank was in the forefront of the 1987 legislative battle to maned the McCarran-Walter Act, which had been used since the McCarthy era to stifle free speech by denying entry visas to individuals whose views are deemed unacceptable by the U.S. Government".
Under FBI surveillance
At the same time he was selling U.S. secrets to the Soviet Union, former FBI special agent Robert Hanssen was a key supervisor in a 1980s domestic-spying program questioning the loyalty of American citizens and monitoring their activities, FBI documents have shown.
Under this program, federal agents filed reports on teachers, clerics and political activists who primarily were affiliated with liberal causes.
U.S. Rep. Barney Frank (D-Mass.), a leading Reagan critic whose correspondence found its way into the FBI files, called the surveillance effort a "Cold War hangover" and "a waste of time." [26]
Supported by Council for a Livable World
The Council for a Livable World, founded in 1962 by long-time socialist activist and alleged Soviet agent, Leo Szilard, is a non-profit advocacy organization that seeks to "reduce the danger of nuclear weapons and increase national security", primarily through supporting progressive, congressional candidates who support their policies. The Council supported Barney Frank in his successful House of Representatives run as candidate for Massachusetts.[27]
The Council also supported Frank in his 2010 Congressional election campaign.[28]
J Sreet endorsement
In 2008 Frank was endorsed by JStreet PAC.[29]
Voted against support for "Contras"
The Congressional Record of February 3, 1988 shows that the following leading Democratic Party Congressmen voted against aid to the Nicaraguan Freedom Fighters - the "Contras"- then fighting against the Marxist-Leninist Sandinista government of Nicaragua:
Congressional Progressive Caucus
In 1998 Barney Frank Democrat was listed as a member of the Congressional Progressive Caucus.[30]
As of February 20 2009 Barney Frank was listed as a member of the Congressional Progressive Caucus.[31]
Health Care Access resolution
John Conyers promoted House Concurrent Resolution 99 (H. Con Res. 99) Directing Congress to enact legislation by October 2004 that provides access to comprehensive health care for all Americans. IN THE HOUSE OF REPRESENTATIVES April 4, 2001.
Sponsors:John Conyers (for himself), Jan Schakowsky, John Tierney, Barbara Lee, Donna Christensen, David Bonior, Dennis Kucinich, Earl Hilliard, Maurice Hinchey, Jerry Nadler, Donald Payne Chaka Fattah, Peter DeFazio, John Lewis Tammy Baldwin, Stephanie Tubbs Jones, Barney Frank, Henry Waxman, Cynthia McKinney, Jim Langevin, George Miller Alcee Hastings, Patsy Mink, John Olver , Bennie Thompson, Pete Stark, Julia Carson, and Mike Capuano submitted the following concurrent resolution; which was referred to the Committee on Energy and Commerce;[32]
Resolved by the House of Representatives (the Senate concurring), that the Congress shall enact legislation by October 2004 to guarantee that every person in the United States, regardless of income, age, or employment or health status, has access to health care..
Brit Tzedek connection
Barney Frank has close ties to radical Jewish "peace" organization Brit Tzedek and its Boston chapter president David Strauss.
From a 2008 Brit Tzedek newsletter[33];
This July, in an indication of the strong relationship between the Brit Tzedek Boston Chapter and influential, Jewish Congressional Rep. Barney Frank (D-MA), Frank cc'd David Strauss, the Boston Chapter's District Advocacy Coordinator, on an historic letter he sent to Israeli Prime Minister Ehud Olmert regarding settlements. Frank's letter urged Olmert to consider how the Israeli government's inaction on dismantling settlements compromises Israel's position internationally, and poisons the atmosphere for peaceful resolution of Israel's conflict with the Palestinians. The Boston Chapter made sure to share the news of the representative's important letter with the greater Boston Jewish community, through an op-ed by David Strauss in the Boston Jewish Advocate, as well as keeping its membership updated, via a chapter email. The Boston Chapter and Brit Tzedek's Advocacy Coordinator and Washington Liaison continue to work together to further the relationship with Barney Frank and his staff.
Drinan Award
The Father Robert F. Drinan National Peace and Human Rights Award was established in 2006. The award is annually presented by the Center for Arms Control and Non-Proliferation and Council for a Livable World to individuals who exemplify the late Father Drinan's commitment |to peace and human justice".
The award broadly focuses on U.S. politics, political science, physical science, biology, peace studies, and peace and human rights activism.
Reception Honoring Martha Coakley
On Jan. 12, 2010 a reception honoring Martha Coakley was held at the Sonoma Restaurant, 223 Pennsylvania Ave, Washington D.C. Among those present were Senator John Kerry and Representatives, Ed Markey, Richard Neal, William Delahunt, John Tierney, Stephen Lynch, Barney Frank, John Olver, Jim McGovern, Michael Capuano and Niki Tsongas.
Hosts of the reception donated $10,000 and included Nick Allard, Thomas Hale Boggs Jr., the Boston Scientific Political Action Committee, Chuck Brain, Susan Brophy, Mary Beth Cahill, Steve Champlin, Licy Do Canto, Gerald S. J. Cassidy, David Castagnetti, Steve Elmendorf, Candy Ergen, Cahrlie Ergen, Shannon Finley, Larry Harris, Tom Hogan, Carol Kenner, Stephanie Markiewicz, Andy Miller, Heather Podesta, Tony Podesta, Robert Raben, Linda Singer and Bill Titelman.
Co-hosts of the reception donated $5,000 and included Marty Bienenstock, Sheryl Cohen, Chad Dale, Joe Eyer, Jamie Gorelick, Robin Leeds, Fred Liowther, Bernie Nash, Frank Purcell of the CRNA (Nurse Anesthetists) Political Action Committee and Melissa Schulman.
The administration for the reception was organized by Julia Hoffman.[35]
Controversies
OneUnited Bank Scandal
In 2009 Congressman Barney Frank improperly intervened for Maxine Waters (D-CA) on behalf of his home-state OneUnited Bank to obtain Troubled Asset Relief Program funds. When asked about the scandal he admitted that he had spoken to a "federal regulator" but, according to The Wall Street Journal he didn't remember which federal regulator he spoke with." According to explosive Treasury Department emails uncovered by Judicial Watch in 2010, however, it appears this nameless bureaucrat was none other than then-Treasury Secretary Henry Paulson.
While Frank's "partner in crime" in the OneUnited scandal, Congressman Maxine Waters, is being investigated by the House Ethics Committee, Frank's colleagues in the House have inexcusably ignored the Massachusetts Democrat's connection to the OneUnited grant.[36]
Freddie Mac Scandal
To this day, Barney Frank continues to defend his role in the meltdown of Fannie Mae and Freddie Mac, saying he was just as blindsided as the rest of America when the two government sponsored enterprises collapsed, triggering the financial crisis.
On October 14, 2010 the Boston Globe reported,[37]
"The issue... in 2003 was whether mortgage backers Fannie Mae and Freddie Mac were fiscally strong. Frank declared with his trademark confidence that they were, accusing critics and regulators of exaggerating threats to Fannie's and Freddie's financial integrity. And, the Massachusetts Democrat maintained, 'even if there were problems, the federal government doesn't bail them out.' Now, it's clear he was wrong on both points..."
Frank claimed that he "missed" the warning signs with Fannie and Freddie because he was wearing "ideological blinders," which was just his lame attempt to blame Republicans. But he did not miss them. According to evidence uncovered by Judicial Watch, he just chose to ignore them.
Judicial Watch obtained documents in 2010 proving that members of Congress, including — and perhaps especially — Barney Frank, were well aware that Fannie and Freddie were in deep trouble due to corruption and incompetence and yet they did nothing to stop it.
Moreover, as the Globe notes, in July 2008, then-Treasury Secretary Henry Paulson says he called Frank and told him the government would need to spend "billions of taxpayer dollars to backstop the institutions from catastrophic failure." Frank, despite that conversation, appeared on national television two days later and said the companies were "fundamentally sound, not in danger of going under." Less than two months later, the government seized Fannie and Freddie and the bailout began.[36]
"Let Me Own Up to the Radical Homosexual Agenda"
On Dec. 21, 2010, Barney Frank spoke at an enrollment ceremony for the repeal of "Don't Ask, Don't Tell". During his speech, Frank stated,[38]
"Four years ago, a Republican running for Congress in Indiana said don't vote for his Democratic opponent because if he won, Nancy Pelosi would become speaker and she would let me enact the radical homosexual agenda. So, let me own up to that agenda. It's to be protected against violent crimes driven by bigotry. It's to be able to get married. It's to be able to get a job and it's to be able to fight for our country. Hey, for those, for those who are worried about the radical homosexual agenda, let me put them on notice – two down, two to go."
Frank was joined at the ceremony by House Speaker Nancy Pelosi, Rep. Patrick Murphy (D-PA), House Majority Leader Steny Hoyer (D-MD), Sen. Barbara Boxer (D-CA), Sen. Patrick Leahy (VT) and other Democratic members of Congress.
Coalition for Social Justice 16th Banquet and Awards Ceremony
The Coalition for Social Justice 16th Annual banquet, was held Thursday, May 19, 2011, at the Venus de Milo, 75 Grand Army Highway (Rte. 6), Swansea, MA 02777.
Keynote speaker was Rep. Barney Frank.[39]
Council for a Livable World, 50th Anniversary
On June 6, 2012, Council for a Livable World, along with its sister organizations Center for Arms Control and Non-Proliferation and Council for a Livable World's PeacePAC, celebrated the 50th Anniversary of their founding by Leo Szilard in 1962.
An evening celebration was held at the Newseum in Washington, D.C. Congressman Barney Frank acted as the Master of Ceremonies and, in the process, received a lifetime achievement award from former Rep. Tom Downey, a member of the Council's Board of Directors. The Robert F. Drinan Peace and Human Award was presented to former Representative and PeacePAC Chairman David Bonior and the late Edith Wilkie, a longtime advocate and leader for peace and justice.[40]
Staff
The following are past and present staff:[41]
External links
References