Barbara Dudley
From KeyWiki
Barbara Dudley ...
New Party founders
The two key founders of the New Party were Joel Rogers and Dan Cantor.
The first strategic meetings to plan the New Party were held in Joel Rogers' home in Madison Wisconsin in the very early 1990s. Present were Rogers' wife Sarah Siskind, Dan Cantor, ACORN leaders , Wade Rathke ,Zach Polett , Steve Kest and Jon Kest , Steve Cobble from the Institute for Policy Studies (in an advisory role), Sandy Morales Pope (for the first 18 months), Harriet Barlow and Barbara Dudley.
The very first meeting included Gerry Hudson from Democratic Socialists of America and SEIU and Gary Delgado, plus labor activists Sam Pizzigati and Tony Mazzocchi. Anthony Thigpenn of Los Angeles was also approached, but though supportive did not wish to play a leadership role.[1]
New Party builder
New Party News Fall 1994 listed over 100 New Party activists-"some of the community leaders, organizers, retirees,, scholars, artists, parents, students, doctors, writers and other activists who are building the NP" the list included Barbara Dudley, Greenpeace.
Back to Basics conference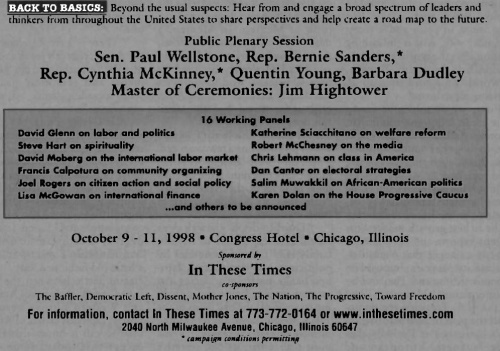 A Back to Basics conference on the future of the American Left, was held in Chicago October 9-11, 1998. Speakers included: Sen. Paul Wellstone, Rep. Bernie Sanders, Rep. Cynthia McKinney, Barbara Dudley, Quentin Young and Jim Hightower. The conference was sponsored by Sponsored by In These Times[2].
References
↑

Spoiling for a fight: third-party politics in America By Micah L. Sifry, page 347