Baldemar Velasquez
From KeyWiki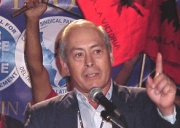 Baldemar Velasquez founded the Farm Labor Organizing Committee (FLOC) in 1967. In 1979, FLOC was formally established as a labor union of farm workers working in the Midwest. Velásquez is the current president, as of March 18, 2010.[1]
Early life
Baldemar Velásquez was born in Pharr, Texas Feb. 15, 1947. His parents were migrant farmworkers, and Velasquez began working in the fields when he was six, picking berries and tomatoes.[2]
Education/honors
Velásquez attended Pan American University in Edinburg, Texas from 1965-66. Ohio Northern University in Ada 1966-67 and from 1967-69 attended Bluffton College, where he graduated with a BA in Sociology. During 1989-90, Velasquez received his degree in Practical Theology. He received his advanced degree in 1991 and was ordained that year as Chaplain to the farmworkers by Rapha Ministries. Two major honors came to Velasquez in 1994 when 29 national Hispanic organizations chose him as the recipient of the Hispanic Heritage Leadership Award. That year he also received Mexico's Aguila Azteca Award — the highest award Mexico can give a non-citizen.[3]
The Guardian supporter
The Guardian, April 13, 1983, p. 2, contained a fundraising message
"We Interrupt This Newspaper to Bring You An Urgent Message"
$35,000 Matching Fund deadline: May 1
Contributions needed immediately for the Guardian to continue publication
Source:[4]
"35: 1948-1983" "Now, during its 35th anniversary year, join us in offering much-needed support to the Guardian - an essential voice committed to today's struggles for peace, liberation and social justice" -
Listed supporters included Baldemar Velasquez, President, Farm Labor Organizing Committee.
DSA honor
On November 9, 1997 Midwest Democratic Socialists of America held it First Annual Debs-Thomas-Harrington Dinner. They honored Donald Day, Secretary-Treasurer of the Ohio AFL-CIO, and Baldemar Velasquez, President of the Farm Labor Organizing Committee (FLOC), for their lifelong commitment to working for justice on behalf of workers. Day spoke of labor's successful campaign to defeat Issue-2[5].
Velasquez gave the keynote speech. He urged us to "follow the money" as the guiding principle in our activism. To illustrate his point, he told how farm workers successfully fought Campbell's Soup. Following the money, FLOC discovered that primary stockholders call the shots at Campbell's. They pressured the biggest stockholder, Philadelphia National Bank, to get Campbell's to recognize FLOC as the bargaining agent for farm workers. They persuaded depositors to withdraw their money, leafleted PNB branches, and got account holders to deposit 5 cents at a time to jam up the bank's service. The tactic worked and within a month PNB publicly urged Campbell's to negotiate with FLOC.
Socialism and religion
Is religion a fault line on the Left? The topic was race, but religion quickly took center stage at "Breaking Bread," a Nov 7 1997 community dialogue on race relations at Columbus State Community College organized by Democratic Socialists of Central Ohio's Robert Fitrakis andSuzanne Patzer. The panelists were Barbara Ehrenreich, Cornel West, Luella Tapo of the Native American Indian Center, Rev. Dr. Jeffrey Kee of Building Relationships for Equality and Dignity (BREAD), Bill Moss of the Columbus School Board, and Baldemar Velasquez of the Farm Labor Organizing Committee (FLOC). Religion came up because Kee, Moss and Velasquez testified to their faith as their motive to struggle against injustice[6].
Advisory Board Maurice & Jane Sugar Law Center
As at Winter, 2008, the following served on the Advisory Board of the Maurice & Jane Sugar Law Center:
Independent Progressive Politics Network
In 2009 Baldemar Velasquez served on the Advisory Committee of the Independent Progressive Politics Network[7].
Speaking at the People's Summit
From June 14-17 2009, the Moratorium NOW!-initiated People's Summit was held at Grand Circus Park, Detroit, MI. A "tent city" was built at the location, and protesters camped there for four days of "Active Resistance, Political Discussion and Strategizing for a "People's Stimulus Plans" and an "Economic Bill of Rights" for Working People and the Poor." Moratorium NOW! is a Workers World Party-front organization. Speaking at the summit were Jesse Jackson; JoAnn Watson; Abayomi Azikiwe, Workers World Party; Mike Martinez, FIST, Workers World Party; Baldemar Velasquez, FLOC; Ignacio Meneses, U.S./Cuba Labor Exchange; and Rosendo Delgado, Latinos Unidos.[8]
Labor Notes
In 2009 Baldemar Velasquez, Farm Labor Organizing Committee president, Toledo was a member of the Labor Notes policy committee[9].
Labor Council for Latin American Advancement
Valasquez serves on the National Executive Board of the Labor Council for Latin American Advancement, as of March 18, 2010.[10]
Detroit rally
Over 10,000 Detroiters marched down Washington Boulevard from the UAW-Ford National Programs Center to Grand Circus Park on Saturday, August 28th 2010, to demand "jobs, peace, and justice". The march was organized by United Auto Workers (UAW) President Bob King and Operation PUSH founder and director Reverend Jesse Jackson. It commemorated the 47th anniversary of Dr. Martin Luther King's March on Washington.
The dais at Grand Circus Park was "teeming with dignitaries—politicians, clergy of every denomination, and union leaders". Among the elected officials present were Representatives John Conyers, Jr., John Dingell, Maxine Waters, Marcy Kaptur and Senator Debbie Stabenow. Michigan Democratic Party gubernatorial nominee Virg Bernero briefly addressed the audience and committed himself to placing the interests of Main Street over those of Wall Street. Among the union leaders who spoke were UAW President Bob King, newly-elected President of the Service Employees International Union Mary Kay Henry, Farm Laborers Organizing Committee President Baldemar Velasquez, and American Federation of State, County, and Municipal Employees Council 25 President Al Garrett.[11]
External links
References