Babette Josephs
Jump to navigation
Jump to search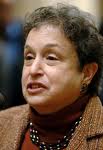 Template:TOCnestleft Babette Josephs is a Pennsylvania State Representative.
Background
Josephs received her bachelor's degree from Queens College and her law degree from Rutgers. She was married to the late Herbert B. Newberg.[1]
Political career
First elected to the Pennsylvania House of Representatives in 1984, Josephs represents the 182nd Legislative District, which encompasses Center City and South Philadelphia. A senior female Democratic legislator, she has served as the Democratic chairwoman of the House State Government Committee since 2001.[2]
"Josephs has a reputable reputation as a lawmaker for her dedication to civil liberties, and her efforts to advance health care, education, libraries and the arts in Philadelphia and Pennsylvania."
The Philadelphia legislator is responsible for a number of laws and initiatives, including adding to the state Hate Crimes law crimes against a person for his/her sexual orientation. Josephs authored the law that guarantees confidentiality of HIV records. She also helped to pass a law providing for automatic recounts in close state election races, and has been at the forefront against limiting First Amendment rights.
Josephs has been honored repeatedly for her legislative advocacy and action, receiving such acknowledgement from Smokefree PA, Sameric Theatre Committee to Save the Sameric, Statewide Pennsylvania Rights Coalition, Pennsylvania Federation of Museums and Historical Organizations, Project Vote Smart and Pennsylvania National Organization for Women.
Her current efforts are aimed at increasing state funding for public libraries and the arts, as well as securing adequate and permanent funding for public transit, improving access to health care for low-income working adults, increasing the minimum wage, allowing stem cell research and ending discrimination against gay, lesbian and transgendered individuals in health care, housing and employment.
DSA Elected Representatives, 1990

As of January 1990, Democratic Socialists of America members holding elected public office included;[3]
Defending ACORN
In 2009, a bill introduced in the Pennsylvania legislature to investigate the activities of the Association of Community Organizations for Reform Now — ACORN – is stalled in the powerful State Government Committee.
The chairman, State Representative Babette Josephs, a Philadelphia Democrat, is a member of ACORN.
The revelation of Chairman Joseph's ACORN ties came in a April 3, 2008 hearing of the House State Government Committee. The hearing took place at 9:05 in the morning in room 205 of the Ryan Office Building in the State Capitol Complex in Harrisburg. The purpose of the hearing was to discuss the upcoming (April 22nd) Pennsylvania primary election preparations with Governor Ed Rendell's Secretary of the Commonwealth, Pedro Cortes. As Cortes was being questioned by Committee members, there was this exchange, released in the official Committee transcript, between Berks County (Reading) Representative Carl Mantz, a Republican, and Chairman Josephs:
REPRESENTATIVE MANTZ: Yes. In my own county, there have been news reports in my county, Berks County, Lehigh County, in my district and also Philadelphia, about allegations respecting the activities of the ACORN, the Association of Community Organizations for Reform Now. And allegations have been made that ACORN and its employees have submitted fraudulent voter registrations. Number one , I guess my question is, is it legal for Pennsylvania, in this state, to compensate individuals or voters, each voter registration that a person — I understand that that's apparently — I don't believe that's — I see Al Masland has left, and I apologize. I'm not as familiar with the statute in that respect.
CHAIR JOSEPHS: Mr. Mantz, we can get the answer to you, but I would like to say that I am a member of ACORN, and they do not do that.[4]
Supported Progressive Health Care Reform
In late 2009, Babette Josephs was one of more than 1,000 state legislators to sign a letter entitled "State Legislators for Progressive Health Care Reform". The letter was a project of the Progressive States Network and was developed in consultation with national health care reform advocates, including the AFL-CIO, AFSCME, Community Catalyst, Families USA, Herndon Alliance, National Women's Law Center, Northeast Action, SEIU, and Universal Health Care Action Network. The letter reads in part,[5]
"Failure to pass national comprehensive health reform now will further jeopardize state and local budgets, undermining public services like education, public safety, and transportation infrastructure... We, the undersigned, call on President Obama and the Congress to enact bold and comprehensive health care reform this year – based on these principles and a strong federal-state collaboration – and pledge our support as state legislators and allies in pursuit of guaranteed, high quality, affordable health care for all."
"Outing" Gregg Kravitz
In April 2010, Democratic Pennsylvania state Rep. Babette Josephs accused her primary challenger Gregg Kravitz of pretending to be bisexual for political gain at a Philadelphia fundraiser last week, the Philadelphia Inquirer reports.
In front of a live audience, Josephs charged that Kravitz is a "trust fund baby" and has "lied about a whole bunch of things, including his sexuality."
The Inquirer reports on Josephs' shocking allegations:
"I outed him as a straight person," Josephs said during a fund-raiser at the Black Sheep Pub & Restaurant, as some in the audience gasped or laughed, "and now he goes around telling people, quote, 'I swing both ways.' That's quite a respectful way to talk about sexuality. This guy's a gem."
According to the Inquirer, Kravitz found his opponent's accusation to be offensive and denied it had any merit.
"That kind of taunting is going to make it more difficult for closeted members of the LGBT community to be comfortable with themselves," he told the paper.
Kravitz said that despite being caught off guard by the unusual nature of Josephs' erroneous claim, it did have a silver lining. "It shows how far we've come," he said. "I take that as flattery."[6]
CLUW awards
On Thursday, June 16th, 2011, the Philadelphia Chapter of the Coalition of Labor Union Women, held their annual Working Women's Awareness Week Awards Reception. Labor Justice Radio, a program of the Media Mobilizing Project, was among the honorees.
A proclamation from U.S. Representative Chaka Fattah and a Citation from State Representative Babette Josephs were also presented to Labor Justice Radio. Other honorees included:
Debbie Bell, retired PFT leader; civil, workers, and human rights activist
Marianne Bellesorte, Rebecca Foley, Kate Scully, leadership team of the Coalition for Healthy Families & Workplaces
Union Woman of the Year, Vickie Milhouse, Founder, President Emerita, United Child Care Union, NUHHCE/AFSCME
CLUW member, Ellen Slack, of AFSCME Local 590, presented the members of Labor Justice Radio with the award.[7]
References