Andrew Cuomo
Jump to navigation
Jump to search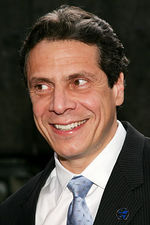 Andrew Cuomo
Cuba
At Center for Democracy in the Americas Sara Stephens has led more than 70 official fact-finding trips, trade and cultural missions, and people-to-people delegations to Cuba over the past 17 years, including those of The President's Committee on the Arts and Humanities; Governors Andrew Cuomo (NY) and Terry McAuliffe (VA); seven U.S. corporations from the Fortune 100 List, and dozens of Members of the U.S. House and Senate from both parties.
Sarah Stephens and the Center for Democracy in the Americas (CDA) helped organize and participated in New York Governor Andrew Cuomo's trade mission to Cuba in April 2015. This was the first trip by a U.S. governor to Cuba since the December 17, 2014 announcement that Cuba and the U.S. would normalize relations. The preparatory work we did in advance with Governor Cuomo's office enabled members of the trade delegation representing six industry sectors to engage in serious discussions with their Cuban counterparts on the island.
The Governor's trade mission produced exceptional results. For example, on April 22, Empire State Development and the Roswell Park Cancer Institute announced that the Institute had a signed agreement with Cuba's Center for Molecular Immunology "to develop a unique lung cancer vaccine ("Cimavax") with a clinical trial in the United States." As a result of JetBlue CEO Robin Hayes' participation in the delegation, the New York State-based carrier announced its decision to begin weekly charter flights from New York to Havana that started in July 2015. In addition, the University of Havana and the State University of New York prepared a framework for a memorandum of understanding to increase study abroad programs to Cuba.[1]
Supported by Working Families Party
In the 2002 race for governor of New York, the Working Families Party nominated state comptroller Carl McCall – the first African-American to seek that office – who easily won the Democratic Party primary after rival Andrew Cuomo virtually withdrew.
On June 3, 2010, Democratic gubernatorial candidate Andrew Cuomo declined to reject outright the endorsement of the Working Families Party.[2]
Supported by SEIU
In 2006, the Service Employees International Union Local 1199 played a major role in backing Andrew Cuomo, who had challenged Carl McCall in the 2002 Democratic primary, in his run for Attorney general.[3]
Cuomo housing team/Cabinet picks
On Dec. 8, 2010, Governor-elect Andrew Cuomo announced his transition team for the areas of human services and housing.
The 15 committee members include Chung-Wha Hong, executive director of the New York Immigrant Coalition; City Council Speaker Christine Quinn, who has been a staunch defender of rent regulations; and Chuck Bell, program director of Citizens Union and a national advocate for health care and environmental protection.
The three assemblymembers on the panel have all been sympathetic to tenants' rights: Karim Camara of Brooklyn; Grace Meng of Queens; and Carl Heastie, head of the Bronx delegation and part of the anticorruption faction in that borough. Union and nonprofit members are Stuart Appelbaum, president of the Retail, Wholesale and Department Store Union; Christopher Kui, executive director of Asian Americans for Equality, which provides housing, social, and citizenship services in Chinatown and Flushing, Ross Levi, legislative director of New York State Pride Agenda, a leading gay and lesbian advocacy group; and Susan Hagar, president of United Way. Also on the panel is Rossana Rosado, publisher of the Spanish-language newspaper El Diario, whose editorials have not shared the antitenant bias of New York's major English-language dailies, the Times, the Daily News, and the Post.
Cuomo's cabinet picks, announced the following day, were principally attorneys associated with his tenure as state attorney general. They included Jeremy Creelan, formerly of the Brennan Center for Justice, as special counsel for public integrity and ethics reform; and Adam Cohen, a former law fellow at the Southern Poverty Law Center, as special policy advisor..[4]
Dream of Equality awardee
Andrew Cuomo is a past recipient of Asian Americans for Equality's annual Dream of Equality award.[5]
Endorsed AAFE 2016 banquet
References