Alice Palmer
Jump to navigation
Jump to search

Template:TOCnestleft Alice J. Palmer is a Chicago based academic, socialist activist and former friend, employer and political ally of Barack Obama.
She is married to Buzz Palmer.
Early life/education
Alice J. Palmer was born in 1939, in Indianapolis, Indiana. The daughter of Erskine Roberts and Mary Ward Roberts, Palmer graduated from high school at age sixteen and enrolled at Indiana University. After an extended leave of absence, Palmer returned to Indiana University to earn her Bachelors degree[1].
Paul Robeson was featured at the school, and Langston Hughes was studied.[2]
Richard Lugar, a future US Senator from Indiana was involved with the school.
At high school Alice Palmer was involved in the Model United Nations with Wallace Terry.[3]
After graduating in 1965, Palmer found a teaching position in Indianapolis, Indiana, but soon moved to Chicago to work at Crane Junior College, later called Malcolm X College. She received her Masters degree from Roosevelt University and her Ph.D. from Northwestern University, where she co-authored two books and tutored in the Black House.
Palmer remained at Northwestern University to serve as Associate Dean and Director of African American Student Affairs for the next five years. Palmer served as the National Voter Education Director for a national citizen action organization before becoming the founding director of the Metro YMCA Youth and Government Program in 1986. She also served as Executive Director of Chicago Cities in Schools.
On June 6, 1991, Palmer replaced Richard Newhouse in the Illinois Senate, where she served until 1996. While in office, Palmer served on the Appropriations II Committee, among many others. Palmer was replaced by Barack Obama in the state senate. In 1996, Palmer was hired by the University of Illinois at Chicago as an Associate Professor in the College of Urban Planning and Public Affairs. Palmer also was co-chair of the Chicago Free South Africa Movement as well as a board member of the Illinois State Universities Retirement System and Access Living and on the National Policy Council of AARP.[4]
Emmett Till walk out
When Emmett Till was killed, the black children at Palmer's school, including Palmer walked out.[5]
Career/further education
Alice Palmer first went to university in Indiana, where she was active in her soriority.
After graduating in 1965, Alice Palmer began teaching in Indianapolis, but soon returned to Chicago to work at the newly renamed Malcolm X College. Palmer received her Masters degree from the University of Illinois at Chicago Circle Campus and her Ph.D. from Northwestern University, where she co-authored two books and tutored in the Black House. Palmer remained at Northwestern University to serve as Associate Dean and Director of African American Student Affairs for the next five years.
Palmer served as the National Voter Education Director for a national citizen action organization before accepting a position with the Metro YMCA Youth and Government Program in 1986. She also served as Executive Director of Chicago Cities in Schools.
In 1996, Palmer was hired by the University of Illinois at Chicago as an Associate Professor in the College of Urban Planning and Public Affairs[6].
Supporting Bobby Kennedy
In 1968 Alice Palmer supported the presidential candidacy of Bobby Kennedy.[7]
Harold Washington for Mayor of Chicago
Circa late 1982, members of the Citizens Committee/Harold Washington for Mayor of Chicago (in formation) included Alice Palmer.[8]
Fundraiser for Harold Washington
Alice and Buzz Palmer hosted the first fundraiser for Harold Washington's 1983 campaign for the Chicago mayoralty.[9]
Grenada invitation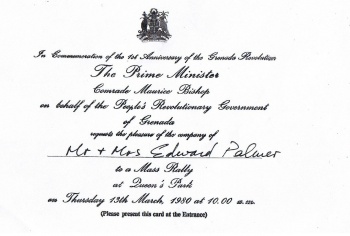 In 1980, Edward Buzz Palmer and Alice Palmer were invited by the Maurice Bishop-led government of the Caribbean island of Grenada to attend celebrations marking the first anniversary of the country's Marxist-Leninist "revolution".
Black Press Institute
Alice Palmer and her husband Buzz Palmer established the Black Press Institute in Chicago circa 1982. In a 1986 interview with the Communist Party USA paper People's Daily World, Alice Palmer explained BPI's role in influencing decision makers such as the Congressional Black Caucus[10].
After the 1960s some of us looked around and observed there was no national Black newspaper...So we started the Black Press Review. We received the Black newspapers from around the country, reprinted articles and editorials that gave a sense of the dynamics and the lives of Black people, and sent them out to the Congressional Black caucus and other opinion leaders, saying "Look, here is what black America is thinking and doing".
Since then we have moved into organizing forums and dialogues...
Contributors to BPI's journal New Deliberations included Richard Hudlin, Jan Carew, Joy Carew, Robert Starks, Dwight Kirk, Earl Durham, Nancy Gaithskill.
The publication carried articles such as "Socialism is the Only Way Forward" and "Is Black Bourgeoise Ideology Enough?"
In 1987 Alice Palmer was on the Board of Directors and on the Staff as Executive Director and Editor of New Deliberations of the Black Press Institute[11].
Prague Assembly
In 1983 Alice Palmer traveled to Czechoslovakia to the World Peace Council Prague Assembly.
1980s U.S. Peace Council Executive Board
Alice Palmer was a an Executive Board member of the Communist Party USA-dominated U.S. Peace Council from 1983-1985.[12].
In Lawrence Wittner's 2003 book, Toward Nuclear Abolition: A History of the World Nuclear Disarmament, Rob Prince, a 15 year veteran of the Communist Party USA National Council describes how he was "part of a nucleus of Communist Party activists" that established the U.S. Peace Council in 1978/79.[13].
Of the 48 U.S. Peace Council officers in 1983-1985, at least ten; Sara Staggs, Rob Prince, Michael Myerson, Frank Chapman, Otis Cunningham, James Jackson, Atiba Mbiwan, Pauline Rosen, Jose Soler and Denise Young were known Communist Party USA members or supporters.
A further eight, were involved in the 1990s, in a Communist Party splinter group Committees of Correspondence. They were Gus Newport, Mark Solomon, Linda Coronado, Barbara Lee, Kevin Lynch, Anne Mitchell, Arlene Prigoff and Alice Palmer herself.
East Bloc visit
In 1985 Alice Palmer was part of a delegation of 16 Afro-American journalists to the Soviet Union, German Democratic Republic and Czechoslovakia[14].
The delegation consisted of
The trip was organized by International Organization of Journalists executive Don Rojas, the American educated former press secretary to Grenada's late leader Maurice Bishop[16], in conjunction with the Black Press Institute, the National Alliance of Black Journalists and the National Newspaper Publishers Association-the US's largest organization of owners of black newspapers[17].
The trip was extraordinary because we were able to sit down with our counterparts and with the seats of power in three major capitals-Prague, Berlin and Moscow. We visited with foreign ministers, we talked with the editors of the major newspapers in these three cities...
It was a very unusual trip because we were given access...Every effort was made to give us as much as we asked for...We came back feeling that we could speak very well about the interest of the socialist countries in promoting peace.
This was before the (Soviet nuclear test ban) moratorium, this was before the Reykjavik offers...It was very clear to us in our conversations and interviews with people at that time, that this was already something of concern and, something that would be promoted when the opportunity arose, as we can see that it has been.
Czech meetings
In Czechoslovakia, Alice Palmer and other delegates officials at the Czech Foreign Ministry, including Dr. Vladimir Polachek, head of the Department of Basic Political Questions and Dr. Rudolf Jabubik, Deputy head of the 6th Territorial Department (including the US)[18].
Communist Party of the Soviet Union Congress

In March 1986 Alice Palmer covered the Communist Party of the Soviet Union Congress in Moscow for the Black Press Institute[19].
Alice Palmer told the People's Daily World[20];
I spent a great deal of time with a woman from the Novosti (Press Agency) and she and I had a lot in common...I had a chance to go shopping, just as I would if were back in Chicago...It is useful to those people who would like to demonize the Soviet people. When I stood in line, it was the same kind of line I stand in in the Jewel grocery store in Chicago. It was merely because the place was crowded, not because at the end of the line there was nothing for me to purchase.
In June 1986 the People's Daily World published a Black Press Institute article by Alice Palmer on the CPSU conference entitled "An Afro-American journalist in the USSR". The article praised Soviet "central planning" and included such statements as[21];
"The key word at the congress was 'acceleration.' The Soviet plan to provide people with higher wages and better education, health and transportation, while we in our country are hearing that cutbacks are necessary in all of these areas. I think that is a profound contrast."
"We Americans can be misled by the major media. We're being told the Soviets are striving to achieve a comparatively low standard of living compared with ours, but actually they have reached a basic stability in meeting their needs and are now planning to double their production."
In response to Western critics who claimed that the Soviet state treated its people as veritable slaves, Palmer said:
"No slave labor system can enlist the confidence and enthusiasm of its workers. In fact, I know of no slave labor system that declared [as did the Soviet system] that improving the living standard of the common people was its objective, let alone one that publicly announced a plan to make such advances."
"The key to their [Soviet] system is the focus on groups, not individuals. They say it is the people together - not leading, privileged individuals -- who make the nation happen."
Palmer claimed that America's white-owned press;
"has tended to ignore or distort the gains that have been made [by the Soviets] since [the Russian Revolution of 1917]. But in fact the Soviets are carrying out a policy to resolve the inequalities between nationalities, inequalities that they say were inherited from capitalist and czarist rule. They have a comprehensive affirmative action program, which they have stuck to religiously -- if I can use that word -- since 1917."
Palmer also said that because Soviet school curricula were established at the national level,
"there is no second-class 'track' system in the minority-nationality schools as there is in the inferior inner city schools in my hometown, Chicago, and elsewhere in the United States."
"The Soviet government and people have always sides with the Africans in South Africa and Namibia against apartheid…. I saw this, too, at the Patrice Lumumba Friendship University in Moscow, where students from underdeveloped countries are trained to become engineers, doctors, nurses, teachers, agricultural specialists and skilled workers. There is no brain drain going on; the students receive a free education and then return to use their talents to build up their own countries."
International Organization of Journalists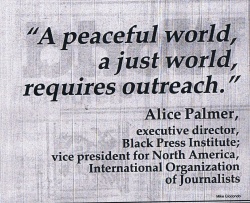 Palmer, editor of the Black Press Review was elected International Organization of Journalists vice president for North America at the organization's 10th Congress, October 20-23 1986, in Prague Czechoslovakia. She also traveled to the Soviet Union and Bulgaria during the same trip[22]. Alice Palmer's IOJ duties were to include co-ordinating the activities of IOJ chapters in the US, Canada, Mexico and the Caribbean.[23].
Other U.S. attendees included Jan Carew of Black Press Institute, Simon Gerson and Jose Soler of the U.S. branch of International Organization of Journalists, and Gwen McKinney and Leila McDowell of the National Alliance of Third World Journalists.[24].
The IOJ was a Soviet front operation[25], based in Prague until its expulsion by the Czech government in 1995.
A summary of a paper by Bob Nowell entitled "The Role of the International Organization of Journalists in the Debate about the "New International Information Order," 1958-1978" states[26];
This paper examines the International Organization of Journalists (IOJ), which it identifies as a Soviet-dominated organization. The paper suggests that the IOJ has capitalized on "Third World" countries' discontent with Western news media by offering itself as the ideological leader and trainer of anti-Western journalists. It then examines the function and methods of the IOJ in the context of post-World War II communist international front organizations; reviews the IOJ's structure, publications, and training centers; and explores its role in shaping "Third World" arguments in the debate about the New Information Order. The paper argues that the IOJ's efforts generally have served Soviet foreign policy on international communications.
Media "fairness"/New Information Order
In a People's Weekly World interview[27]with Chicago Communist Party USA member Mike Giocondo, Alice Palmer explained the International Organization of Journalists' concept of media "fairness".
Giocondo What is the IOJ's approach to the question of fairness in the media? How does it relate to the concept of "objective journalism" which is stressed here in the US?
Palmer The IOJ believes that there must be fairness in media, which is called for in a proposal for a New Information Order, which the IOJ supports. Fairness is not an abstraction, because journalists are not abstractions; we live in a world, we live in our particular societies, and therefore are caught up in whatever the dynamics of the situation are. This concept of "Objective journalism" that is taught in journalism schools...is not possible...What we are striving for is fairness and balance of information.
To give you a concrete example, the Black Press Institute recently held a media dialogue in Southern Africa in Washington DC on how to make the information more balanced as it comes out of South Africa. The IOJ and the BPI believe there should be balance, that there should be fairness in recognizing the complexities, and that a voice must be given to those who are struggling against oppression.
Soviet propagandist
During her time as International Organization of Journalists vice president, Alice Palmer worked with highest levels of the Soviet propaganda machine-with the Soviet journal Izvestia, with Romesh Chandra and the World Peace Council and IOJ leaders such as Kaarle Nordenstreng and Jiri Kubka.
Alice Palmer told the People's Weekly World[28] ;
The IOJ has adopted positions on nuclear weapons, trying to do away with the nuclear threat in the world.
The IOJ stands not only for peace, but for justice as well. An example of its concern for justice is that the same time I was elected a vice president, a number of African nations were also brought in. This was a real move to bring in people from frontline countries and other nations.
"I will be heading a taskforce on peace and disarmament. And at the conference I was co-moderator, with the editor of Izvestia (a Soviet government publication) :, of a panel on peace and the news media. We came up with some very good suggestions. A number of the people complimented the Soviet Union for its efforts towards peace in these past few years-the moratorium and other things..
The IOJ has worked with the World Peace Council, and Kaarle Nordenstreng, Jiri Kubka and other IOJ leaders have worked closely with Romesh Chandra, the president of the World Peace Council.
IOJ delegations visit other countries to report on the peace proposals of the Soviet Union, so that people can hear about it. This by the way is an example of promoting fairness in the media.
The IOJ is the largest journalist organization in the world. its publications are published in 10 or 15 languages, and it reaches many people all over the world. So you can see that being fair in the media is very important, particularly in the Third World.
Alice Palmer saw journalists and the U.S. "peace movement" as playing a very important role in the struggle for peace[29];
At the center of this is that the peace movement must stop the Soviet bashing. That is just not productive, it is not a good thing at all. I see over and over again that it is a barrier to our ability to work together in the United States and with the people of the Soviet Union for peace.
Solidarity with South Africa
In the 1970s Fannie Rushing and Alice Palmer campaigned in Chicago, against shops selling South African Krugerrands.
At Northwestern University Palmer campaigned against the university's investment in South Africa. She was Dean of African American Studies at the university.
When black student athletes protested against their treatment by the university marched on the university principal's office. Palmer enlisted the help of her and Buzz Palmer's friend, journalist Vernon Jarrett to help publicize the event.
Palmer also worked with Mozambique and Angola movements.[30]
Alice Palmer was a Co-founder of the Chicago Free South Africa Movement[31].
Consulate invasion
In January 1985 Alice Palmer helped organize an invasion of the South African Consulate in Chicago. Among those arrested were Bob Lucas, Heather Booth, Addie Wyatt, and Buzz Palmer. The next day Buzz Palmer went to see mayor Harold Washington to see that the defendants went to trial, to make political capital.[32]
Zimbabwe conference
In the 1980s, Alice Palmer attended a conference in Zimbabwe.[33]
Tribute to Golub and Montgomery
On November 16, 1989, Alice Palmer and Buzz Palmer served on the Tribute Committee for the Chicago Committee to Defend the Bill of Rights Tribute to Leon Golub and Lucy Montgomery, held at the Congress Hotel, Chicago.[34]
In 1989 the Chicago Committee in Solidarity with Southern Africa, Board of Directors consisted of;
Timuel Black, Basil Clunie (co-chair), Earl Durham, Tommie Fry, Judy Hatcher, Tena Johnson, Toni Moore, Cheryl Johnson-Odim, Alice Palmer, Orlando Redekopp, Rachel Rubin (co-chair), Robert Starks, Lucille Teichert, Kevin Thompson, Tim Wright[35].
Illinois Senate
In June, 1991, Palmer replaced Richard Newhouse in the Illinois Senate, where she served until 1996. While in office, Palmer served on the Appropriations II Committee, among many others[36].
Ishmael Flory tribute
Illinois Communist Party USA leader Ishmael Flory was honored at Malcolm X College in Chicago, September 29, 1991, by more than 100 guests.
Margaret Burroughs, a board member of the Chicago Park District MCed the event.
"Ishmael Flory is a man for all seasons...He never gives up", said State Senator Alice Palmer.
Alderman Jesus Garcia of Chicago's 22nd ward cited Flory's role in fostering African-American and Latino unity , and in building multi-racial coalitions for social progress.
Prof. Robert Starks of the Free South Africa Movement said "Ishmael has never failed to compliment me on my speeches, but at the same time he has never failed to pull me aside afterwards, too point out how I could have been a little more "progressive."
Tributes came from Communist Party USA chairman Gus Hall and Illinois organizational secretary Mark Almberg.
Other speakers included Crystal Bujol for the Flory family, long time friend Christine Johnson, Jack Spiegel of the Amalgamated Clothing Workers Union, Ronelle Mustin, peace activist Sarah Staggs, Harold Rogers, who brought greetings from Rep. Charles Hayes, Gerry Oliver, and Carl Bloice of the Peoples Weekly World.[37]
Progressive Chicago
A Progressive Chicago report to Keith Kelleher, dated October 27, 1993 listed several more contacts and potential members of the organization.
It stated that Alderman Joe Moore had agreed to participate and that State senator Alice Palmer was interested and was awaiting a call from Peter McClennon.
Members had been allocated people to contact;
Others targeted for contact, but not assigned, included Clem Balanoff, Sue Purrington of NOW, Jane Ramsey at JCUA, Erlean Collins, Westside Black elected officials and PUSH, TWO and Joe Gardner's Project Hope.[38]
Committees of Correspondence connection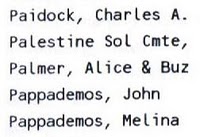 In 1994 Alice and Buzz Palmer, Chicago, were listed on a "Membership, Subscription and Mailing List" for the Chicago Committees of Correspondence, an offshoot of the Communist Party USA[39]
Friends of Alice Palmer
The organization, Friends of Alice Palmer was formed circa 1994 and included at least three activists who were later proved to be members of the Democratic Socialists of America. These members were Timuel Black, Danny Davis and Betty Willhoite, in addition to several DSA associates such as David Orr, Miguel del Valle and Toni Preckwinkle.
Also involved were controversial property developer Tony Rezko and lawyer Barack Obama.
Illinois Public Action
In 1995, Palmer was a member of the board of directors of Illinois Public Action.[40]
In 1996 members of the 120 strong board of Illinois Public Action included Quentin Young, Congressmen Luis Gutierrez and Lane Evans, Chicago alderman Joe Moore and Peoria alderman Frank McNeil, State Senator Palmer, State Representative Jan Schakowsky and Cook County Clerk David Orr.[41]
Congressional run
In 1995, South Side Chicago politics was upset by scandal. Local Congressman Mel Reynolds, was facing charges of sexual assault of a sixteen-year-old campaign volunteer, eventually resigning his seat.
The vacancy interested several politicians, including state senator Alice Palmer, who prepared to enter the Congressional race.[42]
Introducing successor Barack Obama
In 1995, State Senator Palmer introduced her chosen successor, Barack Obama, at a gathering in the Hyde Park home of former Weather Underground terrorists Bill Ayers and Bernardine Dohrn.
"I can remember being one of a small group of people who came to Bill Ayers' house to learn that Alice Palmer was stepping down from the senate and running for Congress," said Dr. Quentin Young, a prominent Chicago physician of the informal gathering at the home of Ayers and his wife, Dohrn. "[Palmer] identified [Obama] as her successor."
Barack Obama and Palmer "were both there," he said.
Dr. Young described Obama and Ayers as "friends".[43]
Fall-out with Obama
Alice Palmer employed Barack Obama as her chief of staff during her Congressional run.
When she was badly beaten in the primaries, Palmer decided to stick with her State Senate seat.
The Palmer/Obama relationship soured after Obama refused to step down, to make way for Palmer's return.
Obama went on to win the seat unopposed, after he knocked Palmer and his other rivals off the ballot, by successfully challenging the legitimacy of their nominating signatures.
New Party
In 1995 the radical Chicago New Party signed up Alice Palmer.
According to Committees of Correspondence leader and New Party activist Carl Davidson[44];
In the next two elections in the city -... the New Party has taken a slightly different approach. It organized a citywide candidates forum and invited a number of progressive candidates. Of those responding, two were of special interest, Alice Palmer and Willie Delgado. Alice Palmer is an Illinois state senator and Willie Delgado is an activist with an anti-Machine coalition of Latinos led by State Senator Miguel Del Valle.
Both of these campaigns have strong local organizations that run as Democrats but are consistently opposed by the regular Democrats. Both are rooted in working-class communities with a large percentage of labor and left activists in their organizational structures. Alice Palmer especially has a long history with the African American left. Lou Pardo, a labor leader and New Party activist, is a strategist and organizer for Delgado.
Both Palmer and Delgado attended the forum and were thoroughly questioned by 70 or so New Party members. At the close, both publicly signed a "contract" with the New Party... Two weeks later, the New Party formally endorsed them and is now mobilizing support.
Citizen Action of Illinois
In 1997 Alice Palmer served on the board of directors of Citizen Action of Illinois.[45]
Chicago Area Friends of SNCC
In 2005 Chicago Area Friends of SNCC organized the "Tell the Story: The Chicago SNCC History Project, 1960-1965" Chicago Area Friends of the Student Nonviolent Coordinating Committee and the Chicago Civil Rights Movement, c. 1960-1965. The event was held October 21-22, 2005 Roosevelt University, Chicago, Illinois.
Members of the advisory committee included Alice Palmer.[46]
PEOPLE Programme
Palmer is a Co-Director and Co-Founder of PEOPLE Programme.
Letter to Obama
In March 2009 dozens of 'human rights groups' and activists in the United States, signed a statement urging President Barack Obama to rethink his decision to boycott the United Nations-sponsored anti-racism conference.
As you know, the Durban Review Conference is one of the most important international platforms for discussing the elimination of racism, racial discrimination, xenophobia and related intolerances. Given the brutal history of slavery and Jim Crow in the United States, your Administration has much to contribute to this discussion. A boycott would be inconsistent with your policy of engagement with the international community…
Individual signers of the statement included Alice Palmer of Chicago, Co-Chair of the People Programme.[47]
References