Alfred Marder
From KeyWiki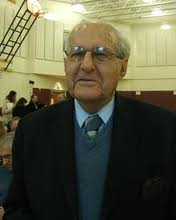 Alfred (Al) L Marder is a Connecticut peace activist and Communist Party USA member.
He is the father of Kenneth Marder and Rebecca Marder.[1]
Early years
In his early years, Marder served as Executive Director of the Connecticut CIO Youth and Sports Organization and was President of the New Haven Youth Conference.
He served in the United States Infantry during World War II and was stationed in the European Theater where he received the Bronze Star.
Following the war, Marder completed his college education at the University of Connecticut and "soon found a passion that he would pursue for the rest of his life".[2]
Al Marder was an organizer for the Communist Party USA in 1952. He organized with others the City of New Haven Peace Commission in the late 80's. He has served on the United Nations International Association of Peace Messenger Cities. One of his projects was to reproduce the vessel the Amistad in 1994[3].
Amistad
The Amistad story has a "special connection to the New Haven community and its resurrection and celebration has become a great source of pride." It led to the erection of a statue of Sengbe Pieh at City Hall, the re-creation of the Amistad ship at Mystic Seaport, and the formation of the Connecticut African American Freedom Trail. Through each of these efforts, the story of the Amistad and its captives' fight for freedom teaches new generations of the fundamental liberties on which our nation was built. It has had an extraordinary impact on our community and would not have been possible without Al's commitment to ensuring its success.[4]
Communist Party reformer
In 1991 Al Marder, Connecticut was one of several hundred Communist Party USA members to sign the a paper "An initiative to Unite and Renew the Party"-most signatories left the Party after the December 1991 conference to found Committees of Correspondence.[5]
New Haven People's Center
In 2002, Al Marder was president of Progressive Research and Associates, an organization created to run the New Haven People's Center.[6]
Peace and Solidarity Commission
In 2002 Al Marder, was a Communist Party USA Peace and Solidarity Commission member.[7]
U.S. Peace Council
In 2004, Al Marder was president of the U.S. Peace Council.
Communist Party USA
In September 2006 the Peoples Weekly World[8]listed several members, or supporters of the Connecticut Communist Party USA.
Al Marder, Art Perlo, Brian Steinberg, Dorothy Johnson, Eda diBiccari, Edie Fishman, Edward Broderick, George Fishman , Henry Lowendorf, James Barnes Jr, Joelle Fishman, Joseph Taylor, Lola Johnson, Mary Johnson, Melvin Gonzalez Mendez, Pamela Saffer, Yusuf Gursey, Sallie Caswell Thomas, Tom Connolly Reed Smith Jr .
United for Peace and Justice Affiliation
In July 2007 Alfred Marder representing U.S. Peace Council / Greater New Haven Peace Council was affiliated to United for Peace and Justice.[9]
Open Letter to Obama on Iran
In 2008 Alfred Marder of the U.S. Peace Council, New Haven, Connecticut signed an online petition "A Open Letter to Barack Obama on Iran".[10]
Peace Commission
The City of New Haven Peace Commission is an organ of the City of Hartford Connecticut. It was organized in the 1980s by Communist Party USA leader Alfred Marder and has been infiltrated by local communists ever since.
Members in 2009;[11]
Disarm Now! conference
In June 2010, Alfred Marder addressed the Disarm Now! Conference, Riverside Church, New York. (Workshop: Peace as a Human Right) is president of the International Association of Peace Messenger Cities, vice president of the World Peace Council, and president of the U.S. Peace Council.[12]
U.S.Peace Council Petition on Korea
In December Alfred L. Marder, Catherine Goodman and Bahman Azad were listed as the originators of a U.S. Peace Council "Petition to President Barack Obama and Congress to end the Korean War and Normalize Relations".[13]
We call on U.S. government to stop its repeated "war games" threatening North Korea, to stop demonizing but rather recognize North Korea as a sovereign nation, to engage the North Korean government in meaningful direct talks to end the Korean War, to sign a peace treaty, to remove all U.S. military bases and troops from South Korea, to negotiate with North Korea to dismantle its nuclear weapons as part of global nuclear abolition, and to normalize diplomatic and trade relations between the two nations.
Alfred L. Marder 90th Birthday Celebration
The March 2012 Host Committee, in honor of Connecticut Communist Party USA member Alfred Marder's 90th Birthday Celebration, held at the New Haven People's Center consisted of;
Hon. Rosa DeLauro, Sen. Toni Harp, Sen. Martin Looney, Rep. Juan Candelaria, Rep. Patricia Dillon, Rep. Toni Edmonds Walker, Rep. Gary Holder-Winfield, Rep. Roland Lemar, Ald. Jorge Perez, President, New Haven Board of Aldermen, Ambassador Sylvester Rowe, Mohammed Barrie, Vinie Burrows, Mary Compton, Joelle Fishman, Craig Gauthier, Emanuel Gomez, Hilda Kilpatrick, Henry Lowendorf, Kenneth Marder, Rev. Scott Marks, William Morico, John Olsen, Quentin Snediker, Jarvis Tyner, Andrea van den Heever, Susan Yolen
A statement issued on the committee's behalf read;[14]
Dear Friends and Family of Al Marder,
We are excited to invite you to celebrate the 90th birthday of Al Marder and to recognize his many contributions, international and local, toward world peace, justice and equality.
Please join us in this joyous occasion on Sunday, March 18, at 3:00 pm at the New Haven Peoples Center, 37 Howe Street, New Haven, Connecticut 06511.
The afternoon will include remarks, greetings, cultural expressions, and refreshments.
Among Al's many projects, there is one he selected for support on this occasion. The New Haven Peoples Center is a site on the African American Freedom Trail in Connecticut. It provides social, cultural and educational opportunities for the community. From his youth, Al has taken part in the activities of the Peoples Center, where today he serves as president.
References