Al Sharpton
From KeyWiki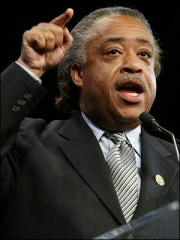 Al Sharpton
History
Al Sharpton was a child preacher in the vein of Marjoe Gortner and others who would travel the "circuit rider" path around the country. One of the first known references to Sharpton regarding any Communist Party front activities was found in an article in the CPUSA newspaper Daily World, February 9, 1971, pp. 1 and 11, in an article by Stephanie Allan entitled "Angela rallies held in churches". More details immediately below.
Rev. Al Sharpton and the Communist Party front, Committee to Free Angela Davis
In the CPUSA newspaper Daily World, February 9, 1971, pages 1 and 11, several rallies concerning clergymen supporting the Communist Party USA front known as The Committee to Free Angela Davis (and by other similar names]] were written about by CPUSA member Stephanie Allan. A dual story entitled "Angela rallies held in churches" covered events in Chicago and White Plains, NY.
In the Chicago event, sponsored by the Chicago Angela Davis Defense Committee (one of several forms of that parent organization's name), a number of speakers were heard at the Tabernacle Baptist Church on Chicago's South Side. From the DW of 2/09/71 came the following paragraphs and names of speakers:
"Sponsors of the rally, the Chicago Angela Davis Defense Committee Angela Davis, brought together, under the theme of "The Fight to Save Angela's Life is the Right for Our Own Lives," a large program of speakers and other performers."
"Included were":
White Plains, New York Rally: Daily World February 7, 1971, pp. 1 & 11, "Angela rallies held in churches" by Stephanie Allan
Held at the Allen A.M.E. Church in White Plains, NY, several hundred people attended the "first mass meeting organized by the White Plains Committee to Free Angela Davis.
Participants and leaders were:
"The high spot of the meeting was provided by Rev. A. Sharpton and Rev. J.L. Scott of Operation Breadbasket, who told about the struggle against A&P, and how the boycott movement could be developed in the Black community. These speakers - the 16-year-old Rev. Sharpton and the older Rev. Scott - spoke in simple, eloquent but politically profound terms. They exposed the connection between A&P, U.S. monopoly capitalism, racism and imperialism, and related these to the Angela Davis case and the threat to the vital rights of the Black people."
"There are five functioning Free Angela Davis Committees in Westchester, with two more in process of organization."
"Co-chairing the Westchester Committee with Warren is:
Mae Morgan Robinson - black political leader, member of the N.Y. State Committee of the Democratic Party, and member of the Black Democratic Caucus which has passed a resolution in support of Angela Davis."
Pro Democracy Convention
The Pro Democracy Convention was held June 29th To July 1, 2001. It started with a National Town Hall Meeting, Annenberg Center, University of Pennsylvania.
Come to a National Town Hall Meeting! Hear speakers representing a wide range of communities, including academics, labor leaders,
lawyers, organizers, and elected officials, speak out about Election 2000, recommendations for electoral reform, and how we all can build the movement to expand democracy in the U.S. Partial List of Invited Speakers and Presenters:
CBC 33rd Legislative Conference, 2003
Anger at the Bush administration for waging war abroad and attacking rights at home bubbled up at the Congressional Black Caucus 33rd Legislative Conference in Washington DC, Sept. 24-27, 2003.
"Collective Leadership: Challenging A Bold New World" was the title of the conference, which attracted thousands of participants in 53 plenary and workshop sessions.
A standing-room crowd at a session titled "The Iraq War: America Speaks Out" convened by Rep. Charles Rangel (D-N.Y.), cheered Sen. Edward Kennedy (D-Mass.), who recently accused Bush of "fraud" in tricking the U.S. into war. The White House reacted with rage to that blast.
But Kennedy did not apologize. "If your son or daughter is in the National Guard or Reserves, you know they are going to be called up and sent over to serve in Iraq," Kennedy thundered. "They are asking $87 billion for the war in Iraq and they cannot find enough to fund 'No Child Left Behind.'"
Kennedy read from the Pentagon's 28-page draft plan sent to Capitol Hill after weeks of protests from lawmakers that the occupation is floundering. "Locate and secure weapons of mass destruction," was the goal one week. A week later, again, "Continue to locate and secure weapons of mass destruction." The crowd groaned and Kennedy flung the draft in the air, calling it "an insult to our troops serving over there."
Democratic presidential contender Al Sharpton told the crowd that Kennedy "has nothing to apologize for" in his blistering attacks on Bush. Recalling Secretary of State Colin Powell's presentation to the UN last Feb. 14 with spy photos allegedly showing Iraqi weapons sites, Sharpton demanded, "Where are they?" He said, "Our children were put in harm's way. It is immoral to give this president $87 billion for this war."
Rep. John Conyers (D-Mich.) asked, "What do you do if a president has committed acts that should lead to his removal? Citing mounting calls to investigate lies and misuse of intelligence by the "unelected president and the people around him," Conyers said, "How do we withstand the mood of people who are saying to us: 'What are you waiting for?'"
Rep. Sheila Jackson Lee (D-Texas) said, "Every day people are dying. I am appalled and outraged that Republicans are blocking a full and fair examination of the facts."
Civil rights leader Rev. Willie Barrow said, "Mr. Bush, you didn't find Osama bin Laden, Saddam Hussein, or weapons of mass destruction. We know a lie when we hear it." She challenged the crowd to start now to register millions of voters. "It's not enough to register people. We have to get them out to the polls on Election Day," she said. "Let's come together and show Bush the door.[2]
Comment on Equality
Al Sharpton, May 5, 2010
Circa May 5, 2010, Sharpton made an address during which he stated,
"The struggle is not over until we achieve equality. Someone was saying to me the other day, "Reverend Sharpton, we've got an African American President; we've achieved the dream of Dr. King" - and I told him that was not Dr. King's dream. He's a great man. I've been working with the President and supporting the President. But the dream was not to put one black man in the White House. The dream was to make everything equal in everybody's house. President Obama being in the White House can help us get there, but we're not there yet."
Prison gerrymandering bill
The Rev. Al Sharpton, Senator Eric Schneiderman and Assemblyman Hakeem Jeffries joined forces with a statewide coalition Jan, 28, 2010, to announce a new organizing campaign plan to end prison-based gerrymandering in New York State before the 2010 Census.
The coalition's goal was to organize across the state to pass Senator Schneiderman's bill that would require New York State to count incarcerated persons in their home communities--rather than in the districts where they are incarcerated--for purposes of drawing legislative district lines. If passed, it would be the first law in the nation to count prisoners in their home communities for districting purposes.
"It's an absolute injustice that New York currently counts people in the districts where they are incarcerated, rather than in their home communities. I am proud to be here to join forces with Sen. Schneiderman, Assm. Jeffries and this coalition to end this unconstitutional practice. If we do not act soon, it will be 10 long years for another opportunity to right this wrong. We cannot afford to wait," said Rev. Al Sharpton.
"Equal representation under the law benefits everyone," said Senator Eric T. Schneiderman, the lead sponsor of the bill to end prison-based gerrymandering. "The practice of counting people where they are incarcerated undermines the fundamental principle of 'one person, one vote' - it's undemocratic and reflects a broken system. This legislation is as simple as it is fair: it requires that legislative districts at every level of government contain an equal numbers of residents. The time to act is now."
Assemblyman Jeffries was the bill's lead sponsor in the Assembly.[3]
Harlem rally against gun violence
More than 2,000 predominantly Black and Latino working people gathered March 21, 2013, on Adam Clayton Powell Blvd. in Harlem in a militant protest against gun violence.
Organized by a broad coalition of labor and people's organizations, it was a "powerful grassroots protest against the National Riffle Association and a warning to Congress that it must pass strong gun control legislation, including a ban on assault weapons."
George Gresham, president of Local 1199 of the Service Workers, captured the fighting spirit of the rally. In a message to all elected officials, Gresham said, "We are the people; do the right thing and we got your back. Do the wrong thing, we got your job."
MSNBC commentator, the Rev. Al Sharpton, addressing the NRA, declared: "We have the right to bear arms but we do not have the right to kill babies. The second amendment does not give you the right to have guns that can hold 30 rounds. We have to take back our streets here in New York and beyond."
Leslie Cagan, who was part of the organizing team for the rally, said that the demonstration was particularly important in light of the Senate leadership having announced that day that the assault weapons ban would be left out of the legislative package. "We need Congress to find the backbone to stand up for communities and families here in Harlem and all over the country," Cagan declared."[4]
References