Ah Quon McElrath
From KeyWiki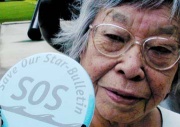 Ah Quon McElrath (born Dec. 15, 1915, died Dec. 11, 2008) was married to Bob McElrath. She retired in 1981, but pushed on with her activism on behalf of Hawaii's poor, frequenting the halls of the Legislature and taking to the streets. She died in Dec. 2008 at the age of 92.[1]
Early Life
McElrath was born to Chinese immigrant parents in Iwilei on Dec. 15, 1915, and spent most of her career as a social worker for the ILWU.[1]
Radicalization
While attending the University of Hawaii she joined the leftist Interprofessional Association and met Communist Party USA leader Jack Hall, head of the International Longshore and Warehouse Union.
McElrath was closely associated with the union during its early years in the 1940s and volunteered to sign up dockworkers. She also was married to ILWU official Bob McElrath, who died in 1995. But it wasn't until 1954 that she became a paid union social worker, a post she held until retirement in 1981.
It was through her work at ILWU that she became, along with the likes of Tommy Trask, Harry Bridges andArt Rutledge, a name synonymous with the labor movement in Hawaii[2].
Committee on Social Welfare
With cuts in state and federal welfare assistance beginning in the 1970s, McElrath took on the role of advocate for Hawaii's poor when she joined with the Committee on Social Welfare[3].
Not In Our Name
In August 2004 A Q McElrath endorsed an anti "Bush Team" Protest at the Republican National Convention in New York, organized by Not In Our Name, an organization closely associated with the Revolutionary Communist Party[4].
References