Academy for Educational Development
From KeyWiki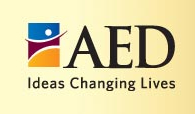 The Academy for Educational Development is a nonprofit organization working globally to improve education, health, civil society and economic development—the foundation of thriving societies. In collaboration with local and national partners, AED fosters sustainable results through practical, comprehensive approaches to social and economic challenges. AED implements more than 250 programs serving people in all 50 U.S. states and more than 150 countries.[1]
Vision & Mission
AED envisions a world in which all individuals have the opportunity to reach their full potential and contribute to the well-being of their family, community, country, and world.
AED's mission is to make a positive difference in people's lives by working in partnership to create and implement innovative solutions to critical social and economic problems.[1]
Personnel
Board of Directors
As at March 31, 2011, the following served on the Board:[2]
Officers
As at March 31, 2011, the following worked for the organization:[3]
Central Management:
Global Health, Population, and Nutrition Group:
Global Learning Group:
Social Change Group:
U.S. Education and Workforce Development Group:
Central Services:
References