AFL-CIO
From KeyWiki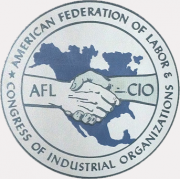 The American Federation of Labor-Congress of Industrial Organizations (AFL-CIO) is the US's largest labor union federation.
Socialist takeover
Circa 1994, AFSCME president Gerald McEntee approached the AFL-CIO with his idea for Project '95, a coalition effort aimed at retaking the House, for the Democratic Party, but AFL-CIO President Lane Kirkland demurred. With that, McEntee and fellow Democratic Socialists of America supporter John Sweeney began canvassing their colleagues about Kirkland's removal. In short order, they amassed support from a coalition that included not just the core of the old CIO (the Auto Workers, Steelworkers, Mine Workers), but the Machinists, Ron Carey's new-model Teamsters, the Carpenters and the Laborers.
What began as dissatisfaction among top labor leaders with the Big Sleep of the Kirkland era evolved in the course of the year to the most profound move to the left since the founding of the CIO. Sweeney formally joined DSA and assumed the presidency of the U.S.s largest labor federation.[1]
"Progressive coalition"
According to Democratic Socialists of America member and journalist Harold Meyerson, the "progressive coalition" of labor unionists which ousted conservative AFL-CIO president Lane Kirkland in 1994-95 and replaced him with DSA member John Sweeney was led by Gerald McEntee, John Sweeney, Richard Trumka, and George Kourpias (all identified DSA affiliates). The coalition selected Trumka as Sweeney's running mate against Kirkland.[2]
Influence of Democratic Socialists of America
The editor of DSA's Democratic Left assured a reader in the Spring/Summer 2000 edition;[3]
And there's good news: More DSA members and alumni of DSA's Youth Section are moving up through the administrative and organizing reaches of AFL-CIO international unions, and global labor solidarity groups, than ever in recent memory.
Political influence
In an essay in Democratic Left Spring/Summer 2000[4], then DSA vice-chair Harold Meyerson wrote;
The differences here are magnified because the strategic importance of unions in American politics has increased almost exponentially since John Sweeney took the helm at the AFL-CIO in 1995. It's the unions that have brought the Democrats back to brink of retaking Congressional power;
Personnel
Top National Officers
The following have served as national officers for the AFL-CIO:[5][6]
Executive Council Members
The following have served as Executive Council Members for the AFL-CIO:[7]
Special Committee on Diversity
As at August, 2007, the following worked for the Committee:[8]
Committee Members
Committee Staff
Affiliated Unions
The following are unions affiliated with the AFL-CIO:[9]
References