21st Century Democrats
From KeyWiki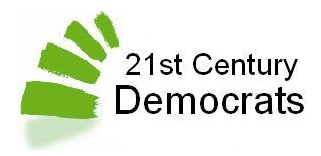 21st Century Democrats is a political organization that has stood for Progressive causes for over 20 years. Founded in 1986 by Senator Tom Harkin, Texas Agriculture Secretary Jim Hightower, and Congressman Lane Evans, 21st Century Democrats has helped elect progressive politicians such as U.S. Senator Tim Johnson, U.S. Senator Barbara Boxer, U.S. Senator Russ Feingold, and U.S. Senator Jeff Merkley. Its three main goals are to help elect progressive candidates, train young people about grassroots organizing, and lastly, to continue to support our elected officials after Election Day "through our comprehensive progressive network".
Board chair is one time Democratic Socialists of America member Jim Scheibel.
Mission
The mission of 21st Century Democrats is to build a "farm team" of progressive populists who will be the future leaders of the Democratic Party.[1]
Personnel
Staff
The following work for the organization:[2]
2008
As at Dec. 21, 2008, the following worked for the group:[4]
Training Participants
The following have participated in the campaign training sessions that the group holds:[5]
Rick Barrett, attended June 19, 2010 training; worked as Field Organizer for Matt Dunne (Governor, VT)
Treva Ross, attended April 18, 2010 training; volunteered for the Hans Riemer Campaign (Montgomery County Council- At Large, MD)
Endorsed Candidates
The following candidates have received endorsement from 21st Century Democrats. The position listed after their name denotes the position they were campaigning for; not their currently held position:[6][7][8][9][10][11][12]
2012
2010
2009
2008
2007
2006
2005
2004
2003
2002
2001
2000
1999
1998
References