Virginia Durr
From KeyWiki
Virginia Durr was active in the Wallace Movement and the Southern Conference for Human Welfare, a Communist front.
Southern Conference for Human Welfare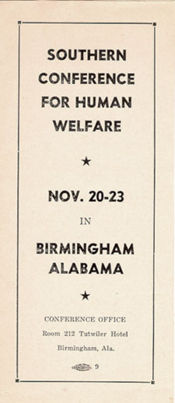 The 1938 Southern Conference for Human Welfare meeting was a landmark political meeting held in Birmingham from Sunday November 20 to Wednesday November 23, 1938. It was organized by the Birmingham-based Southern Conference for Human Welfare.
Publicity for the meeting heralded that, "the Conference, by providing a meeting ground for all Southern progressives, will promote mutual trust and cooperation between them for greater service to the South." Fisk University sociologist Charles S. Johnson reported that the 1,200-plus attendees were a "curiously mixed body which included labor leaders and economists, farmers and sharecroppers, industrialists and social executives, government officials and civic leaders, ministers and politicians, students and interested individuals.
Guests of honor included First Lady Eleanor Roosevelt, U.S. Supreme Court Justice Hugo Black, and Governor Bibb Graves. Also among the attendees, a fourth of whom were African-American, were the Works Progress Administration's Aubrey W. Williams, educator Mary McLeod Bethune, Avondale Mills president Donald Comer, Methodist minister James Dombrowski, Senator Claude Pepper, and SCHW co-founder Virginia Durr.[1]
Southern Conference Educational Fund
Southern Conference Educational Fund board members included;
Scientific and Cultural Conference for World Peace
Durr attended the World Congress of Intellectuals was also a sponsor of the Scientific and Cultural Conference for World Peace.[3]
NFU connection
Soon after the decision was made to sue the Farm Bureau, a controversy emerged in the National Farmers Union's national office in Denver. One of its newly hired attorneys was Clifford Durr, a former member of the Federal Communications Commission and, more recently, president of the National Lawyers Guild. A native Alabaman, he was a dose friend of Aubrey W. Williams, a New Deal relief administrator in the 1930s who was president of the small Alabama Farmers Union. Durr was a well-known critic of J. Edgar Hoover and his employment in Denver had not gone unnoticed in Bridges' speech.
The Denver Post reported in late February 1951 that Virginia Durr had signed an anti-Korean War petition. Unlike her husband, she had been a political activist and a strong Wallace supporter in 1948, running herself as a Progressive Party senatorial candidate in Virginia. As soon as the story appeared, Durr's boss at the Farmers Union office prepared a statement for Virginia Durr to sign, disavowing the petition. The details of the incident are opaque, but Virginia refused to sign the document. Clifford backed her decision and lost his job. Later, Patton reportedly told the FBI "that he fired CLIFFORD DURR ... because his wife associated herself with the American Peace Crusade" and "he felt that Mrs. DURR's connections with the American Peace Crusade had caused embarrassment to the National Farmers Union." Thus Durr, because of his wife's signature on a petition, was deemed too controversial to work for the organization. His firing attracted some criticism and alienated Aubrey W. Williams, who had been a close personal friend of Patton. Although never saying anything publicly, Williams became disillusioned with the NFU and later bitterly criticized it in his private correspondence.[4]
Williams connection
In 1945 Aubrey W. Williams returned South, to Montgomery, and was soon joined by liberal fellow New Dealers and civil-rights activists Clifford Durr and Virginia Foster Durr. With financing from pioneering Chicago retailer Marshall Field, Williams and fellow activist Gould Beech purchased the newspaper the Southern Farmer and turned it into the South's leading journal of liberal opinion. Throughout the 1950s he continued his outspoken advocacy of civil rights, civil liberties, and social justice as a member of the Southern Conference for Human Welfare, as president of its successor, the Southern Conference Education Fund, and as president of the National Committee to Abolish the House Un-American Activities Committee. Not surprisingly, he was under constant attack from conservatives, especially after the desegregation of public schools in 1954. That year, along with Virginia Foster Durr, Williams was investigated by the Senate Subcommittee on Internal Security for alleged Communist Party USA membership.[5]
Southern Organizing Committee for Racial and Economic Justice
Heather Gray served on the board of the Southern Organizing Committee for Racial and Economic Justice that Anne Braden co-chaired along with Reverend Fred Shuttlesworth. The organization " was one of the few that provided the opportunity for us to think and act regionally and to make the essential connections of the myriad of issues we faced. From the 1980's and on the meetings were always filled with a diversity of black, white and eventually Latino activists in the region".
We would sit for hours in New Orleans, Montgomery or Birmingham to strategize on various issues, activities and mistakes we've made then and in the past. We would also listen, learn and occasionally join in while the legendary leaders in our midst discussed and analyzed the dynamics of white supremacy, racial politics generally and labor challenges in the South. Anne was never without offering a lengthy epistle about anything until the wee hours of the night along with her ever-present cigarettes! These sessions were often both grueling and enlightening. They were not only a history lesson but also a socialization process into the tactics of southern civil rights activism and Anne understood the importance of this. She wanted to pass this information on to all of us and to keep the momentum going at every conceivable juncture. The meetings were a roll call of southern leaders and activists the likes of Reverend C. T. Vivian, Jack O'Dell, Gwen Patton, Virginia Durr, Reverend Fred Taylor, Reverend James Orange, Connie Tucker, John Zippert, Jackie Ward, Reverend Benjamin Chavis, Charlie Orrock, Ann Romaine, Damu Smith, Jim Dunn, Judy Hand, Scott Douglas, Ron Chisholm, Spiver Gordon, Pat Bryant, Tirso Moreno and countless others.[6]
References