Tom Bradley
Jump to navigation
Jump to search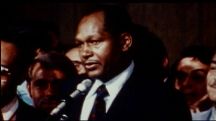 Template:TOCnestleft Tom Bradley was Mayor of Los Angeles for an unprecedented five terms. From 1973-1993 he guided Los Angeles in becoming a major American city. Bradley was the first African American Mayor elected in a major U.S. city without an African American majority. Bradley was elected through the efforts of a citywide racial, religious and ethnic coalition that formed around his candidacy.[1]
Chicano movement
The 40th Anniversary Commemoration Committee of the Chicano Moratoriums was formed in the summer 2009 by the Chair of the National Chicano Moratorium Committee of August 29, 1970 along with two independent Chicano Movement historians whom although not of the baby boomer generation, have become inspired by the Movimiento.
The organization posted a list of significant "Chicano movement" activists on its website which included Tom Bradley.[2]
Californians for Liberal Representation
Californians for Liberal Representation, arrived on the Los Angeles political scene in 1962. It was founded by mostly white, middle-class, liberally minded, anti-war advocates. They coalesced around the issue of the Vietnam War and their first major fundraising campaign in 1962 helped elect Edward Roybal and George Brown, two anti-war Congressmen. Some of the early members of the organization include Arthur Carstens (Chairman), Maurice Weiner (Executive Director), Jack Berman (Coordinator) and Eleanor "Elly" Wagner (Administrative Secretary). The board consisted of activists from the broad spectrum of Los Angeles political life and included members from organizations such as the ACLU, community religious leaders, and entertainers such as Steve Allen.
In 1969, CLR executed one of its largest campaign efforts in support of Tom Bradley's mayoral bid. In addition to aiding liberal politicians in Los Angeles, CLR supported liberal politicians and figures nationwide. Each year they presented the Estes Kefauver Award, which was named after the Assembly member and Congressman who assisted the CLR in building a progressive coalition of community leaders. Some of the Kefauver Award winners include journalist William Shirer, Senators George McGovern, Wayne Morse, and Joseph Clark. The organization remained active for over ten years. Eleanor Wagner, one of the founding members, left CLR in 1972. Jack Berman fulfilled her duties as administrative secretary (essentially the executor of board decisions) and CLR continued its work through the late 1970s. [3]
The Ganz connection
After leaving the UFWA in 1981, Ganz began working on California political campaigns -- directing field programs, training organizers, and leading strategic planning for such candidates as Nancy Pelosi for Congress, Alan Cranston for Senate, Tom Bradley for governor, and governor Jerry Brown. He also worked on campaigns of such unions as the Hotel Employees and Restaurant Employees Union (HERE), Service Employees International Union , and the Screen Actors Guild. In 1987 he formed and served as executive director of two groups to develop organizing programs, Services for Organizing and Leadership, and The Organizing Institute. He led voter registration, get-out-the-vote, and organizer training, and conducted research on voting, leadership development, and community organizing.[4]
Honoring Harry Bridges
Harry Bridges was once a secret member of the central Committee of the Communist Party USA.
And, as founder and president of the International Longshoremen's and Warehousemen's Union, he worked within the capitalist system that he said he despised to help make West Coast longshoremen among the best paid workers in the world.
On February 9 1986, the 84-year-old Bridges, was honored at a testimonial dinner at the Los Angeles Hilton in "a celebration of a life, a movement, an epoch." The sponsors included Los Angeles Mayor Tom Bradley, San Francisco Mayor Dianne Feinstein and more than 150 other political, labor, business and education leaders.[5]
Greeting Chris Hani
More than 250 labor, peace, civil rights and political leaders greeted South African Communist Party leader Chris Hani at his April 27, appearance in Los Angeles. The crowd contributed more than $12,000 towards the People's Weekly World fund drive and the work of the South African Communist Party.
Los Angeles City Council member Robert Farrell, presented Hani with a resolution signed by Mayor Tom Bradley and City Council president John Ferraro, welcoming him as "one of the most highly respected and powerful voices of the anti Apartheid movement."
The welcoming committee included reps Maxine Waters, Mervyn Dymally and Matthew Martinez, State senator Diane Watson, Los Angeles School board president Jackie Goldberg and more than 30 labor, civic and entertainment leaders including Cesar Chavez of the United Farmworkers.
Waters sent a letter of greeting to Hani and Yengeni saying, "as the struggle within South Africa continues to develop from one stage to the next, please be assured that all of us will continue to be at your side. Your struggle is our struggle".
Evelina Alarcon, chair of the Southern California district of the Communist Party USA, introduced Hani, She drew rousing cheers as she pledged, on behalf of the audience and the welcoming committee, continued efforts to maintain sanctions against South Africa.[6]
Cannon connection
As a member of the Communist Party USA, Oneil Cannon became the education director in the Southern California District, and a member of the Party's Southern California and National Central Committees.
Cannon was committed to electing Black and Latino representatives at all levels of government. He helped to elect Augustus Hawkins, Tom Bradley, Ed Roybal, Diane Watson, Maxine Waters, and Karen Bass.
Cannon campaigned for Barack Obama in 2008, and wept with joy along with millions of others when he was elected. He died peacefully, wearing one of his Obama T-shirts.[7]
References