Tavis Smiley
From KeyWiki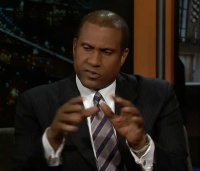 Tavis Smiley is currently the host of the late night television talk show Tavis Smiley on PBS and The Tavis Smiley Show distributed by Public Radio International (PRI). In addition to his radio and television work, Smiley has authored fourteen books. His memoir, "What I Know For Sure: My Story of Growing Up in America," became a "New York Times" best-seller and the book he edited, "Covenant with Black America," became the first nonfiction book by a Black owned publisher to reach #1 on The New York Times best-seller list. In 2009, TIME magazine honored Smiley as one of "The World's 100 Most Influential People."[1]
Mobilization to End Poverty speakers
The Mobilization to End Poverty Conference was held in Washington, D.C. from April 26 - 29, 2009, and was hosted by Sojourners and sponsored by World Vision.
The following were speakers at the conference:[2]
President Barack Obama was also invited to give a major address on poverty at the conference.
"Black agenda"
Tavis Smiley organized and hosted the forum, held on Saturday, March 20, 2010 at Chicago State University on the city's South Side. The confab offered up a provocative query: Is there room for a black agenda in the "post-racial America" of Barack Obama?
The televised event drew about 3,000 people, heard Smiley lead a four-hour conversation among 12 black intellectuals, educators and activists. The mix included longtime Smiley compatriots, academics like Cornel West, Michael Eric Dyson and Julianne Malveaux. Others were longtime black leaders like the Rev. Jesse Jackson Sr., and Nation of Islam Minister Louis Farrakhan. Most of them came, they said, to "lovingly" take Obama to the woodshed.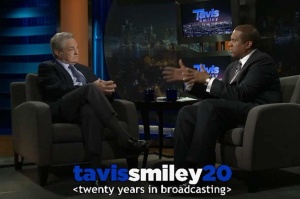 Demos 10th anniversary honor
On Tuesday, May 11th, 2010, Demos, a national, non-partisan public policy organization, honored TARP Oversight Committee Chair Elizabeth Warren, PBS Host Tavis Smiley and AFL-CIO Secretary-Treasurer Elizabeth Shuler at its 10th anniversary celebration in New York City.[3]
Bibliography
Fail Up: 20 Lessons on Building Success from Failure by Tavis Smiley (Hardcover - May 1, 2011)
What I Know for Sure: My Story of Growing Up in America by Tavis Smiley (Paperback - Jan 8, 2008)
The Covenant with Black America (English and English Edition) by Various Contributors and Tavis Smiley (Paperback - Jan 1, 2006)
Never Mind Success - Go For Greatness!: The Best Advice I've Ever Received by Tavis Smiley (Paperback - Jan 1, 2006)
Accountable: Making America as Good as Its Promise by Tavis Smiley and Stephanie Robinson (Hardcover - Feb 17, 2009)
Empowerment Cards (Large Card Decks) by Tavis Smiley (Feb 2003)
Doing What's Right: How to Fight for What You Believe--And Make a Difference by Tavis Smiley (Paperback - Dec 26, 2000)
America I AM Legends: Rare Moments and Inspiring Words by Smiley Books and Tavis Smiley (Hardcover - Feb 1, 2009)
Keeping the Faith: Stories of Love, Courage, Healing and Hope from Black America by Tavis Smiley (Hardcover - Oct 15, 2002)
What Black Men Should Do Now: 100 Simple Truths, Ideas, and Concepts (Dafina) by K* Thomas Oglesby and Tavis Smiley (Paperback - May 1, 2002)
Hard Left by Tavis Smiley (Hardcover - May 1, 1996)
Reclaim Your Power!: A 30-Day Guide to Hope, Healing, and Inspiration for Men of Color by Terrance Dean and Tavis Smiley (Paperback - May 13, 2003)
How to Make Black America Better: Leading African Americans Speak Out by Tavis Smiley (Paperback - Jan 2, 2002)
On Air, the Best of Tavis Smiley by Tavis Smiley (Paperback - Feb 1, 2004)
Keeping the Faith: Stories of Love, Courage, Healing, and Hope from Black America by Tavis Smiley (Paperback - Jan 6, 2004)
Empowerment Cards for Inspired Living Cards by Tavis Smiley (Paperback - Oct 15, 2004)
The Other Wes Moore: One Name, Two Fates by Wes Moore and Tavis Smiley (Apr 27, 2010) - Unabridged
From Glory to Shame: The Rise & Fall of Black America (And How She Can Rise Again) A Spiritual Bridge to Tavis Smiley's The Covenant by Samuel L Madison (Paperback - Jun 1, 2007)
Fail Up: 20 Lessons on Building Success from Failure by Smiley, Tavis ( Author ) on Apr, 01, 2011 Hardcover by Tavis Smiley (Unknown Binding - Apr 1, 2011)
The Unfinished Agenda of the Selma-Montgomery Voting Rights March (Landmarks in Civil Rights History) by The Editors of Black Iissues in Higher Education (BIHE) and Tavis Smiley (Hardcover - Feb 21, 2005)
The Unfinished Agenda of Brown v* Board of Education (Landmarks in Civil Rights History) by The Editors of Black Issues in Higher Education, James Anderson, Dara N Byrne and Tavis Smiley (Hardcover - Apr 29, 2004)
Just a Thought: The Smiley Report by Tavis Smiley (Paperback - Sep 1993)
On Air: The Best of Tavis Smiley on the Tom Joyner Morning Show 2004 - 2008 by Tavis Smiley (Audio CD - Oct 15, 2008) - Audiobook
On Air: The Best of Tavis Smiley on the Tom Joyner Morning Show by Tavis Smiley and Tom Joyner (Paperback - Mar 1998)
The Covenant Two Book Set by Tavis Smiley (Paperback - 2006)
Biography - Smiley, Tavis (1964-): An article from: Contemporary Authors Online by Gale Reference Team (Digital - Dec 16, 2007) - HTML
Black leaders examine developing contract with Black America* (noteworthy news)(Tavis Smiley)(State of the Black Union): An article from: Black Issues in Higher Education (Digital - Apr 19, 2005) - HTML
Tavis Smiley returns to public radio* (Newsmakers): An article from: Jet (Digital - Jul 14, 2006) - HTML
Backtalk with Tavis Smiley* (Interview): An article from: Black Enterprise by Kenneth Meeks (Digital - Apr 4, 2006) - HTML
Tavis Smiley: shares life lessons in new book What I Know For Sure* (Critical essay): An article from: Jet by Clarence Waldron (Digital - Dec 11, 2006) - HTML
Jet Magazine Oct 30, 2006 TYRA BANKS; TAVIS SMILEY (Paperback - 2006)
USA Weekend January 22 2010, Tavis Smiley on Hillary Clinton, by USA Today (Single Issue Magazine - 2010)
Evidence of things not seen (A CONVERSATION WITH PBS HOST TAVIS SMILEY)(Interview): An article from: Sojourners Magazine by Jim Wallis (Digital - Mar 10, 2010) - HTML
New Yorker August 4 2008 Roberto Bolano Fiction, Lang Lang Takes Beijing, Tavis Smiley, Coldplay's "Viva la Vida", Poems by Kathryn Starbuck & Louise Gluck by New Yorker Magazine (Single Issue Magazine - 2009) [4]
References