Steny Hoyer
From KeyWiki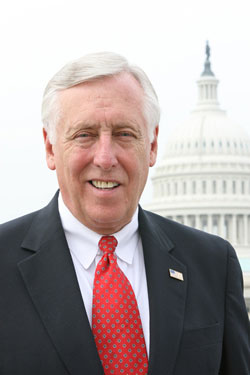 Steny H. Hoyer is a Democratic member of the United States House of Representatives, representing the 5th district of Maryland. He is now serving[1]as the House majority leader.
In the House
His role includes managing the House floor as well as scheduling legislation to be considered on the floor. He also plays key roles in helping House Democrats determine their legislative agenda and political strategy and in building support for the party's positions and delivering the Democratic message both in Washington and nationally.
Now serving his 14th term in Congress. Prior to being elected majority leader, Hoyer served as the Democratic Party Whip in the 108th and 109th Congresses.
CASA connection
June 2010, U.S. Senators Barbara Mikulski and Ben Cardin (Md.) were among the special guests who helped cut the ribbon on CASA de Maryland's newly expanded and renovated multicultural center in Langly Park, Md. Through an investment partnership with Bank of America, Enterprise helped finance the green property with $7.9 million in New Markets Tax Credit allocation. [2]
CASA de Maryland, the state's largest immigrant advocate organization celebrated its 25th birthday by opening a new headquarters in the 21, 000 square foot McCormick-Goodhart mansion.
The facility will now be known as the CASA de Maryland MultiCultural Center. The renovation took almost three years and cost nearly $14 million dollars , "Some donations from the community were as small as a quarter and the largest was $2 million dollars" says CASA's Executive Director Gustavo Torres.
Over a thousand Langley Park residents attended the celebration as well as Maryalnd Senators Barbara Mikulski and Ben Cardin, US Congressman Chris Van Hollen and Steny Hoyer and the President of the NAACP Benjamin Jealous.[3]
ARA
Rep Hoyer addresses Maryland/DC Alliance for Retired Americans /senior issues at town hall, July 18, 2003.
ARA endorsement, 2014
The Alliance for Retired Americans Political Action Fund endorsed Steny Hoyer in 2014, also 2012.[4]
Contributions from SEIU
Hoyer is the top recipient of funds from SEIU PAC, with a total of $74,550.[5]
Planned Parenthood
Hoyer received $1000 in lobbying funds from Planned Parenthood in 2008.
PDA connection
In June 2013 Progressive Democrats of America assigned activists to deliver their material to almost every US Congressman and several Senators. Mike Hersh was assigned as contact for Rep. Hoyer.[6]
External links
References