Socialist Organizing Network
From KeyWiki
Socialist Organizing Network
History
Freedom Road Socialist Organization grew out of an initial merger of the Proletarian Unity League and the Revolutionary Workers Headquarters, in addition to later mergers with the Organization for Revolutionary Unity and the Amilcar Cabral/Paul Robeson Collective.
Freedom Road Socialist Organization merged with the Socialist Organizing Network, (SON) in 1993. SON emerged initially out of the dissolution of the League of Revolutionary Struggle (LRS), which itself was formed by the unity of the August 29th Movement, I Wor Kuen, and the Revolutionary Communist League. SON included members who were not part of the LRS. SON's roots are primarily in the liberation movements of oppressed nationalities and national minorities (Chicano/Latino, Asian American, and African-American), and the labor movement.[1]
Split
In 1990 League of Revolutionary Struggle split, with one group ( including most of the Asian comrades) dropping Maoism, and maintaining control of Unity, becoming the Unity Organizing Committee. The other faction kept a more traditional outlook, becoming the Socialist Organizing Network, which later merged with Freedom Road Socialist Organization .
West Coast Socialist Scholars Conference 1993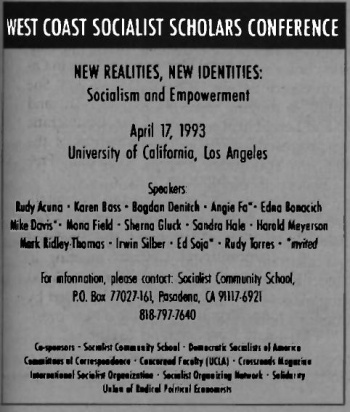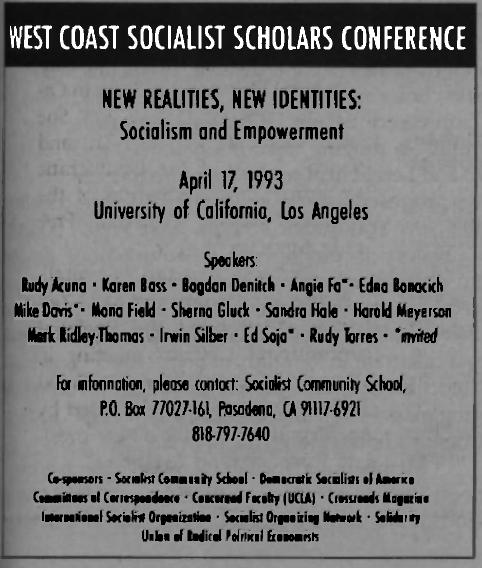 The West Coast Socialist Scholars Conference 1993, "New Realities, New Identities ; Socialism and Empowerment" was held April 17, 1993 University of California, Los Angeles.[2]
Speakers included;
Co-sponsors were Socialist Community School - Democratic Socialists of America - Committees of Correspondence - Concerned Faculty (UCLA) - CrossRoads Magazine - International Socialist Organization - Socialist Organizing Network - Solidarity - Union for Radical Political Economics[3]
References