Socialist Alternative
Jump to navigation
Jump to search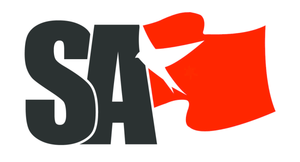 Template:TOCnestleft Socialist Alternative is affiliated with the United for Peace and Justice.[1]
Socialist Alternative is in political solidarity with the Committee for a Workers' International, a worldwide socialist organization in 37 countries, on every continent.
Origins
Socialist Alternative first emerged as "Labor Militant" in 1986. Its activists were inspired by the example of the U.K. socialist group Militant Tendency, which sought to enter the British Labour Party in order to radicalize its rank-and-file. A decade later it would use its position on the Liverpool City Council and elsewhere to lead an aggressive campaign against the Thatcher administration's cuts to social programs.
The American militants adapted their tactics to the conditions in their own country. Without a mass social-democratic party to enter into, Socialist Alternative used its early influence in the now-defunct U.S. Labor Party of the late 1990s to advocate for electoral opposition to Democratic Party politicians. In the coming years the organization would be active in social movements, but it wasn't much of a presence even by the slim standards of the American Left. It had neither the clout of the Democratic Socialists of America nor the number of activists of the largest American bastion of Trotskyism, the International Socialist Organization.[2]
Infiltrating DSA
According to Grace Fors writing in In These Times, in December 2020, SA announced that some of our members would be joining DSA. The motivation for this is the aforementioned crisis of capitalism, and the tremendous challenges ahead for socialists. The authors allege that some of our members have joined DSA in an attempt to ​"infiltrate" the organization and ​"force a split." This couldn't be farther from the truth.
As we wrote at the time:
"In working together to build the socialist left, we want to avoid any unnecessary polarizations on organizational issues, and instead we'd like to focus patient debates on political questions facing our movement. Towards this end, we are not conducting any ​'secret entryism.' Socialist Alternative members will be joining DSA openly and honestly, stating clearly their dual membership and their political positions in a comradely way."
This has only been confirmed over the past several months as our members have been busy attending DSA meetings, phone banking for the PRO Act, helping lead DSA study groups, and collaborating on local initiatives. The response from DSA members to our involvement has been overwhelmingly friendly."
We are proud of our affiliation with Leon Trotsky. Along with those of Karl Marx, Friedrich Engels, and Vladimir Lenin, Trotsky's ideas are foundational to our theory of change. It is important to remember that organized ​"Trotskyism" emerged from the campaign to defend the Russian Revolution against not just the Stalinist bureaucracy but the reemergence of capitalism; we see Trotskyism as the historical continuation of Marxism.
The legacy of Trotsky includes titanic gains for the working class in the form of the Russian Revolution, but also crucial theoretical contributions like the use of the transitional method, the united front, and the theory of permanent revolution.
Militant in the British Labour Party, by contrast, is an important part of our political heritage that we are glad our comrades have brought up. We're immensely proud of what Militant achieved: The Liverpool Council's heroic struggle against austerity, the Poll Tax movement that delivered a decisive blow to Margaret Thatcher's government, and a method of mobilizing thousands of working class people. Each represents an important victory in the hard-fought struggle against neoliberalism.
DSA is not the Labour Party, and we aren't carrying out the tactics of Militant. Like all Marxists, we base our work on our perspectives: general assessments of class forces and predictions for how events will likely develop. Perspectives do not provide formulas, of course, but they are fundamental to materialist analysis and the development of on-the-ground strategies.
While a few of the attacks levied against our members have unquestionably been made in bad faith, we do not fault DSA members for being curious about SA's aims in joining DSA. DSA members should be proud of their organization and its accomplishments, and the impulse to defend its successes is understandable.
How Socialist Alternative organizes itself internally, how we run campaigns, and our case for breaking with the Democrats and building a workers' party are among the countless topics we are open to discussing. For DSA members seeking clarification on these questions, we are excited to engage in productive dialogue around these issues as we deepen our collaboration.
Socialist Alternative members have never seen ourselves as competitors of DSA. We have welcomed DSA's growth at every stage, campaigned on the ground for DSA-backed candidates, and engaged in fruitful joint work with DSA chapters across the country for years.
We're enormously proud to call Kshama Sawant a member of Socialist Alternative. Kshama's work as the only independent socialist on the Seattle City Council — and the campaign to defend her seat from a billionaire-backed recall—is extremely important for all socialists to study and actively support. The most high-profile victories she's led, like the $15 minimum wage and the Amazon Tax to fund social housing and Green New Deal projects, each represented huge redistributions of wealth from the billionaire class to the working class in Seattle. These victories were not won through the legislative power of Kshama's seat but through the building of democratically organized grassroots campaigns that deliberately sought the broadest possible involvement from working class people and organizations.
Our council office has spearheaded landmark tenant protections like capping move-in fees, prohibiting rent increases in dilapidated buildings and banning winter evictions. Earlier this month, we won a guaranteed right to counsel for all renters facing removal from their homes. Throughout her time in office, Kshama has championed tenant organizing, working closely with tenant unions and using her platform to educate renters on how to organize their buildings. Kshama has been a fierce fighter in the Black Lives Matter movement, putting forward a first-in-the-nation ban on weapons against peaceful protest, and she remains one of the only politicians in the country who continues to call for the police to be defunded.
While we are eager to champion Kshama's accomplishments in office, our work does not solely revolve around her Seattle city council seat. Over the past year, our members have played an important role in a number of key struggles across the country. During the height of the Black Lives Matter rebellion, our members in the Amalgamated Transit Union (ATU) in Minneapolis mobilized bus drivers to refuse to transport #JusticeForGeorgeFloyd protestors for the police, demonstrating the crucial role the working class has to play in fighting racism. Workers in other cities would later adopt the same tactics.
During the protests, SA members in the American Postal Workers Union also lent their support to the movement for Black lives by organizing public solidarity actions. We played a leading role in the Somerville Teachers Association's contract battle that won a crucial pay increase for Somerville paraprofessionals. And our members fought hard alongside DSA and the Chicago Teachers Union (CTU) against Mayor Lori Lightfoot's unsafe school reopening in Chicago.
Characterizing Socialist Alternative's involvement in DSA as ​"entryism" or ​"a party within a party" is woefully inaccurate, especially given that less than 100 of our more than 1,000 members are in DSA. Most are deeply involved with our independent work as Socialist Alternative, and continue to recruit to SA in workplaces, college campuses, and working-class neighborhoods. All across the country, our members are forging broad community coalitions to fight and win, from Stop The Station in Pittsburgh to Tax Amazon Burbank to an anti-gentrification campaign to stop the construction of a new luxury college dorm in Boston to ongoing tenant organizing in Brooklyn.
Maintaining our independent organization plainly reflects our belief that a tight-knit Marxist party working in conjunction with a broad multi-tendency Left has the best chance to succeed.
Our work in the labor movement is not limited to unions where we have members. Wherever the working class is fighting for better conditions, from the Oakland teachers strike to the Stop & Shop strike in New England to the union drive in Bessemer, Socialist Alternative has been there to help in any way we can. That work includes building community solidarity, engaging on the picket lines with workers and strategizing the best tactics to win. We played an outsized role in the $15-minimum-wage victory in Minneapolis. Our affiliation with International Socialist Alternative, which is active in over 30 countries on six continents, is fundamental to our politics and has provided keen insight into the global struggle against capitalism.[3]
Nationwide Anti-Trump Organizing
In an article at a Socialist Alternative publication, Patrick Ayers writes:
"Within hours of Trump's victory, on November 8, Socialist Alternative branches around the county helped initiate protests that saw as many as 40,000 people come out on the streets on November 9."[4]
Additionally, Ayers continues:
"Defeating Trump's agenda would massively raise the confidence of working people to fight for other demands including a $15 federal minimum wage, single-payer healthcare, an end to mass incarceration, and tuition-free college. But victories under capitalism, as in the past, can be reversed. Globally, capitalism faces a historic crisis that the U.S. cannot escape. The world economy faces an epoch of sluggish growth, while wars, social conflict and environmental catastrophe threaten to engulf the planet. We believe the fight against the right must be part of building an independent movement of working people to fundamentally transform society along socialist lines."
Anti-Trump Protests
Socialist Alternative "helped kick off massive marches in New York City, Seattle, Philadelphia, Oakland, California, and Ann Arbor, Michigan."[5]
Regional affiliates
Solidarity with Sept. 24 FBI Raid Activists
The Committee to Stop FBI Repression lists Socialist Alternative as one of the organizations that has issued a statement of solidarity in support of the activists raided in the September 24, 2010 FBI Raids.[6]
Electoral politics
In 2013 Socialist Alternative ran several high-profile local city council races — Kshama Sawant's in Seattle, Ty Moore's in Minneapolis and Seamus Whelan's in Boston.
Savant won, Moore came very close.[7]
External links
References
Template:Reflist [[Category:Socialist Alternative