Saul Wellman
From KeyWiki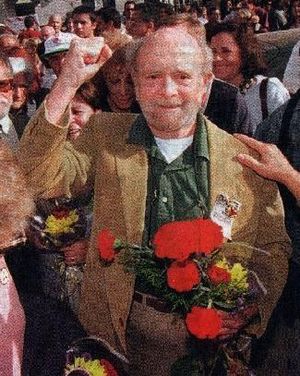 Saul Wellman (1913 - 2003) was a Spanish Civil War veteran.
Background
An organizer of young truck drivers in New York during the Depression, officer in the International Brigades during the Spanish Civil War (wounded at the Battle of the Ebro), paratrooper during World War II (he was wounded and then escaped from the Germans during the Battle of the Bulge). He then moved to Detroit and became leader of Michigan's Communist Party. During the McCarthy period Wellman lived underground, was arrested by the FBI, and was the lead defendant in Detroit's most famous political trial, of the "Michigan Six." After going to prison his conviction was overturned, and he then broke with the Communist Party. In his fifties, Wellman became a printer, a union leader, joined the New Left.[1]
Communist Party USA
Wellman was a Communist Party member, leaving in 1957.[2]
Sentencing under Smith Act
Wellman was one of several Communists sentenced under the Smith Act, being sentenced to five years in jail, however these sentences were later overturned by the U.S. Supreme Court on a technicality.[3]
New American Movement 10th convention
In 1981 Saul Wellman, Detroit NAM led a workshop entitled Voices of the Spanish Civil War at the 10th Convention of the New American Movement. The convention was held in a union headquarters in Chicago and ran from July 29 - August 2, 1981.[4]
New American Movement Speakers Bureau
In the 1980s Saul Wellman was a speaker on the The Left & People's History section of the NAM Speakers Bureau on the subject of Reflections of an Organizer.
He was also a speaker on the Socialism Around the World section of the NAM Speakers Bureau on the subject of Spain - Heroes of the Past/The Crisis Today.[5]
DSA Conference delegate
In 1983 Saul Wellman was a District of Columbia, Maryland delegate to the Democratic Socialists of America conference in New York City, October 14-16, 1983.[6]
DSA "Greetings"
In 1990, 39 people, plus "Seattle Democratic Socialists of America" and the "San Diego local", signed a "Greetings" ad in Democratic Left, September/October, 1990, page 23. Most signatories were known members of Democratic Socialists of America. Signatories included Saul Wellman.]].
References