San Diego Democratic Socialists of America
From KeyWiki
San Diego Democratic Socialists of America is affiliated to Democratic Socialists of America.
Founder passes
Muriel Sobelman Jencks, one of the founders of San Diego DSA, passed away in 2017.
Muriel was a life-long progressive activist, a friend to the broad San Diego socialist left, and a regular contributor to the Rosenberg Fund for Children, a public foundation started in 1990 by Robert Meeropol and named in honor of his parents Ethel and Julius Rosenberg.
Muriel was the widow of Clint Jencks, the legendary labor organizer who became a movie star by essentially playing himself in the blacklisted classic film Salt of the Earth.
She devoted all her energy to rescuing that film from the obscurity to which it had been consigned during the McCarthy years. The current appreciation of that film in any discussion of labor history, Latino working class struggles, and especially Socialist Feminism, owes a tremendous debt to Muriel's tireless efforts.
Muriel had recently moved from San Diego to Northern California to be near her daughter.[1]
1993 actions
San Diego DSA held a March forum with Greg Akili, co-chair of the African American Organizing Union, on "The New Administrationand the Struggle for Universal Health Care."
San Diego DSAers were also active waging a campaign to convince the area Congresspeople, Lynn Schenk and Bob Filner, to co-sponsor the McDermott-Conyers bill for a single-payer health care system.[2]
San Diego DSA hosted an August 20 lecture on Clinton's economic program by Ray Boddy, Professor of Economics at San Diego State University. The local also became active in the fight to defeat the school voucher initiative.[3]
2000 actions
In 2000, Local members worked on the anti-voucher initiative with Californians for Justice and the California Teachers' Association, campaigned for Nader, and fundraised for Medea Benjamin.
The local held a well-attended meeting this fall around the utilities deregulation fiasco, featuring Craig Rose from the San Diego Union Tribune, who was instrumental in getting the issue out locally; DSAers are presently meeting with important people connected with this issue, and they hope to be part of a movement toward creating a municipal utility.[4]
DSA 2005 Western Regional Conference
San Diego DSA hosted the March 5, 2005 DSA Western Regional Conference
The morning workshops emphasized internal questions, including DSA Local Development and dialog around cooperation between San Diego DSA and other members of the San Diego Socialist Unity Network.
In the afternoon the workshops moved toward more general themes relating to the economy. DSA National Director Frank Llewellyn and San Francisco National Political C o m m i t t e e member Tim Sears presented a workshop on Wal-Mart and the Low Wage Economy. San Diego DSA member Gregg Robinson led a workshop on Saving Social Security. Finally, Amelia Simpson from the Environmental Health Coalition presented a power point presentation on CAFTA and the Border Economy. This presentation "emphasized the devastating impact NAFTA has had on both sides of the border, and made the case for organizing to prevent the extension of NAFTA-like free trade to Central America via CAFTA".
The evening panel discussion centered on organizing around the maquiladora industry. Featured were well-known author, reporter and photographer David Bacon; Carmen Valadez from the Workers' Information Center , Tijuana, and the Colectiva Feminista Binacional; Enrique Davalos from CITTAC and the San Diego Maquiladora Workers' Solidarity Network (SDMWSN); and Teresa Loyola from the Tijuana Women's Rights Advocates. San Diego DSA is a very active founding member of the SDMWSN. [5]
Alliances
In 2010 San Diego DSA brought its members out to the Fifth Anniversary Celebration of San Diego's Living Wage Ordinance. The local Tea party had have put an initiative on the November ballot that would repeal the Living Wage for San Diego, and DSA expects to be heavily involved in efforts to defeat it. The local has also participated in demonstrations and marches relating to the massive education cuts in California, and maintained its ongoing coalition work with the San Diego Maquiladora Solidarity Network; the San Diego Affordable Housing Coalition; and the Socialist Unity Network.[6]
Socialist Unity Network
SD DSA has been an ongoing member of the San Diego Socialist Unity Network (SUN), along with Freedom Road Socialist Organization and Committees of Correspondence for Democracy and Socialism. Starting about 2007, SUN has held bi-monthly "Socialist Salon" gathering.[7]
Occupy San Diego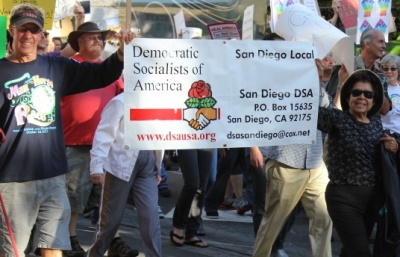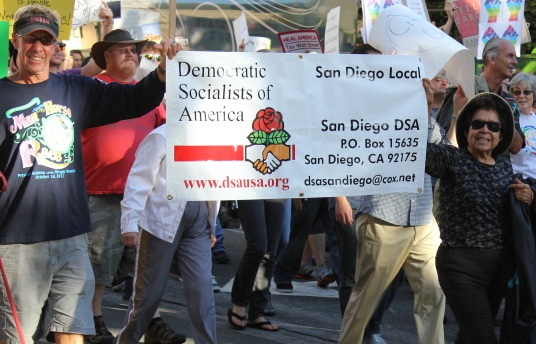 According to report from San Diego Democratic Socialists of America, members Herb Shore and Virginia Franco on October 16, 2011, on Occupy San Diego;[8]
We had a successful march and rally a week ago, October 7, with a DSA contingent of about seven people, taking turns carrying the DSA banner. The march was from a downtown SD park to Civic Center. It was huge for this city's standards—an impressive 1500 marchers. We passed out lots of copies of the DSA Fact Sheet on the federal budget. A couple of DSAers, Pam Barratt and Virginia Franco spent this first night 'al fresco', with no tent.
Since the first march and rally, DSA SD has participated with food donations two more times to the occupiers at Civic Center. Last night, we contributed 144 brownies at about 10:00 PM and displayed a sign. Although, late evening, we managed to show a sign expressing the SEBOR cover statement, and passing out the pamphlets. Someone mentioned we were going to be on their Facebook page. One young leadership occupier expressed interest in DSA, and said she would mail the brochure to her father in NYC, an economic conservative.
DSA San Diego General Membership Meeting
DSA San Diego General Membership Meeting · Hosted by Democratic Socialists of America - San Diego
Sunday, February 19 at 4 PM - 6 PM PST
3850 Westgate Pl, San Diego, CA 92105-5113, United States[9]
Invited on Facebook
Interested
Went
Public Facebook group
San Diego Democratic Socialists of America Public Facebook group, as of March 18, 2017;[10]
Admin Christian Adams, Encinitas, California
Members
Michael Clark, San Diego State University, American Language Institute (ALI)
Sara Obermeier, Orion Academy
Thomas Wells, Occupant at Entropic Decay
Colette Brannan, Legal Assistant at Brown & Winters
Alexis Geoffrey, 2016-2017 Technology Chair at SDSU Circle K International
Moises Fer, Corps Member at City Year
Leslie Burns, Owner/Attorney at Burns The Attorney: Leslie Burns, Esq.
Antonio Jose, Grand Mufti at The Illuminati
Michalangelo T. Coe, Singer/guitarist/dancer at Audio Martyr
Alex Leon, Works at Cafe chloe
Ty Velasquez, Unicornologist at Magical rainbow unicorn land
Herb Shore, UC Berkeley
Chrystal Cee, Real Estate Sales Agent at HomeSmart Realty West
John Falchi, Senior Development Management Consultant at J. P. Falchi & Associates
Erika Venegas, Works at Tin Leaf Fresh Kitchen
Arianna Davis, Producer/Writer at Unofficial: Eyeshine Movie
Ben Snell, Weekend Warrior at Lowe's Home Improvement
Lisa Mojica, Poway High
Greg Siebert, Owner-Operator at Self employed carpenter
Pedro Dominguez, San Diego Country Estates, California
Mark Ellingson, Owner at Sports Roses
Rachael D'abre, Works at Pacific Ocean
Cipriano Vargas, Substitute teacher at Vista Unified School District
Jakelen Diaz, Works at Maven
Lyndsi Winer, San Diego, California
Jim Hesson, Director at Academic English Solutions
Ryan Rutledge, Chief Communications Officer at J. de Salis Sophrin & Associates, Inc.
Steven D. Grumbine, Founder at Real Progressives
Max Cotterill, UCSD
Dario Navarro, Works at Self-Employed
Spencer D. Eldridge, Santa Rosa Junior College
Laurie Champion, Professor at San Diego State University
Eric Hyman, Senior Energy Engineer at Climatec Inc.
Jay Moore, Web / UI Designer at X
Shandra Decker, RVT at Center Veterinary Clinic
Jeanne Visser, Works at Seasons Hospice & Palliative Care
Julianne H. Gustafson-Lira, Northwest High School
Judith Castro, Owner & Master MUA at JCastroBeauty
Tom Packard, Professor at San Diego State University
Ken Barratt, Wellacre Secondary School
Sherry Hayes, UC Santa Barbara
Susan Tapert, UCSD
Tristan Sloughter, Principal Engineer at Space-Time Insight
Casey Scott Mangold, AT2 (AW) at US Navy
Robert Lee Hotchkiss, Studying at Student
Barbara Weeks Huntington, Retired. at Self-Employed
Brian Polejes, Senior Union Organizer at SEIU Local 1000
Christopher Ian Opsahl, Sr. Reprographics Associate at The UPS Store 0090
Kevin Landers, Project Development at Rising Sun Solar
Amanda Domnitz, Founder/Executive Director at The School of Sound and Harmony
Al Rode, Myself at Socialist Media Patriot
Rocky DiPrima, Owner at Retired
Angela Brown, Works at Science Teacher
Hexa Howard, Works at Arachne webzine
Julia Anker, UCSD
Lauren Ell, Broadcaster at Lauren Ell of the Hi Desert
Jordan Ekeroth, Founder at The Reindeer Club
Julianne Lambert, Vidal Sassoon Academy
Jonas Simon, Owner-operator at Serenity Now Meditation
Cavan Kharrazian, GWU
Jess Lee, Chemist at Pharmatek
Johnny Tran, Owner at Thumbprint Gallery
Michael Dorais, Senior Software Engineer at TriTech Software Systems
Catherine Mendonca, Director of Communications at United Against Police Terror - San Diego
Mommio at Oliver elliot
Caleb Moore, Works at Common Ground Coffee Co.
Christian Marcotte, CEO at Fancy Food Cart
Kelly McCall, Caregiver at Caregiver Support Program VA San Diego Healthcare System
Maddie Flaigmore, Nurse at Scripps Health
Patrick Folz, UCSD
Sean Monahan, Teaching assistant at Brown University
Eric Joyce, Photograph Cultivator at The Ocean
Ryan C. Taylor, Electrician at US Navy
Nick Conner, UMBC
Philip Piech, Facilities and Operations Coordinator at San Diego State University
Adam Crocker, UCSD
Richard Raphael Tedford, Project Administrator at BRIDGE Housing
Micah Perlin, Organizer at Progressive San Diego
Terra Lawson-Remer, NYU
Conor Robinson, Program Director at Humanist Service Corps
More names had been added by October 14, 2017.
Admins
Members
San Diego Democratic Socialists of America Second Public Group
As of August 3, 2017;
Admin
Members
References