Russia Today
Jump to navigation
Jump to search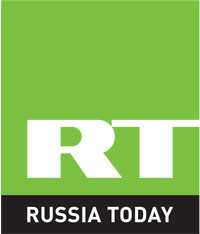 Template:TOCnestleft Russia Today is a Russian media outlet, aimed at de-stabilizing and weakening opponents of Russian foreign policy.
Purpose
Most Americans have never heard of Russia Today (RT) television, a propaganda arm of the Putin-Medvedev-KGB-run Russian thugocracy, but thanks to a former KGB officer, Konstantin Preobrazhensky, more about its origins and purposes have been revealed.
In a "Statement by Konstantin Preobrazhensky, former Soviet KGB officer, on the impact and purpose of Russia Today (RT) television", given to America's Survival, Inc. organization, led by noted journalist Cliff Kincaid, released April 1, 2011, the former KGB officer wrote the following about it (Full Text).
"Russia Today" was founded in 2005 especially for propaganda abroad. It has been aimed at 'explaining Russia's position on the main international issues and inform foreigners about Russian life'. According to Gzt.ru, it has been financed totally by the Russian government. In 2005-2006, the government has delivered $30 million annually. In 2011-2013, "Russia Today" will get $216 million (6,483 billion rubles).
The methods of propaganda are managed by Directorate "A" of Russian Foreign Intelligence Service. The specialty of Directorate "A" is deceiving world public opinion and manipulating it. It has got a lot of experence over decades of the Cold War.
"Russia Today" is only a part of the Russian industry misinformation and manipulation created recently in the USA by Putin's KGB. It is including the utilization of some American think-tanks and political scientists, their direct work up by Putin at annual meetings in Russia, putting Russian Americans under Kremlin's control, etc. This industry aims at creating an inadequate, adorned image of Russia, provoking American to make wrong steps in their Russian politics.
These steps are many, like refusal to deploy ballistic missile defenses in Eastern Europe, allowing the KGB-ruled Moscow Patriarchate to absorb Russian Church abroad in 2007, personal acceptance by President Bush of a Russian criminal in the war in Chechnya, General Shamanov, in 2006 and, of course, closing the Russian Service in Voice of America in 2008. Maybe Americans consider the VOA Russian Service to be a mere relic of the Cold War, unnecessary in free Russia, but in fact it has been one of the last sources of independent information for Russians. It has irritated Russian authorities. Putin has managed to close it with the Americans' hands.
On the other hand, Russian propagandist TV channel "Russia Today" is very active in America. Nobody is going to close it or to transfer it to the Internet, as was done with the VOA Russian Service.
Russian-American cooperation is one-sided. Only Russia is getting benefits from it. America is enjoying euphoria of victory over Communism in the Cold War, but Russians say the war is still going on.
According to American logic, Communism should have been replaced with democracy and all its attributes like human rights, independent media, division of power, and all the others. And it has really taken place in the East European countries of the former Soviet bloc, but not in its core, Russia. Now, there is only on attribute of democracy, all the others have been destroyed by Putin. it is private property. But if this property is large enough, it should be approved by the government, or the government will ruin your business.
Anti-Americanism has become the basis of Russian foreign policy nowadays. Hatred of America is hatred of democracy.
End of Text
In the past, the Soviet Union published many magazines and journals aimed at influencing American public opinion to view the communist state in a favorable light. Among these publications were the following:
As cited in The Guide to Subversive Organizations, Page 201, regarding "Subversive Activities Control Board, Docket No. 104-53, Report and Order with respect to the National Council of American-Soviet Friendship, Inc., February 7, 1956, pp. 20 & 22; see also pp. 7 & 9." Soviet Russia Today was also cited as a "Communist front or front publication" by SPCUA, House Report 1311, on the CIO Political Action Committee, March 29, 1944; HCUA Annual Report, HReport 2277, June 25, 1942; HCUA House Report 1953, on the Congress of American Women, April 26, 1950/Oct. 23, 1949 and the Senate Judiciary Committee, Senate Report 2050 on the Institute of Pacific Relations IPR, July 2, 1952.
Soviet Life - a later magazine based on the Life Magazine formatting style, also of life in the Soviet Union. Printed especially for the American readership.
These publications was brought into the U.S. through Communist Party USA front operations, posing as international import businesses, especially in Chicago, Illinois where a key one was run by identified CPUSA members LeRoy Wolins and David S. Canter[1].
Canter, according to his son Marc Canter, was an acquaintance of a young community organizer in Chicago named Barack Obama, and also worked with longtime leftist political organizer Don Rose.Template:Cite date of email and to whom
Both were reportedly political mentors of top Obama adviser, former Chicago Tribune journalist David Axelrod.Template:Cite
Accuracy In Media Report details from April 8, 2011.
Hired Julian Assange
Christian Science Monitor Moscow correspondent Fred Weir reports that Starting in March, 2012, Julian Assange will host a 10-part series of interview programs with "key political players, thinkers and revolutionaries" on Russia Today, a state-funded English-language satellite news network which claims to reach more than 85 million viewers in the US alone.
According to a statement on his website, the new Assange series will explore the "upheavals and revolutions" that are shaking the Middle East and expose how "the deterioration of the rule of law has demonstrated the bankruptcy of once leading political institutions and ideologies" in the West.
Entitled "The World Tomorrow," the show will be filmed by an RT satellite crew at Ellingham Hall, the remote manor house 130 miles north of London. It's the same place Assange has been under house arrest since December 2010 awaiting a Supreme Court decision on his extradition to Sweden to face sexual assault allegations.
One British newspaper, The Guardian, has published its own wish list of people it would like to see go head-to-head with him, including former British Prime Minister Tony Blair, media tycoon Rupert Murdoch, and US Secretary of State Hillary Rodham Clinton.
"Through this series I will explore the possibilities for our future in conversations with those who are shaping it," Assange said in his statement. "Are we heading towards utopia, or dystopia and how we can set our paths? This is an exciting opportunity to discuss the vision of my guests in a new style of show that examines their philosophies and struggles in a deeper and clearer way than has been done before."
The network says the series could reach as many as 600 million viewers worldwide.
The six-year-old Russia Today, which seems far better funded than most media these days, has battled accusations that it is a Kremlin vanity project since its inception.
The station tends to tiptoe gingerly around the controversies of Russian politics, but aggressively applies its own slogan – "Question More" – in its coverage of Western affairs and particularly the global role of the US.
In 2010 it opened a full-time US TV channel, RT America, which produces independent content on US politics and economics from what it calls an alternative – critics say anti-American – point of view.
Hiring Assange would seem a perfect fit for RT. Worries that WikiLeaks might dump a lot of embarrassing material about the Russian government into Internet never panned out.
However, the thousands of US diplomatic cables that it did release proved to be the gift-that-keeps-on-giving for critics and rivals of Washington, including the Kremlin.
"We liked a lot of the WikiLeaks revelations. It was very much in sync with what Russia Today has been reporting about the Arab Spring, and about the duplicitous policies of the US and its allies all along," says Peter Lavelle, a senior journalist with RT and host of its Cross Talk public affairs program.
"I think the Russian government will be pleased [to see Assange working on RT]. It's a soft power coup for Russia," he added.[2]
RT's "American Dream" broadcast
The Russia Today Moscow-funded propaganda channel, aired a special program on Tuesday February 22, 2012, on how progressives in the U.S. can "Take Back the American Dream" by defeating Republicans. The propaganda effort was broadcast throughout the United States and produced in collaboration with major liberal groups such as the Campaign for America's Future, MoveOn.org and Demos, all of them George Soros funded.
The host was Thom Hartmann, who regards himself as the nation's "number one" progressive radio talk-show host.
The "National Teach-In to Take Back the American Dream" featured Robert Reich, former U.S. Secretary of Labor; Heather McGhee of Demos; Leo Hindrey, a businessman and self-styled "Patriotic Millionaire;" Natalie Foster, the co-founder of Rebuild the Dream; and Robert Borosage of the Campaign for America's Future.
Nobody on the program, which also aired on DISH Network, DirectTV and the Free Speech TV Network, demonstrated any concern about appearing on a Moscow-funded channel to promote the "American dream."[3]
References
↑

Communist Outlets for the Distribution of Soviet Propaganda in the United States, Part 2, Hearings, House Committee on Un-American Activities, May 17 & July 11, 1962, including the testimonies of both Cantor and Wolins

↑ Christian Science Monitor, Russia gives WikiLeaks' Julian Assange a TV platform, Fred Weir, Correspondent / January 25, 2012