Rossana Cambron
From KeyWiki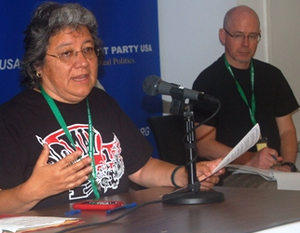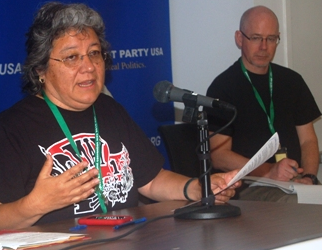 Rosana Cambron is a Los Angeles activist. Cambron coordinates the activities for the Communist Party USA in Southern California and is active in the peace movement.[1] She is married to Arturo Cambron.
WEB DuBois Clubs of America
In 2014, Rossana Cambron was listed a a friend on the DuBois Clubs Facebook page.[2]
Communist Party
In 2006 Rossana Cambron was[3]Communist Party USA Southern California district organizer
Young Communist League Club leader Gaby Castillo is working with the Communist Party of Southern California district organizer Rossana Cambron to develop a joint CP/YCL book club.
Open Letter to Obama on Iran
In 2008 Rossana Cambron signed an online petition "A Open Letter to Barack Obama on Iran".[4]
Peoples World personnel
As at December 2010, personnel of the Communist Party USA paper, Peoples World, ;[5]
Editorial Board
Bureau Chiefs and National Contibutors, Juan Lopez (N. Calif.), Rossana Cambron (S. Calif.), Joelle Fishman (Conn.), John Bachtell (Ill.), John Rummel (Mich.), Tony Pecinovsky (Mo.), Dan Margolis (N.Y.), Rick Nagin (Ohio), Libero Della Piana, Scott Marshall, Elena Mora, Emile Schepers, Jarvis Tyner, Sam Webb
Ecuador communist conference
Dee Myles and Rossana Cambron represented the Communist Party USA at the 16th Meeting of Communist and Workers Parties, Nov. 13-16, 2014 in Ecuador.[6]
Peoples World 2015
New member phone bank
New member phone bank Public · Hosted by Communist Party USA.
Saturday, April 15, 2017 at 11 AM - 4 PM EDT
Your living room
We're organizing a phonebank to our new members on Saturday and we need your help. The callfire service allow you to make the calls from home, using your smartphone, laptop or deskstop. You'll get a real charge from talking to them! Aint' nuthin like it!! Please click "going" if you can make calls! Thanks!
Those invited to participate on on Facebook included Rossana Cambron.
References