Rich Benjamin
From KeyWiki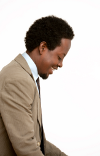 Rich Benjamin is an author and political analyst and activist. He wrote Searching for Whitopia: An Improbable Journey to the Heart of White America (2009). From 2001-2002, he was Visiting Scholar at Columbia University School of Law.
He was the founding Executive Director of Why Tuesday? and he serves on the Advisory Board of The Roosevelt Institute Campus Network.
Benjamin earned his BA in political science from Wesleyan University and his PhD in Modern Thought and Literature from Stanford University.
He is a member of the Authors Guild and the National Book Critics Circle.[1]
Demos Involvement
In 2009 Rich Benjamin was a Senior Fellow of New York based think tank Demos.[2]
External links
References