REFUSE FASCISM
Jump to navigation
Jump to search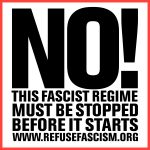 REFUSE FASCISM is a project of the Revolutionary Communist Party initiated to remove President Donald Trump from office. REFUSE FASCISM accepts tax-exempt donations through the Alliance for Global Justice.[1]
Initiators
Initiators include (list in formation):
Rise Up 4 Abortion Rights
REFUSE FASCISM was a signatory on a May 2022 statement issued by Rise Up 4 Abortion Rights, another Revolutionary Communist Party front group.[3] The statement called for "abortion on demand and without apology" and was issued in the wake of a leak of the Supreme Court decision to overturn Roe v. Wade, which forced states to accommodate the killing of unborn children.
Open Letter to Democracy NOW!
In October 2017, members of REFUSE FASCISM wrote an open letter to Democracy Now!, asking for coverage.[4]
November 4 2017
November 4, 2017
A speech delivered at the "Refuse Fascism National Meeting" by Refuse Fascism co-initiator and member of the Advisory Board[5] Andy Zee on August 5, 2017[6] "affirmed the decision to issue the Call for November 4 and developed plans for Regional Conferences on August 19 to build and organize for November 4." Zee was quoted as saying in part: "[W]e will gather in the streets and public squares of cities and towns across this country, at first many thousands declaring that this whole regime is illegitimate and that we will not stop until our single demand is met: This Nightmare Must End: the Trump/Pence Regime Must Go!" Zee also said that "Refuse Fascism is the hope and the way to drive the Trump/Pence Regime from power."
News media reported in September 2017 that Refuse Fascism was organizing a series of nonviolent protests against the Trump administration, which began on November 4, 2017.[7] Conferences were held in Austin, Chicago, Los Angeles, New York and San Francisco in August 2017 in preparation for the protests.[8][9] In an article posted on September 29, 2017, Refuse Fascism claimed[10] that "[E]very branch of government has been taken over by fascists, and their base has been mobilized to enforce their ideology on the streets. White supremacists. Christian theocrats. Violent misogynists" and called for the November 4, 2017 protests to "grow day after day and night after night—thousands becoming hundreds of thousands, and then millions—determined to act to put a stop to the grave danger that the Trump/Pence Regime poses to the world by demanding that this whole regime be removed from power."
Protestors carrying signs reading "NOV 4 IT BEGINS" blocked traffic on U.S. Route 101, near Alameda Street in Los Angeles, on September 26, 2017.[11] The road blockade and the planned protests became the subject of a conspiracy theory alleging that anti-fascist groups were planning to foment a civil war in the United States.[12][13][14][15][16] In an article posted on September 29, 2017, Refuse Fascism claimed[17] that "[E]very branch of government has been taken over by fascists, and their base has been mobilized to enforce their ideology on the streets. White supremacists. Christian theocrats. Violent misogynists..." and called for the November 4, 2017 protests to "grow day after day and night after night—thousands becoming hundreds of thousands, and then millions—determined to act to put a stop to the grave danger that the Trump/Pence Regime poses to the world by demanding that this whole regime be removed from power."
On November 1, 2017, Refuse Fascism placed a full page advertisement[18] in the New York Times titled: "We Will NOT Be Intimidated, In the Name of Humanity, On November 4 We Demand: This Nightmare Must End: The Trump/Pence Regime Must Go!" A press release announced in part: "Protests demanding the ouster of the Trump/Pence Regime planned for November 4thin New York, Los Angeles, San Francisco, Chicago, and more than a dozen other cities are going forward and gathering momentum in the face of a virulent deluge of lies and vicious threats of violence, rape and even death spread by alt-right groups." "Spokespeople" for the press release were listed as Andy Zee, Carl Dix, Sunsara Taylor, Perry Hoberman, and Isabel Cardenas.
In September and October 2017 the claims were reported in multiple articles and broadcasts by InfoWars, by the John Birch Society's publication The New American, and by Richard Spencer's Altright.com website.[13] In October 2017, Executive Chairman, Center for Security Policy, Frank Gaffney and author and activist Trevor Loudon claimed that Refuse Fascism, as a front group for the Revolutionary Communist Party, USA, was a maoist organization that emerged from the Students for a Democratic Society known for flag burning and recruiting felons through Global Exchange,[19] a program that has since been discontinued.[20] Later in October, the conservative blog The Gateway Pundit published an article by Lucian Wintrich claiming an "antifa leader" had pledged to "behead white parents" on November 4.[21][12][22] The now-deleted tweet used as the source of the article stated "can't wait for November 4th when millions of antifa supersoldiers [sic] will behead all white parents and small business owners in the town square" was later claimed to be a "joke." The article was shared on Facebook more than 40,000 times.[22] Wintrich "...did not back away from the story, presenting it as a critique of leftist rhetoric".[12] Also in October 2017, rumors circulated claiming that the U.S. Department of Defense (DOD) had scheduled a power outage for November 4; in fact, the DOD intends to conduct a training exercise alongside the American Radio Relay League, an event that has been held quarterly since 2013, in which the electrical grid will not be turned off.[23][24][25][26] As of October 25, 2017, YouTube videos warning of plans for a civil war had been viewed millions of times;[27] and as of November 2 a viral video entitled "Officer Warns: Antifa To Declare Civil War On Whites Before Year End" had been shared over 55,000 times on Facebook.[28] The conspiracy theory has led to threats to attack the demonstrations and to murder anti-fascists.[13]
Sunsara Taylor said of the claims: "What they're saying is completely false. They're blatant lies, and they're creating and intending to intimidate people who want to stand up to the Trump/Pence regime. It's concerning that these lies are being spread and that they're unleashing threats."[27] Taylor also said that the response "lets us know we've struck a chord, and they recognize the strength of what we are doing."[29] Spencer Sunshine of Political Research Associates argued in October 2017 that "the conspiracy is being used to encourage Far Right activists to harm non-violent Leftist protestors" and that "The organizing function of these 'looming war' narratives serves to motivate the Far Right base, rather than function as actual predictions."[13] Adi Robertson of The Verge wrote on November 3 that "It doesn't necessarily matter how much anyone believes tomorrow's nationwide protest is a civil war—the point is that some people are hoping it will become one."[30]
Manifesto
Based on a Facebook Post by Cornel West:
"Donald Trump, the President-elect, is assembling a regime of grave danger. Millions of people in the US and around the world are filled with deep anxiety, fear, and disgust. Our anguish is right and just. Our anger must now become massive resistance –before Donald Trump is inaugurated and has the full reins of power in his hands.
Should we fail to rise with determination and daring in our millions now to stop this, the consequences for humanity will be disastrous. We, the undersigned, know in the depths of our beings, the catastrophe that will befall the people of the world should the Trump/Pence regime assume full power.
We therefore CALL FOR A MONTH OF RESISTANCE beginning on December 19th, reaching a crescendo by the January 20th 2017 Inauguration.
Our resistance must spread rapidly to every sphere and every corner of the country. Because we refuse to accept a fascist America, millions must rise up in a resistance with a deep determination such that we create a political crisis that prevents the Trump/Pence fascist regime from consolidating its hold on the governance of society.
The Presidency of Donald Trump is illegitimate.
Donald Trump did not win the popular vote. Not even close, he lost by 2.5 million votes. He won the Electoral College – an institution set up in 1787 to protect slavery. This legacy of the most brutal oppression of Black people has become the means that enabled the election of Trump and Pence.
More fundamentally, it is the fascist character of the Trump/Pence regime and what they are planning to do which renders it illegitimate and an immoral peril to the future of humanity and the earth itself.
Under the slogan "Make America Great Again," Donald Trump has viciously attacked Mexicans and Muslims, threatening to register and deport millions, closing borders. He incites fear and hate of all who are "different" – nationalities, religions, or gender. He crudely demeans and degrades women, openly boasting about molesting them. He champions white supremacy and whips up a racist lynch-mob mentality. Trump has mocked the disabled. He is a bellicose militarist, who threatens to use nuclear weapons. He openly advocates war crimes — including torture. He vows to pack the Supreme Court with justices who will take away the right to abortion and gay rights. He denies science – calling climate change a hoax and will wreak devastation on the environment. He has attacked and threatened the press and stirred up his supporters to do the same. He has threatened to strip citizenship for constitutionally protected dissent. Trump has utter contempt for facts and the truth, and consistently lies to advance his agenda. As for the rule of law, Trump went so far as to openly threaten his opponent, Hillary Clinton, not only with jail, but even assassination. By any definition, Donald Trump is a fascist. He has put together a regime that will carry out this program, and worse.
This is fascism and it is a very serious thing. It has direction and momentum that must be stopped before it becomes too late.
Fascism foments and relies on xenophobic nationalism, racism, misogyny, and the aggressive re-institution of oppressive "traditional values." Fascism feeds on and encourages the threat and use of violence to build a movement and come to power. Fascism, once in power, essentially eliminates traditional democratic rights. Fascism attacks, jails, even executes its opponents, and launches violent mob attacks on "minorities." In Nazi Germany in the 1930s and '40s, fascism did all these things. This is where this can go. And yes, Hitler himself could "talk graciously" when he felt it would serve his interests and lull his opponents.
In the world today, shockwaves reverberate. Over decades in the U.S. virulent movements of white supremacy and anti-immigrant hysteria have gained momentum. A narrow, intolerant, and political form of Christian fundamentalism has been brought into government and policy at all levels. The Trump/Pence cabinet and judiciary will coalesce all of this and worse at the highest level of power, with horrific consequences. No election, whether fair or fraudulent, should legitimize this. "Reaching across the aisle" only legitimizes that which is illegitimate.
If you work with fascists you normalize the road to horror. You cannot try to "wait things out." Those who lived through Nazi Germany and sat on the sidelines, looking on as Hitler demonized, criminalized, and eventually rounded up one group after another, became shameful collaborators with monstrous crimes. Don't Conciliate… Don't Accommodate… Don't Collaborate!
The Trump Regime Must and Can Be Stopped Before It Starts!
This is not wishful thinking but could be made a reality if all who hate what is represented by this fascist regime translate our outrage into massive mobilization to create the political conditions which make this possible. We are millions. Our only recourse now is to act together outside normal channels. Every faction within the established power structure must be forced to respond to what we do – creating a situation where the Trump/Pence regime is prevented from ruling.
We call on each and every one who opposes what this regime stands for, and what it will do, to take part in and actively build, this resistance and refusal. Organize. Plan. Act.
The Month of Resistance must grow to millions—becoming protests that don't stop—where people refuse to leave, occupying public space, and more and more people stand up with conviction and courage demanding:
NO! We Refuse to Accept a Fascist America!
Imam Aiyub Abdul-Baki, Ed Asner, Bill Ayers, Fr. Bob Bossie SCJ, Herb Boyd, Charles Burnett, Isabel Cardenas, Margaret Cho, Kia Corthron, Joe Dante, Chuck D, Carl Dix, Alex Ebert, Niles Eldredge, Kurt Elling, Eve Ensler, Charles Gaines, Merrill Garbus, Pastor Gregg L. Greer, David Gunn Jr., Lalah Hathaway, Marc Lamont Hill, Chase Iron Eyes, Everett Iron Eyes Sr., Henry Giroux, Evelyn Fox Keller, Robin D. G. Kelley, Wayne Kramer, John Landis, Julie Mehretu, Vic Mensa, Debra Messing, Jessica Care Moore, Thurston Moore, PZ Myers, Arturo O'Farrill, Michelle Phillips, Milton Saier, Yusef Salaam, Dread Scott, Michael Shannon, Danny Simmons, David Strathairn, Alice Walker, Naomi Wallace, Cornel West, Saul Williams, and thousands more.[31],[32]
The Month of Resistance
Starting 12/19/16, it begins – the day the Electoral College meets to vote in each state: hold a press conference or a protest. Starting now, distribute this Call everywhere and on social media, host house meetings, fundraising events concerts and forums. Everywhere step up the resistance: walkouts from schools and work, protests against attacks and threats on Muslims, women, people of color, LGBT people – all linked to the objective of Stopping the Trump/Pence regime. The struggle must grow.
On MLK weekend, there needs to be massive demonstrations of many thousands in key cities, including Washington. D.C., that grow to millions over the next week, protests that don't stop . . . where people refuse to leave and more and more people stand up with conviction and courage demanding:
NO! We Refuse to Accept a Fascist America!It's not enough just to sign this Call – millions, tens of millions of people need to become aware of it in the days and weeks ahead. Print it and distribute it everywhere you go, leave it on buses and trains, in schools, in stores, places of worship, coffee shops … make it go viral on social media … use it as a basis for participating in or organizing activities where you live.[33]
The Plan:
Right now: wave of publishing the Call to Action as a sign-on ad in major newspapers. Initial funds needed as signatories are garnered.
Sat – Mon Jan 14-16: Martin Luther King Weekend actions around which highlight & raise determined opposition to the white supremacist, American chauvinist, religiously bigoted character of this fascist movement and regime which draw forward everything thus far built and build further. People begin coming to DC.
Tues-Thurs Jan 17-18-19: fill the streets of DC with millions, millions more demonstrate in every major city and small town all over US and the world, demanding that Trump-Pence be prevented from taking office before January 20.[34]
REFUSE FASCISM petition
A REFUSE FASCISM petition "RefuseFascism.org Calls for Mass Defiance of Fascist Trolls" "Calls for Mass Defiance of Fascist Trolls In the Name of Humanity – We REFUSE to Accept a Fascist America!"[35]
Signatories
Dr. Nabil Abu el Ata
Leo P. Arnaboldi TTE
Audrey Bomse, Esq
Rev.Dr. Neema Caughran
Rev. Theron Holmes Clark
Julie Dobkin
Kimberly Dobson
Larry Dobson
Smith Dod
Sandra Dodson
Alysia Doherty
Joseph Doherty
Sue Doherty
Nancy Dollard
Ed Dolle
Ken Dolsky
Dakota Domanich
Marena Domingo-Young
Alejandro Dominguez
April Dominguez
Marino Domino
Howard Donaghy
Frank Donahue
Tom Donegan
Seth Donnelly
Megan Donnelly-Heg
Brian Donovan
Jenny Donovan
Ross Donovan
Melinda Doran
William Doran
Kerry Dorf
Brian Dorsey
Todd Doss
Annamarta Dostourian
Christine Doty
Mo Dougherty
River Dougherty
Emory Douglas
Gerald Dowd
Michael Dowell
Elizabeth Morris Downie
Michael Doyle
Wilim Doyle
Jessica Drake
Nicola Drake
Julie Drassinower
Ralph Dratman
Gudrun Dreher
Michele Drier
Chhimed Drolma
Amy Dryansky
Inez Duarte
David Dubnau
Luz DuBois
Megan Dubose
Mark DuCharme
Tim Duda
Lynn Dudenhoefer
Gary Duehr
Alissa Duffy
Vali Dugan
Gracie Dumeny
Catherine Dunaway
Leah Dunbar
James Dunn
Brad Dunshee
Ed Dupree
Sarah Durand
Cathy Duren
Lauren Durham
Hetty Dutra
Pamela Duvall
Paris Duvall
Oasa DuVerney-Gaspar
Ramona Dvorak
Katherine Earle
Carol Eastes
Myra Eastman
Christina Eater
Severn Eaton
Todd Eaton
Christina Eberle
Lani Eberlein
Greg Eckenrode
Jasmine Eckenrode
Mikhaila Eckhardt
Sally Eckhogg
Lynette Ecklin
AnneMarrie Edam
Beth Eddy
Carole Edelsky
Eleanor Edelstein
Margaret Edera
Nora Edison
Ace Edmands
Idema Eef
Adam Eeuwens
Lynn Egan
Jamie Ehrenfeld
Howard Ehrman
Kristian Eik
James Eilers
Deborah Einbender
Bernie Eisenberg
Maxine Eisenberg
Art Eisenson
David Eisikovits
Steve Eklund
Auguste Elder
Erin Elder
Robert Elder
Carolyn Elerding
Mohamed Elias
Reyes Elina
Serena Elkaim
Jennifer Elling
Kurt Elling
Margaret Elliot
Mary Jane Elliott
Meghan Elliott
Tristan Elliott
James Ellis
Patrick Ellis
Jeffrey Ellis-Lee
Arlene Ellner
Lauren Elvig
Robin Elvig
Sophie Elvig
Judith Emerson
Rana Emerson
Renee Emory
Michael Ender
David Engel
Stephanie Engel
Stephanie Engel
Hilary Engelman
Gloria Engelmeyer
Eyrika Engeman
Pam England
Deanne English
Barbara Epperley
Kevin Epperson
Anthony Eppse
Betty Epstein
Jessica Epstein
Amanda Kay Erekson
Jay Erker
Randy Erl
Bonnieclare Erling
Jill Ervin
Geovana Escalante
Diane McQueen Escobar
Home Eshima
Eric Eskenazi
Jessica Espeleta
Isabel Espinal
Kate Esposito
Tiffany Esteb
Rebekah Estera
Ed Estes
Donnelley Estey
Norberto Estrada
Richard Estrada
Scarlett Estrada
Filipa Estrela
Melissa Ettere
Bonnie Ettinger
Joseph Eusterman, MD, MS(Med.)
Ann Euston
Michael Evans
Pamela Evans
Ernest S. Evans
Simone Evans
Tracy Evans
Nicole Eveland
Larry Everest
Bridger Everett
Michelle Evetett
Beth Fabian
Carole Fabricant
Sarah Fader
Dorothy Fadiman
Ted Faigle
James Fairbanks
Megan Fairbrace
Fidel Fajardo-Acosta
Dave Falkoff
Cathy Falwell
Danielle Fanelli
Ruth Fannin
Kimberly Fanshier
Lisa Farabee
Kristins Faragher
Madeline Farber
Abigail Faria
Linda Farino
Michael Farmer
Stuart Farmery
Joe Farnell
Elyse Farnsworth
Holly Farr
Kelleen Farrell
Peyton Farrish
Heide Fasnacht
Erin Fassold
Linda Faste
Sabriyah Fatimah
Thomas Fattoruso
Fauna-June Fauth
Kate Fauvell
Garry Fay
Ian Fay
Matthew Fazekas
Tim Fazio
Meryl Feigenberg
Clinton Fein
Hadar Feingold
Nancy Feinstein
Scott Feldman
Rev. Lee Feldman-Redick
Candy Feldt
Mike Felix
Nina Felshin
Will Fenio
Heidi Fenn
Marc Fenton
Kerri Fenwick
Andrew Feraios
Roderick Ferguson
Susan Ferguson
Teresa Ferlisi
William Fernandez
Ric Ferrazzano
Alec Ferrell
Charles Ezra Ferrell
Laura Ferson
William Field
Ed Figaniak
Daniel Filipak
Philip Fillion
Doyle Fine
Patti Fink
Regina Fink
Melissa Finley
Colm Finn
Elaine Fischer
Richard Fischer
Donna Fisher
Gregory Fisher
Jennifer Fisher
Louis Fisher
Tom Fisher
Kathleen Fitzgerald
Mark Fitzgerald
Colin Flagg
Nicholas Flamel
Katherine Flanagan
Lauren Flanigan
Michael Flannery
Deborah Flear
Martha Fleischman
Alexandra Fleming
Ross Fletcher
Kaylle Flores
Marisol Flores
Melanie Flossman
Anne Flounders
Amanda Floyd
Kathleen Fluegel
Michelle Fokos
Olenka Folda
Kay Foley
Marie Follayttar
Dusti Worley Folmar
Freddy Fonseca
Karen Ford
Makon Ford
Carolyn Foreman
Alberto Forero
Debra Forman
Rhona Koretzky forman
Marquis Forman
Ronnie Forman
Jan Forney
Kathy Forte
Francesca Fortunato
Jane Fosse
Carol Foster
Natasha Foster
Rosalie Fourniotis
Tiffany Fowler
Christine Fowley
Jennifer Fox
Linda Fox
Lolly Fox
Vicki Fox
Coco Francini
Ben Francis
Matt Francis
Judith-Kate Friedman
Lori Friedman
Patricia Friedman
Sasha Frisbie
Kimberly Frisch
Liz Fritzsche
Boo Froebel
Kristin Froehlich
Liza Frolkis
Patrick Frownfelter
Patrick Frye
Alona Fryman
Maureen Fudger
Barbara Fuller
Bill Fuller
Mark Fuller
Vaughn Fuller
Zoe Fuller
Heather Fulton
Jeanette Furlong
John Furphy
Donald Furroe
Sammi J. Futorian
Sherrill Futrell
Douglas Futuyma
Scott Gailhouse
Constantine Connie Gaines
Renoir Gaither
Xylem Galadhon
Nicole Reisch Galante
Lea Galanter
Jaime Gale
Madeline Gale
Candace Galen
Margarita Gallagher
Morganne Gallagher
Toni Gallagher
Nora Gallaher
Rita Gallin
Shirley Galloway
Theresa Gambacorta
Erica Gamble
Chris Gando
Phil Gant
Merrill Garbus
Sharon Garbus
Marc Garcelon
Andy Garcia
Jesse Garcia
Jesus Garcia
Miguel Garcia
Nikolai Garcia
Patricia Garcia
Robert Garcia
Carlos Miranda Garcia-Tejedor
Michael E. Gardener
Suzanne Gardinier
Jean Gardner
Rebecca Gardner
Trevor Gardner
Micah Garen
Anu Garg
Pat Gargaetas
James Garman
Karen Garmon
Julia Garrard
Alex Garrett
David Garrett
Christina Garris
Kyle Garrison
Johanna Garsenstein
M. S. Garvey
Adrian Gaskin
Wilmer Gastineau
Leslie Gates
J. Ronald Gaudreault
Travers Gauntt
Laura Gavre
Norris Gay
Jen Gebble
Billy Gee
William Gee
Beth Geer
Stav Geffner
Austin Gehring
Andrew Gehrke
Cassandra Van Gelder
Mullins Geneva
Raimondo Genna
Lillian George
Jennifer Georgino
Jeanan Gerber
Joyce Gerber
Evan St. Germain
Cecile Gernez
Lyn Gerry
Sherrianne Gersten
Janine Getler
Sam Joanna Ghiggeri
Penny Ghinaudo
Lida Giachetti
Gonzalo Giannotti
M. C. Gibbons
Joan P. Gibbs, Esq.
Cynthia Gibson
David Gibson
Michael Giddings
Petra Giese
Emily Gilbert
Georgia Gilbert
Quiwana Gilbert
Scott Gilbert
Valerie Gilbert
Carla Gill
Mary Gill
Ryan Gill
Julia Gillard
Will Gilliam
Carol Gilligan
Robin Gillum-Fury
James Gilmore
Alison Gingeras
Michael Gingerich
Alex Gingrow
Sims-Burchard Ginny
Meredith Giovanelli
Flor Giron
Rachel Girshick
Judy Gitlin
Gerald Glaeve
Eric Glaser
Joyce Glasgow
Liz Glasgow
L. Glasner
Donna Glass
Randall Glass
Kate Glazer
Constance Glen
Makeva Glen
Beth Glenn
Bruce Gluck
James Glueck
Eric Gmeinder
Kasia Goclowski
Maia Godet
Pauline Godfrey
Shae Godfrey
Darlena Goetz
David Gold
Phillip Gold
Michael Goldberg
Ellen Goldin
Daniel Goldner
Joni Goldstein
Dennis M. Goldstein
Ismelka Gomez
Nancy Gomez
Teresa Gomez
Anthony Gonder
Steve Gonzales
Farrah Gonzalez
Gus Gonzalez
Juan Gonzalez
Maria Gonzalez
Nepo Gonzalez
Hillaria Goodgame
Romane Goodlow
Jerry Goodman
Rina Goodman
Mandy Goodnight
Phyllis Goodnow
Danny Goodwin
Malcolm Goodwin
Cathrin Gordon
Gail Gordon
JoAnne Gordon
Matthee Gordon
Paul Gordon
Samantha Gore
Connor Gorman
Mark Gormley
Frank Gormlie
Kalika Gorski
Leslie Gottlieb
Rochelle Gottlieb
Peggy Gould
Steve Gould
Ben Gouse
Judith Gouwens
Jason Gracia
Lisa Grady
Michael Graffeo
Ian Graham
Malanya Graham
Pamela Graham
Tom Graham
Monique Grajeda
Stephen Greene
Georgan Gregg
Austin Greitz
Erin Grenier
Heather Grey
Al Grieco
C. Grier
Christi Christi Griffin
Mike Griffin
Jennifer Griffith
David Grigsby
Barbara Grill
Lucia Grillo
Esther Grimm
David Grimsley
Jeremy Grizzle
M. K. Groebel
Sue Gronewold
Michelle Gross
Sherri Gross
Sally Grossman
Rick Grossmann
Geoff Grove
Diane Grover
Shannon Grow-Garrett
Ronald Grummer
Andrea Grundt
Marianne von Grunewald
Gay Guard-Chamberlin
Natalie Guarnieri
Merry Guben
Sara Guernsey
Julio Guerreiro
Omar Guerrero
Vivianne Guevara
Ansley Guillebeau
David Guinn
Kristen Gull
Francesco Gulli
Nanci Gulya
David Gunn
Kristen Gunning
Ayca Guralp
Jennifer Gurd
Khalsa Gurudarshan
Christine Gutierrez
Stephanie Gutierrez
Benji Gutsin
Ilse Hadda
Timothy Hagley
Philip Hall
Stuart Hall
H. Nell Halladay
Justin Hallee
Michael Halloran
Jacob Halpern
Sarah Halter
Todd Halvorsen
Linda Hamer
Gwen Hamilton
Janet Hamilton
Deborah Hamm
Eugene Hammel
David Hammond
Kara Hammond
Kathleen Hammond
Nikki Hammond
Chere Hampton
Finnick Hampton
Sherman Handberg
Kathy Handy
Jake Hanft
Nancy Hanks
Denise Hanley
Alison Hannigan
Amber Hanson
Michael Hanson
Cindy Happel
Richard Harbour
Esme Hardesty
Meg Hardin
Estora Hardmon
Charles Hardwick
Deb Hare
Gilda Harger
Tim Hargesheimer
Roderick Hargo
Lauren Harkrader
Amy Harlib
Rayne Thunderword Harlowe
Susan Harman
Harriet Harmon
Brenda Harper
Frank Harper
John Harper
Brandon Harris
Erin Cullen Harris
David Harris
J. Harris
Katie Harris
Kim Harris
Noelle Harris
Richard Harris
Richard Harris
Sharon Harris
Sherry Harris
Julie Harrison
Margot Harrison
Norma Harrison
Ritu Harrison
Lance Harshbarger
Alison Hart
Erin Hart
Lyryn Hart
Lori Hartlein
Carter Hartley
Zedrea Hartley
Carol Hartman
Harald Hartman
Drew Harton
Alice Hartranft
Donna Hartz
Joan Harvey
Mary Harvey
Victoria Harvey
Stephen Harwood
Laura Haselton
Valerie Hasely
Stephanie Hasiotis
Nate Hassan
Gerald Hassett
Karney Hatch
Cameron Hatcher
Marsha Hatfield
Lalah Hathaway
Ann Hatkevich
Triona Hatman
Adriana Havana
Thomas J. Hawkins
Jen Hawkins
William Hawkins
Katie Hawkinson
David Hayden
Josh Hayden
Megan Haygood
Austen Haynes
Susan Haywood
Karen Heagle
Mark Heald
Tyler Healey
Susan Heath
John Hedlund
Amanda Hedman
Alan Hedrick
Patty Heffley
Josh Heffron
Judith Heger
Adriana Heguy
Mike Heichman
Karen Heidebrecht
Robert Heikkila
Hana Heineken
Janis Heitz
Leila Hekmati
Phoebe Helander
Chris Held
Lisa Heldke
Eric Helgeson
Bruce Heller
Steve Helm
Dolores Helman
Diane Helt
Robert Hemmerly
Alicia Hempfling
Jaime Henderson
Kay Henderson
Kelly Henderson
Nidia Henderson
Raye Hendrix
D. Heneghan
Nate Heneghan
Leah Hennessey
Marlene Hennessy
Brett Henry
Bruce Henry
Emily Henry
Diane Hensel
Robin Hensel
Isabelle Herfeld
Leon Heriberto
Carlos Hernandez
Edi Hernandez
Erica Hernandez
Nicholas Hernandez
Erick Heroux
Jennifer Herrera
Kim Herrlein
Kaarin Von Herrlich
Tara Hershberger
Kim Hershey
Gary Herstein
Lisa Herthel
Carol Hester
Adam Hettler
Albert Hetzell
Nancy Hetzell
Kathleen Heuss
Kari Hewitt
Jessica Heyman
Kate Hickey
Thurston C. Hicks
John Higgins
Rachel Higgins
Sylvia Higgins
John Hildebrand
Jeff Hildebrandt
Chris Hill
Connor Hill
Diane Hill
Gary Hill
Lauren Hill
Willie Hill
Bradley Hils
Deborah Hinds
Debra Hinkley
Rosie Hinnebusch
Jena Hintze
Courtney Hirsch
Joan Hirsch
Patty Hitt
Jon Hively
Emily Hixson
Trevor Hoag
Lisa Hobbins
Christine Hobbs
Robin Hobbs
Perry Hoberman
Harry Hochheiser
Dave Hodge
Charles A. Hoefel
Dr. Heidi Hoefinger
Connie Hoffman
Emily Hoffman
Hinda Hoffman
Margaret Hoffman
Patricia Hoffman
Robert Hoffman
Valerie Hoffman
Connie Hogarth
Stephen Hogberg
Mel Hoit
Dina Holbert
Susan Holburt
Sarah Holcman
Caroline Holian
Matt Holland
Juanita Hollander
Antoinette Holliday
Judith Hollier
Jessica Hollinger
Conner Hollingsworth
Peggy Holloway
Kim Hollstein
Kate Holly
Larry Holman
W. Clifton Holmes
Sheryl Holt
Stephen Holton
Cynthia Holub
Janet Hook
Randy Hoover
Doug Hopkins
Josh Hopkins
Sylvia Hopkins
Nancy Hoppi
Richard Horn
Jody Horner
Tresa Horney
Marty Horning
Stephen Houldsworth
Jason Housden
Joelle Hoverson
Elizabeth Hovey
K. D. Howard
David Howard
Edward Howard
Laureen Howard
Lisa Howard
Phillip Howard
P. V. Howard
Hanna Howarth
Robert Howell
Tommy Howell-Owasso
Drea Howenstein
Deborah Howland-Murray
Edward Hrebec
Ying Huang
Ivan Huber
Martha Hubert
Renee Hudon
Kenneth Huey
Corry Hughes
Kelly Hughes
Leah Hughes
Margaret Hughes
Steven Hughes
Ruthie Hulett
Daylin Hull
Valerie Hultquist
Sylvia Hume
Anneeth Kaur Hundle
Michael Hunsinger
DeeAnne Hunstein
Diana Hunt
Jim Hunt
Neil Hunt
Aurora Hunter
Scott J. Hunter
Sonjj Hunter
Beth Huntington
Diana Huntington
Deborah Hupert
Siobhan Hurley
Eric Hurt
Lana Hurteau
Julie Hurwitz
Nathan Hurwitz
Ivar Husa
Annette Husband
Megan Huston
Daniel Hutt
Joseph Huttner
Mary Huttner
Christian Huygen
Katia Iannacome
Tony Iantosca
Amatu Nur Ibrihim
Carlos Iglesias
Mary Ijichi
Dana Immordino
Michael Incociati
Gina Infelise
Susan Ingagliato-Pena
Laura Ingalls-Wilder
Cassandra Inglesby
Cassie Ingram
Aurora Insurriaga
Maria Iorillo
Melissa Ireland
Judith Iris
Max Irwin
Lisa Isaacson
Isaias Isaias
Andrei Isari
Brian Iverson
Christina Iverson
Carole Ivy
Erik Iwe
Vijay Iyer
Joseph Izzo
Leslie Jack
Amy Johnson
Brian Johnson
Charles Johnson
Suzanne Deerly Johnson
Diana Johnson
Faye Johnson
James Johnson
Janet Johnson
Jessica Johnson
Gregory Joey Johnson
John Johnson
Julie Johnson
Karla Johnson
Kirk Johnson
Kirk Johnson
Kyle Johnson
Kysa Johnson
Marie Johnson
Mary Johnson
Mikki Johnson
Myke Johnson
Stephanie Johnson
Stuart Johnson
Tyme Johnson
Marisa Johnstad
Scott Johnston
Kathy Johnston-Keane
Xan Joi
Hope Jolles
Margaret Jolly
Steven Jonas
Alexander Jones
Angela Jones
David C. Jones
Camille Jones
Carolyn Jones
Christopher Jones
Devon Jones
Dwain Jones
Ebonye Jones
Elizabeth Jones
Gary Jones
India Jones
Jake-ann Jones
Jill Jones
Johnny Jones Jr.
Leslie Jones
Lisa Jones
Monica Jones
Phyllis Jones
Stella Jones
Tracie Jones
Vanessa Jones
Dexter Jordan
James Jordan
Dave Jordano
Barney Joseph
Claire Joseph
Louis Josey
Nicolas Journey
Ching Juhl
Edward Juillard
Elias Julianna
Alice Julier
Vivian Julier
Toia Tutta Jung
Mark Junor
Joseph Juntunen
Sarah Jurgensen
Barbara Jursa
Kayleen Justus
Kevin Kachadourian
Katie Kadwell
Ku Kahakalau
Hannah Kahlke
Marilyn Kahlo-Burton
Kanani Kai
Bill Kaiser
Michelle Kalbac
Tom Kalin
Ian Kaloyanides
Alice Kamara
Khadija Kamara
Amy Kaminsky
Amalia Kane
Bridget Kane
Carol Kane
Nassima Kaojkaji
Angela Kaplan
Gregory Kaplan
Katrina Kaplan
Jay Kappraff
Christina Karaba
Amanda Karchmer
Ell Karen
Jim Karger
Paul Karitis
Lyndsey Karr
Maggie Karshner
Vivian Kasey
Dem Kashtai
John Kasprzak
Kimberly Kastelz
Erin Kato
Ellis Katz
Ronni Katz
Tzipora Katz
Joe Katzbeck
Nancy Katzman
Joshlyn Kaufman
Susan Kaufman
Heather Kay
Aron Pieman Kay
Templeton Kaye
Rosemary Kean
Frankie Keane
Lauren Kee
Edward Keefe
Susan Keegin
Kathy Keenan
Sagar Keer
Thomas Keil
Kelley Keisch
Luna Kelder
Betsy Kelleher
Kelly Keller
Chase Kelley
Gwen Kelley
Jim Kelley
Kate Kelley
Kristin Kelley
Griffin Kelli
Ann Kelly
Jamie Kelly
Kathy Kelly
Marie Kelly
Maureen Kelly
Mason Kelsey
Karen Kelsky
Eric Kemp
Jennifer Kemp
Marie Kennedy
Mariah Kenney
Alicia Kent
Jane Kentner
Clark Kenya
Heather Kerr
Tammy Kershner
Phyllis Kerzmann
Mahmood Ketabchi
Jacita Keys
Sylvia Louise Kezele
Bruce Kezlarian
Deborah King
Donovan King
Gigi King
Jacqui King
Frankie Kingman
Rhonda Kingman
Jeffrey Kingsley
April Kinkead
Jonathan Kinney
Kathleen Kinney
Cory Kinservik
David Kinsfather
Phyllis Kirby
Melissa Kirchoffer-Talbott
Ari Kirk
Lynette Kirkwood
Susan Kirschner
Edward Kish
Nicholas Kisiel
C. Clark Kissinger
Jennifer Kissinger
Tamar Klaiman
David Klasovsky
James Klein
Jean Klein
Gary Kleinman
Clarice Klepadlo
Michaelah Kline
Joy Klinger
Stuart Klipper
Julie Kmetzko
Elizabeth Knapp
Wayne Knapp
Sierra Knight
Kelly Kofron
Nancy Kogel
Owen Kohl
James Kolber
Ellen Kolodney
Debra Kolodny
Judith Kolokoff
Riley Konor
Daniel Kontoff
Heidi Kortright
Fran Koski
Kim Kosmitis
Deb Koss
Marina Kostel
Maurice Koster
Don Kotval
Krista Kouns
Gabor Kovacs
George Kovacs
Cathy Kraetz
Steven Kragon
K. M. Kraimer
Shoshanna Krall
Chuck Kramer
Eli Kramer
Joyce Kramer
Gary Krane
Brian Krawitz
Michael Krebs
Jerome Kremer
Nancy Krempa
Susan Krinard
Christopher Krueger
Josh Krugman
Barbara Krulik
Richard Krulik
Mona Krupski
Loretta Kuehn
Katherine Kuharic
Deanna Kuhn
Miya Kumangai
Chenjerai Kumanyika
Kalindi Kunis
Susan Kunkel
Sonya Kuo
Diane Kupelian
Asami Kuroki
Julie Kurzenberger
Max Kutner
Paige LaCombe
Heather Ladov
Elizabeth Ladzinski
Laura LaFarga
Marc Lafia
Alice Lafleche
Keke LaFleur
Janet Rayedel Lafontaine
Andre Lafontant
Jeffrey Laign
Lorelei Laine
Becky Lake
Conor Lake
Roberta Lamb
Samantha Lambert
Jennie Lamensdorf
Melena Lamotte
Mark Lamoureux
Hazel Landa
Jane Landis
John Landis
Bob Landolfi
Brian Landolt
Jessica Landon
Susan Landon
Bethany Lane
Amy Lang
George Lang
Ken Lang
Patricia Lang
Matthew C. Lange
Keith Langston
Katherine Lanser
Dave Lara
Jami Porter Lara
Linda Larkin
Norman Larreta
Jane Larsen
Marilyn Larsen
Mary Larson
Rodger Larson
Sunday Larson
Robert LaRue
Lynn LaSalle
Kevin Lash
Jamie Laskowski
Alex de Laszlo
Norman Latham
Joseph Lattani
Dana Laufer
J. T. Laurent
Maria De Laurentiis
Madalyn Lauth
Michelle Lavenia
Janet Lavin
Kelli Lawhead
Keziah Lawicki
Kathy Lawless
John St. Lawrence
Heather Lawson
Kent Lawson
Neal Lawson
Lee Lawton
Jennifer Lay
Laurel Lazar
Candice Lazarus
Phuong Le
Kerry Lea
Marilyn Sue Leach
Benjamin Leaf
Francine Leahey
Sharleen Leahey
Monica Leavitt
Luna Leber
Joe Lebitz
Luke Leblow
Dara Lebrun
Grace Ledbetter
Janet Lederman
Charvette Lee
Gwendolyn Lee
Kenneth Lee
Wendy Lynne Lee
Steven Lee
William Lee
Mary Lee-Szymanski
Laura LeFaivre
Sarah Leff-Estrada
Dacia Legge
Scott Leggett
Gail Lehmann
Katherine Lehr
Barbara Leighton
Jonathan Leisher
Curt LeMieux
Amy Lempa
Paul Lenart
John Lenick
Hans Leo
Shaun Leonardo
Paul Leone
Esther Lerman
Joseph Lesinsky
Hanna Lessinger
Redmond Letiger
Laura Letinsky
Michele Levan
Mary Geraci Levesque
Beth Levin
Robert Levin
Daniel Levine
Phyllis Levine
Shellie Levine
Mary Ann Labosky Levins
Allyson Levinshon
Aaron Levinthal
Carol Levy
Kathryn Levy
Leslie Levy
Rachele Levy
Linda Lewi
Cara Lewis
Josh Lewis
Julie Lewis
Nancy Lewis
Sue Lewis
Robert Patrick Lewman
Juliana Liang
Terrie Liberman
Deborah Libertore
Ken Libertore
Victori Lichterman
Gretchen Lieberum
Alexandra Lifshin
Caleb Lightfoot
Christine De Lignieres
Lorraine Lima
Elizabeth Limanov
Bobbie Limper
Kevin Lindemann
Nastassia Lindes
Kasey Lindley
Emmelie Lindner
Sonia Lindsay
Carolyn Lindsey
Erin Lindsey
Katja Lindskog
Marsha Linehan
Ernestine Linton
Joan Lipkin
Steven Lippman
Eleanora Lipton
Hannah Liquori
Nosek Lisa
Stephen Lisner
Katt Lissard
Noah De Lissovoy
Suzi List
Ardele Lister
Byron Liston
Mary Little
Joyce Littlebear
Roberto Livar
Mauricio Lizarazo
Judy Llan
Michael Locker
H. Lockie
Martin Locklear
Rema Loeb
J. Loft
Pam Logan
Sherri Lombardi
Kim Lombardini
Sharon LoMonaco
Fred Lonberg-Holm
Desirea Long
Judith Long
Mikel Long
Tahna Long
Carolyn Longacre
Nanette Longmore
Saku Longshore
Dennis Loo
Anna Loper
Eddie Lopez
Elsa Lopez
Emma Lopez
Juana Lopez
Margie Lopez
Rod Lopez
Tony Lopez
Debbie LoPresti
Aidan Lorch-Liebel
John Lott
Raymond Lotta
Diane Louis
Yvette Louis
Shannon Louwerse
Sven Lovegren
Janine Lovelace
Emma Loveland
Maria Lowen
Katherine Lowland
Ben Lowrance
Madeline Lowrance
Jeanne Lozier
Lane Lrskela
Susan Lubliner
B. Lucas
Kristin Lucas
Liz MacGillicuddy Lucas
Natali Lucas
John Luce
Lola Luce
Fran Luck
Kelly Luck
Lorie Lucky
Evelyne Luest
Jose R. Lugo Jr
Matthew Lukowicz
Maria Luna
Timothy Lunceford – Stevens
Cindy Lund
Stephanie Lundberg
Arleina Lundy
Dave Luther
Janet Lutz-Folsom
Mary Lutzow
Jennifer Lyke
Julie Lyke
Bhavana Lymworth
Denise Lynch
Kristen Lynch
Steven Lynn
Chandra Lynne
Wilfred Lyon
Denise Lytle
Salvatore Tuzzo M.D.
Vajra Ma
Kelley MacDonald
Gordan Macdougall
Scott Mace
Katherine MacElhiney
Flannery Mack
Courtney Mackedanz
Donna MacKenzie
Patrick MacLeod
Allison MacMillan
Megan Madden
Fannie Madden-Grider
Alison Maddex
Marcelle Madison
Xenia Madison
Neal Madnick
Alexis Maestre-Saborit
Jane Maestro
Adam Magazine
F. Rachel Magdalene
Sue Magee
Patricia Magill
John Magin
John Magisano
Hydra Magnus
Rudresh Mahanthappa
Scott Mahler
Ava Mailloux
Thompson Maine
Santana Maira
Henry Major
Donna Malamud
Jerry Malamud
Dominique Malaquais
Dorothy Malizia
Frankie Mallis
Christine Mallory
Marjorie Malone
Mary Malone
Erin Maloney
Aaron Managhan
Carl Manaster
Lori Mancini
Victor Manfredi
Mike Mangine
Michael Mangino
Jessica Mangum
Shilpa Mankikar
Reeser Manley
Catherine Mann
Jennifer Mannion
Justine Manser
Catherine Mansfield
Emily Mansfield
Cindy Mantel
RoseMary Mantineo
David Manuel
Teresa Manz
Amanda Maples
Jamie Marantz
Joseph Marchione
Carol Marder
Michael Maresca
Jackie Maresch
Farrell Margaret
Sherry Margolin
Mikaela Maria
Boeker Marilynn
Stacey Marine
Richard Marini
Judy Marino
Laura Marino
Rev. Rob Mark
Max Markel
Goran Markovic
Debra Markovitz
Barry Marks
Shelley Marlow
Anthony Marrow
Craig Marsden
Thomas Marse
Cindy Marsh
Emma Marshall
Rae Martel
Tim Marteny
Leslie Martey
Bruce Martin
Chas Martin
Donna Martin
Ebony Martin
Emily Martin
Jack Martin
Kelly Martin
Michaelan Martin
Ruby Martin
Sara Martin
Martina Martina
Michele Martindill, Ph.D.
Monica Martinet
Katy Martinez
Leo Martinez
Lilliana Martinez
Raul Martinez
Sara Martinez
Jane Martin-Lavaud
John Martino
Trishia Maruri
Denise Marvin
Michael Marvin
Dunbar Maryland
Fee Maryland
Michael Masley
Bonnie Maslin
Ann Mason
Jay Mason
Eileen Massey
Zak Masson
Ilana Master
Heaven-Leigh Masters
Tammy Masters
Teresa Mastrandrea
Marcy Matasick
Andrea Mathews
Todd Mathieson
Deborah Matro
Avra Matsoukas
Mari Matsuoka
Christy Matthews
Nancy Matthews
Robert Matthews
David Mattoon
Alex Mattson
Jay Matyas
Aaron Matzkin
Paul Maurizio
Maureen Maxand
Aracely Maxwell
Marcia Maxwell
Lisa May
Maria May
Rachel Mayabb
Marie May-Bonge
Cody Mayer
Lucia Mayer
Susan Mayhew
Steven Maynard
Kathy Mayo
Terez Mays-Jones
Moghaddam Maziyar
G. Mazzeo
Judith McAdoo
Sandra McAndrew
Pam McArthur
Carole McAuliffe
Christopher McBride
Yvonne McBride
Austin McCaffrey
Eilish McCahill
Kirk McCall
Michele McCandless
Barry McCann
Brian McCann
Terry McCarthy
Theresa McCarthy
Ashley McCartney
Perri McCary
Howie McCausland
Emily McClain
Melissa McClain
Tom McClelland
William McClelland
Kenneth McClintic
Bryan McCloskey
Jason McClung
Camara McCormick
J. McCoy
Tina McCrory
Ericka McCroskey
Charles McCullough
Scott McCutcheon
James McDaniel
Jan McDaniel
Maria McDaniel
Shannon McDermott
Bruce McDonald
Deirdre McDonald
Holly McDonald
Katherine McDonald
Robin L. McDonald
Kathy McDonough
Laurie McDougall
Andre McElroy
John McElroy
Kerry McElroy
Mitch McEwen
Jeffery McFadden
Marla McFadin
Michael McFarland
Madison McFerrin
Kevin McGarry
Rev. Will McGarvey
T. McGiffert
Jennifer Mcgilvrey
Marcy McGowan
Timpthy McGranahan
Dana McGuire
Leslie McGuire
Alexander McHugh
James McHugh
Diatrice McIntosh
Michelle McIntosh
Phyllis McIntosh
Deanna McKee
James McKenzie
Mary McKeon
Cheryl McKereghan
Jane McKinley
Jonathan McKnight
Peter McLaren
Christina Mclaughlin
Gina McLaughlin
Elizabeth McMahon
Apryl McMennamy
Heather McMillan
Matt and Stacy McMillan
John McMurray
Brian McNally
Cynthia McNaughton
Andrew McNeely
Lela McNutt
Christopher McQuain
Regina McRae
Patricia McSweeney
Joseph Kohn MD
Phillip Meade
Adam Mean
Roberta Medford
Melissa Meditz
Tammy Medlin
Prescilla Medrano
Chuck Meece
Michael Meehan
May Mei
Shatta Mejia
Gustavo Mejias
Anya Meksin
Arturo Melendez
Jerry Melvin
Zoey Memmert-Miller
Violet Menarde
Emily Mendelsohn
Andrew Mendle
Mariana Mendoza
William Mendoza
Clara Meneses
Daniel Meneses
Emily Meneses
Jack Meoff
Bob Meola
Jonathan Mercer
Lesley Mercill
Suzanne Mercury
Mark Merella
J. E. Meridian
Zhenya Merkulova
Shaman Merrily
Scott Merring
Tracy Merritt
Erika Merz
Jennifer Meservey
Gwen Meshorer
Becky Mesker
Grace Messenger
Debra Messing
Johnnie Metso
Robert Metters
Jennifer Meuhle
Deborah Guzman Meyer
Norva Meyer
Elliott Meyrowitz
Andrea Meza
Alexis Miano
Godwin Michael
Yolande Michaels
Lee Michalsky
Jessica Michaud
Rene Michigan
Dorothy Micklea
Veronica Migliore
Laila Laila Miguel
Alex Mikulich
Alexander Mikulich
Brad Miller
Carrie Miller
Charlie Miller
Joyce Miller
Kerby Miller
Maryellen Miller
Michele Miller
Pam Miller
Perry Miller
Priscilla Miller
Stacey Miller
Sue Miller
Virginia Miller
Judith Z. Miller
Cassie Miller-Leone
Les Millett
Ann Millett-Gallant
Sarah Millhoff
Sean Millis
Kimberlee Mills
Susan Mills
Jazmine Millsaps
Kyle Miner
Lila Miner
William Minnick
Lynne Minore
Cynthia Minter
Deborah Miranda
Cass Mishy
Danielle Mitchell
Faye Mitchell
Aaron Mittman
Gautreaux Mixolidia
Masao Miyoshi
Susie Mizelle
Lezlie Moats
LindaSue Mobbe
Maribel Mocci
Amaris Modesto
Emma Modrak
Chad Moffett
Sahand Moghadasi
Lorraine Molina
Mary Molina
Michael Molnar
Martine Monaghan
Lauren Mongillo
Cambra Moniz-Edwards
Corinne Monk
Kathleen Monks
John Ross Monok
Maud Monson
Daisy Montague
Rita Montalvo
Nils Montan
Lisa Monte
Dr. Jorge A. Montemayor-Aldrete
P. H. Montenegro
Valerie Montgomery
Jeff Moody
Ronelle Moody
Beverly Moon
Derek Moor
Barbara Moore
Chelsea Moore
Erin Moore
Heather Moore
James Moore
James Moore
Jason Moore
John Moore
Karl Moore
Kevin Moore
Laura Moore
Linda Moore
Mary Moore
Natalie Moore
Richard Moore
Thurston Moore
Troy Moore
Margo Morado
Alejandro Morales
Travis Morales
Jennifer Moran
Jim Moran
Dorinda Moreno
Michele Moreno-Cheverez
Sherry Morez
Phoenix Morgaine
Melinda Morgan
Susan Morgan
Evelyn Morgan-Rallios
Amadea Morningstar
Barbara Morris
Doug Morris
Ellen Morris
Maryann Morris
Molly Morris
Theresa Morris
John Morrisette
Liam Morrison
Rebecca Morrison
Richard Morrison
Judy Morrow
Devin Morse
Elizabeth Morse
Clark Mosher
Nikia Mosley
Donna Mosquera
Templeton Moss
Glenna Mote
Robert Moulthrop
Katherine Moulton
Dave Mount
Patricio Keith Moxey
Cary Moy
Alicia Moyer
Stephen Moyer
William Gregory Mucci
Wendy Mueller
Cecelia Muhammad
Isam Muhammad
Brooke Muhoberac
Rev. Michael Mulberry
Gui de Mulder
Roseanne Mulherin
Thomas Mulligan
Felicia G Mullins
Deidre Munn
Jeffery Munoz
Terry Munson
Adam Murgittroyd
Denise Muro
Gail Murphy
Jennifer Murphy
Jo-Ann Murphy
Robby Murphy
Tim Murphy
Dianna Murray
Felicia Murray
Tina Murrell
Gail Musante
David Muschamp
Daphne Muse
Roxanne Mustafa
Amber Mutchler
Anderson Muth
Brooke Myers
Dan Myers
Denise Myers
Maritza Myers
PZ Myers
Virgina Myers
Paul Myoda
Linda Myrick
Marcin Nadja
Shaan Naimoli
Tom Najemy
Susan Napier-Sewell
Josh Narayanan
Susana Narotzky
Cynthia Nash
Jamal Nassar
James Nau
Raymond W. Koch, LCDR, US Navy, Retired
Sarah Nayeem
Gordon Nayvin
Linda Nazryan
Nancy Neal
Elise Nechelput
Chelsea Nee
David Neeley
Jann Neely
Beth Neff
Esther Neff
Rachael Neffshade
Kelvin Nelmes
E.P. Nelsen
Erica Nelson
Jamie Nelson
Jennifer Nelson
Liz Nelson
Todd Nelson
Manoshi Chitra Neogy
Debie Nervina
Pamela Nesby
Nancy Vining Van Ness
Deborah Neulander
Nick Neumann
Yeshi Neumann
Lisett Nevarez-Hauptman
Felipe Neves
Arlishia Neville
Toya Newell
Judeth Newham
Bonnie Newman
Harry Newman
John Newman
Lydia Newman
Patrick Newton
Regina Ng
Jonathan Nicholoff
Joyce Nichols
Ruth Nichols
Mick Nickel
Melinda Niekum
Jack Nielsen
Marlene Nielsen
Donna Niemi
Edward Nieshoff
Y. Armando Nieto
Jesus Nieto
Mahina Nightsage
Carl Nigro
Luca Nigro
Dr. Kalamaoka-aina Niheu
Austin Nilsen
Vance Nimtz
Russell Niquette
Weldon Nisly
Sebastian Nix
Sarah Nodarse
Ginger Noe
Michael Noel
Angela Nolan
Dylan Nolfi
JoAnn Noorkhah
James Nordlund
Paulette Normand
Mary A. Norris
Henri Norris
Wendy Norris
S. Darrick Northington
Gloria Norton
Tara Notvest
Isabel Novoa
Lisa Nowak
Petra Van Nuis
J. C. Nunes
Michelle Nungester
Allen Nur
William Nusbaum
Efia Nwangaza
Steven Nyberg
Valerie Nyerick
Lohen Nzoma
Brenna O'Brien
Dan O'Neal
Erin O'Brien
Jane O'Hara
Jane O'Leary
Janet O'Brien
Kaytlyn O'Connor
Kelly O'Brien
Kevin O'Neill
Mark O'Connell
Melissa O'Connor
Patricia O'Brien
Rosie O'Donnell
Terri O'Connor
Robin Oanes
Amy Occhiuto
George Odum
Marie Oemler
C. Elisheva Offenbacher
Genie Ogden
Ozzie Ogur
Niko Okamoto
Gregory Olaivar
Kevin Oldham
Melissa Oliveira
Tim Oliveira
Andrew Oliver
Denise Oliver
Scott Oliver
Tod Oliver
Michele Olivet
Tracy Olmoz
Jon Olsen
Karen Olsen
Carol Olson
Cheryl Olson
Linda Olson-Osterlund
Leticia Olvera
Mary ONeil
Heather ONeill
Steve Ongerth
Barton Oostlander
Mary Oppman
Zubalsky Or
Ilsy Bu Orellana
Kevin Orr
Richard Orser
Angelica Ortega
Monica Ortiz
Patricia Ortiz
Kate Osba
Mark Osborne
Paulette Osborne
Robert Osburn
Nathan Osmun
Philip Osterling
Anne Ostrom
Andrea Osuch
Ralph Oswald
Adriana Otero
Steve Otta
Diane Otten
Nathaniel Weaver Otting
Dawn Oughton
Denisse Ovalle
Joel Overfelt
Chris Owen
Emma Pace
Linda Maria Pagan
Lucille Pagenkopf
Mark Paige
Joseph Palermo
Ronald Palizzi
Bryan Palmer
Deborah Palmer
James Palmer
Jon Palmer
Lori Palumbo
Darcey Pancoast
Adam Pankow
Ashley Panteah
Celia Panzer
Diane Paolazzi
Jessica Paolucci
Elizabeth Parenteau
Natalie Pargas
Carol Paris
Joshua Park
Cynthia Parker
Miriam Parker
Philip Parker
Lois Parkison
Eileen Parks
Rev. John T. Pawlikowski, OSM, Ph.D
Leslie Perrin
Beverly Perry
Judith Persohn
Brenda Peters
Sue Peters
Victoria Peters
David Petersen
Linda Petersen
Roger Petersen
Amy Peterson
Anna Peterson
Dave Peterson
David Peterson
Donald Peterson
Ellen Peterson
Anthony Petit
Angela Pettis
Patricia Pforte
Danica Phelps
Leslie Phelps
Brian Phillips
Chip Phillips
Chuck Phillips
Devorah Phillips
Linda Phillips
Peter Phillips
Suzanne Philllips
Brandon Phipps
Missy Pica
Marie-Claire Picher
Marcia Pickett
Ebony Pierce
Julie Pierce
Randevyn Pierre
Robert Pierson
Zachary Pignataro
Jeremy Pikser
Elise Piliwale
Isabel Pina
Cecile Pineda
Darlene Pineda
Lisa Pines
Ryan Pingo
Ana Pinheiro
Esteban Pinilla
Julio Pino
Lucinda Pinochot
Lisa Pintado-Vertner
Josie Pinto
Linda Piontek
Suaan Piscitelli
Shannon Pitts
Stephan Pitts, LCSW
Carol Plain
Marcia Plante
Linda Platt
Mark Platt
Deborah Plaza
Iris Vander Pluym
Jimi Pocius
Christa Podsiadlo
Karen Poels
Bret Polish
Laurie Pollack
Robin Pollack
David Pollard
Sally Pometta
Meredith Pominville
Erminia Ponce
Debora Barrera Pontillo
Laurie Pontillo
Katherine Pope
Brian Porter
Lori Porter
Steve Portigal
Alice Post
Caroline Powell
Keith Powell
Sharon Powell
Steve Powell
Veronica Powell
John Powers
Kathleen Powers
Jana Prager
Srividya Prasad
Allison Prater
Laura Pratt
Glenn Prempeh
Steve Prendergast
Hank Prensky
Sarah Preslar
Florette Press
Sam Presser
Leah Pressman
Shannon Prestridge
Michael Prete
Denise Previte
Victoria Prewitt
Gerri Price
Paige Price
Preston Price
Bret Primack
Deanna Prior
Naomi Prochovnick
Karen Procter
Holly Prosch
Dana Protano
Jean-Pierre Protzen
Donald Proud
Nichole Provost
Harry Pruett
Bob Psenka
Saqqara Ptahlibah
Juan Puello
Elizabeth Pulcinella
Sarah Puleo
Stephen Pullin
Carmen Pupo
AnneMarrie Purdy
Auburn Putz-Burton
Julie Pycior
Imtiaz Qazi
Neal Querio
Tuffy Questell
Nancy Quick
Louise Quigley
Stephen Quigley
Linda Quilty
Carrie Quinn
Joan Quinn
Thomas Quinn
Carlos Quinones
Jane Raabe
Skye Van Raalte-Herzog
Craig Rabinowitz
Stuart Raby
Isha Racho
Mark Radin
Jaclyn Rae
Daniel Rafinejad
Melissa Ragain
Joseph Ragan
Khawaja Rahman
Mizanur Rahman
Leigh Raiford
Robert Raines
Kian Raiszadeh
Shameem Rakha
Esther Ramirez
Sarah Ramirez
Shannon Ramirez
Jen Ramos
Winnie Ramsdell
Heather Rand
Annie Randall
Gina Randazzo
Jhani Randhawa
Jonathan Raney
Drew Rangel
Mark Rappaport
Rebecca Ratero
Aaron Rathernot
Michael Rattray
Bob Ratynski
Manuela Raunig-Berho
Sunwyn Ravenwood
Gidon Raz
Daniel Read
Alycia Reaves
Ribeiro Rebecca
Ray Redd
Linda Redding
Hali Rederer
Maryellen Redish
Reiko Redmonde
Daunte Reed
Tyler Reed
Michael Reeder
Holly Reeve
Elizabeth Regal
Colleen Regan
Mike Regul
Jess Reichmuth
Tysarah Reid
Daniel Reif
Sharon Reilly
William Reilly
Joseph Reinek
Cathy Relihan
Mark Remington
Justin Remus
John Rene
Rene Rene
Linda Renkwitz
Judith Repp
Rev. David Reppert
Elizabeth Reshower
Laurent Reyes
Sarah Reyna
Brian Reynolds
Cindy Reynolds
Doleen Reynolds
Paula Reynolds
Rebecca Reynolds
Mario Rezendes
Leesa Rhoden
James Rhoderick
Barbara Rhodes
Christopher Rhodes
Curtis Rhyne
Jayne Rice
Susan Rich
Cynthia Richard
Lewis Richard
Anne Richardson
Diana Richardson
Grace Richardson
Sally Richardson
Scott Richardson
Cassidy Richey
Ann Rick
Patricia Ricketts
Robert L. Ridgard
Drew Riedl
Rosalie Riegle
Jaquelyn Rieke
Mary Clare Rietz
Christine Riley
Tyree Riley
Connie Rimmer
Rebecca Riofrio
Alberto Rios
Nataly Rios
Jaime Rippetoe
Loretta Riquetti
Emma Rivera
Lisette Rivera
Minerva Rivera
Perla Rivera
Deborah Riverbend
Lilly Rivlin
Karla Rixon
Tara Ro
Claire Robb
Virginia Robbins
Beth Roberts
Christle Roberts
Andrea Ford Roberts
Karen Roberts
Kim Roberts
Malik Roberts
Monique Roberts
Stuart Roberts
Elizabeth Robertson
Janice Robertson
Leslie Robertson
Merilie Robertson
Rob Robertson
Angela Robinson
Boni Robinson
David Robinson
Holly Robinson
J. Robinson
Sally Robinson
Sara Robinson
Amber Robles-Gordon
Danny Rochel
Julie Rockefeller
Kay Rodgers
Andy Rodriguez
Hector Rodriguez
Milagros Rodriguez
Jodi Roessler
Christina Rogers
Lee John Rogers
Matthew Rogers
Nels Rogers
John Rokas
Hector Roldan
Josh Romano
Princess Mecca Romero
Denise Romesburg
James Romines
Dan Ronfeld
Kerstin Roolfs
Peter Rooney
Hannah Rooth
Jeanne Roper
Annette Ropers
Annalisa Di Rosa
Kevin Rosano
Lisa Rosati
Amy Rose
Kyanne Rose
Marie Rose
Lexa Rosean
Sue Rosemarin
Ben Rosen
Quillan Rosen
William Rosen
Stephen Rosenblum
Lillian Rosengarten
Ami Rosengren
Carolyn Rosenstein
Richard Rosenstein
Danny Rosenthal
Joy Rosenthal, Esq.
Linda Rosenthal
Pamela Rosinia
Ellen Roskovich
Ad Ross
Christopher Ross
Diana Ross
Lois Ross
Mary Ross
Rakhael Ross
William Ross
Gabriel Rosser
Livia Rossi
Marco Rossi
Nori Rost
Staci Bernard Roth
Jerome Roth
Rochelle Rothbaum
Josh Rotholz
Ivan Rothstein
James Rountree
Lilith Routh
Amy Routon
Heath Row
Megan Rowell
Patricia Royall
Antoine Rozier
Albert Ruben
John Ruben
Julie Ruben
Rheta Rubenstein
Clive Rubin
Laura Ruble
Carrie Ruckel
Jane Rudd
Lisa Rudikoff
Jackie Rudin
Carolyn Ruff
Eric Ruff
Patricia Ruggeri
Ana Ruiz
Demitria Ruiz
Anne Rumberger
Diana Rumney
Michelle Rup
Lee Rusch
April Russell
Darren Russell
Gregory Russell
Kelly Russell
Tom Russell
Joe Russo
Elizabeth Rutledge
Anna Ryan
Eileen Ryan
Wilhelmina Ryan
Esther Rydell
Sheridan Ryder
Ron Rzepkowski
Hameed Saba
Sasha Sabbeth
John Sackman
Elizabeth Sacre
Cindy Sadlowski
Francine Safir
James Sagert
Matthew Sagliocco
Elivia Sagov
Yusef Salaam
Roni Salaj
Nancy Salazar
Stephanie Salazar
Amy Sall
Josue Salmeron
Carol Salmon
Laurie Saloman
Susie Salomon
Peter Saltzman
Randall Salzman
Nick Sample
Julie Samples
William Sampson
Keith Sanborn
Peter Sanburn
Alex Sanchez
Angeles Sanchez
Eva Sanchez
Guido Sanchez
Liliana Sanchez
Lourdes Sanchez
Lori Sanders
Sharon Sanders
Carol Sandiford
Marilyn Sandler
Brenda Sandoval
Catie Sandoval
Lisa Sands
Noah Sandweiss
Ivy Sandz
Juan F. Gutierrez Sanin
Robin Santhouse, Ph.D., L.S.W
Katia Santibanez
Jessica Santone
Saurav Sarkar
Sarko Sarkodie
Maury Saslaff
Ayse Sasmazel
Zeynep Sasmazel
Daphne Sasson
Robertson Sauer II
Patricia Sausen
Tyler Sauter
Stacey Sauvago
Thom Savino
Flora Savitzky
David Savoy
Larry Sawyer
Michelle Sbroochi
Judi Scaife
H. Alexandra Scarborough
Kristin Scarola
Kathy Schaeffer
Talia Schaffer
Kathleen Van Schalkwyk
Donna Schall
James Schamus
Claudia Scheda
Catherine Scheer
Gaea Schell
Sara Schennum
Lee Schere
Pam Schiefelbein
Skip Schiel
Nina Glick Schiller
Laura Schilling
Corinne Schipull
Sybil Schlesinger
Katherine Schloemer
Evin Schmidt
Ivan Schmidt
Ted Schmidt
Lee Anne Schmitt
Leigh Schmitt
Mary Schmitt
Ivon Schmukler
Erik Schnabel
Ann Schnake
Dawn Schneider
Wayne Schneider
Paul Schoen
Carole Schoendorfer
Robin Schoenfeld
Kurt Schonfeld
Pete Schoonmaker
Rhonda Schrader
Don Schramm
Julia Schrecengost
Susan Schreiber
Dave Schroeder
Janice Schroeder
Richard Schroeder
Tom Schuessler
Nancy Schulman
Theresia Schumburg
Kim Schure
Jesse Schurr
Lisa Schuster
Katherine Schutta
Barbara Schwartz
Dana Schwartz
Noah Schwartz
Randy Schwartz
Lynda Schwechtje
David Schwittek
L. Carol Scott
Heidi Scott
James Scott
Teresa Scott
Gordon Scoville
Gary Scrivani
Noreen Scully
Kevin Seal
N. Sealey
Cecilia Seaward
Karen Seeley
Diane Segal
Adam Segall
Mary Gretchen Segars
Mary Segur
Katherine Sell
Greg Sells
Alan Semerdjian
Chaitali Sen
Diana Senn
Crystal Senters
Amy Seplin
Dawn Sepulveda
Stephania Serena
Jeanne Serrano
Ofelia Serrano
Patti Serrano
Trudel Serrano
Jesse Serwer
Eric Serxner
Neil Sethi
Nicholas Sevilla
Gena Seward
Lisa Sewell
Janet Van Sgry
Beth Shadur
David Shaff
Paul Shambroom
Brian Shane
Lester Shane
Lynn Shannon
Yossi Shanti
Joann Shapiro
Robert Shapiro
Ellie Sharp
Jordan Shaw
Madeline Shaw
Elizabeth Shaw-Draves
Stephanie Sheehan
Jacob Sheffield
Kate Sheldon
Linda Shelton
Andrew Sheltry
Feng Shen
Freda Shen
Sade Shennel
Donna Shepherd
Lilah Shepherd
Tom Shepherd
Gwendolyn Shepperson
Neal Sherman
Harshad Sheth
Beverly Shields
Farrah Shields
Janae Shields
John Shields
Katie Shields
Susan Shiels
Joyce Shiffrin
Barbara Shih
Matthew Shipp
Katherine Shisler
Luke Shneour
Lynn Shoemaker
Jon Shorr
Timothy Shortell
Laurence Shoup
Tina Shull
Marc Shulman
Julie Shults
Joan Shumway
Amanda Shunnarah
Mary Shurtleff
Gregory Shushan
James Simon
Lucy Simotes
David Simpkin
Leanne Sims
Irving Sinai
Suzannah Sinclair
Krystal Sines
Janeen Singer
Kelly Singer
Sanjit Singh
K. Singleton
Shari Sirkin
Glenda Sirota
April Sisco
Sharon Siskin
Kathleen Sites
Rachel Skinner-O'Neill
Matthew Skoller
David Skovron
Alison Sky
Melani Skybell
Teri Slagle
Michael Slate
Helen Slater
Lea Slaughenhoupt
Adele Slaughter
Margo Slaughter
Michael Slaughter
Sebrina Slaughter
Robert Slavik
Sophia Sledge
Joyce Sloan
Susan Slohm
Manon Slome
Trevor Sloughter
Susan Slupe
Kathryn Sly
Larry Smallwood
Jodi Smart
Harriet Smartt
Monica Smiley
Adri Smith
Alan Smith
Alie Smith
Andrea Smith
Arlene Smith
Arnold Smith
Barb Smith
Beth Smith
Bonnie Smith
Caroline Smith
Mary Catherine Smith
Cecile Smith
Chelsey Smith
Cheryl Smith
David Smith
Diana Smith
Elyse Smith
Emily Smith
Ezekiel Smith
Francesca Smith
Gabrielle Smith
Jackie Smith
John Smith
Joyce Smith
Julie Smith
Kathryn Smith
Kayla Smith
Lowell Smith
Mario Smith
Mary Smith
MaryBeth Smith
Nathan Smith
Royce Smith
Sean Smith
Shannon Smith
Stacy Smith
Stacy Smith
Steven Smith
Susan Smith
Tiffani Smith
Toni Smith
Victoria Smith
William Smith
Zach Smith
Layla Smithberg
J. Smith-Cameron
Colin Smith-Clark
Kate Smock
Audrey Smolin
Christina Smouse
Sarah Kirkland Snider
Martha Snider
Angela Snyder
Emily Snyder
Jaime Snyder
Brian Jay Snyder
Kelly Snyder
Nicole Snyder
Donnie Sokol
Kathleen Solar
Alyssa Solazzo
Steven Solomon
Cindy Solomon-Klebba
Dorian Solot
Linda Solotaire
Lynn Somers
Cliff Sommers
Sandi Sonnenfeld
Dawn Sonntag
Knabner Sophie
David Sorensen
Phoebe Sorgen
Setareh Sorkh
Maria Sorrentino
Carmen Sosa
Karen Sotiropoulos
Angel Soto
Jackie Soto
Diana Sottana
Gabriel Kummer de Souza
John Sovitsky
Jocelyn Spaar
James Spagnoletti
Garnet Spagrud
Dawn Sparks
Manjula Spears
Courtney Speer
Jeri Spence
Jewel Spence
Christopher Spencer
Craig Spencer
Gary Spencer
Marci Spencer
Rebekah Spencer
Robert Spencer
Sandy Spencer
Donna Spielman
Brian Spillane
Harley Spiller
Judy Spina
Andrea Spiritos
Joy Spitzer
Chet Spoonley
Don Sporman
Jayne Spottswood
Michele Sprietsma
Charley Spring
Kirsten Springer
Jack Spula
Robin Squier
Deborah M. Stafford
Hans Stahlschmidt
Nancy Stallings
Steven Stancell
Susan Standish
Kevin Stangler
Preston Stanke
Dena Stanley
Marianne Stanley
Edward Stanton
Lara Stapleton
Mark Stapleton
Theresa Starchild-Wolf
Debra Stark
Richard Stark
Zoe Stark
Denise Starkey
Tracee Starner
Belle Starr
Robert Stasiak
John Stathopoulos
Karen Stauffer
Erica Stearns
Mary Stec
Gregory Steel
Carolyn Steele
Jeffrey Steenberg
Helen Stefan
Ronald Steigerwalt
Marybeth Steil
Len Stein
Marykay Stein
Paul Stein
Roxanne Steinberg
Carol Steiner
Denise Stella
Peter Stepek
Andrew Stephens
Britainy Stephens
Estelle Stephens
Maura Stephens
Catherine Stern
Nancy Stetson
R. D. Stevens
Dan Stevens
Debra Stevens
Lisa Stevens
Richard Stevens
Sharon Stevens
Theresa Stevenson
Rebecca Stevens-Walter
Charles Stewart
Dana Stewart
Gerald Stewart
Diana Stezalski
Rachel Stigers
Raychael Stine
Steven Stineling
Paul Stingo
Timothy Stinson
Abigail Stokes
Mike Stoller
Bob Stone
Brittany Stone
Bruce Stone
David Stone
Fallon Stone
Judith Stone
Lisa Stonestreet
Marie Stopes
Riz Story
Sarah Jordan Stout
Daniel Stover
Wayne Straight
Jan Strain
Damari Stratford
Rihard Strathmann
Colleen Stratton
Katarina Straughn
Carroll Straus
Cosmo Strauss
Melinda Strauss
Ruth Strauss, MD
Simon Stravitz
Walter Street IV
Daniel Strones
V. Strugatsky
Shayna Strype
Cullimore Stuart
Gary Stubblefield
Paul Stubbs
Tami Studer
Marjorie Stueber
Roger H. Stuewer
Richard Sturgeon
Abby Stuthers
Brandon Stutzman
Kelly Styer
Nicole Subryan
Marge Sudbay
Terri Suess
Daniel Sullivan
Robert Desmarais Sullivan
Dyana Sullivan
Garrett Sullivan
John Sullivan
Liam Sullivan
Linda Sullivan
Harvey Summers
Luping Sun
Bette Sussman
Whittaker-Butler Sylvia
Karsten Syverson
Kathleen SzBo
Jan Szostek
At-ta Ta
Jarin Tabata
Tahereh Tabatabaie
Michael Tacopino
Alan Taeger
Halima Taha
Avani Tailor
Hidemi Takagi
Vicky Talbert
Anitai Tamar
Laura Tamayo
Carol Tambor
Anthony Tambueei
Eaton Tammy
Yon Tande
Stephanie Tang
Elizabeth Tanner
Anthony Tanzola
Ryan Tardiff
Loreen Targos
Prof. Denise J. Tartaglia
Layla Tate
Shirley Tate
Vivian Taube
Tanaquil Taubes
Emilii Tavarez
Steven Tayama
Chad Taylor
Deanna Taylor
Francesca Taylor
Leah Taylor
Melanie Taylor
Nancy Taylor
Quintin Taylor
Ralph Taylor
Scott Taylor
Sunsara Taylor
Tina Taylor
Dr. D. Taylor-Zickler
Jill Teagardin
Mason Ted
Thomas Tedesco
Robert Tefft
Corey Tegeler
Elizabeth Tegeler
Anne Teil
Lauren Teixeira
Allen Tennille
Jean Terepka
Elaine Terriss
Cheryl Terry
Patrick Tesh
Neil Tesser
Jaiprikash Thadani
Sandra Thaxter
John R. Thayer
Tzvia Thier
Mary Thierry
Larry Thigpen
Luke Thoennes
Jeanette Thomas
Kristin Thomas
Mike Thomas-Faria
Wendy Thomasser
L. B. Thompson
Jan Thompson
Julieanna Thompson
Kerry Thompson
Kim Thompson
Larriette Thompson
Michael Thompson
Sheryl Thompson
Tina Thompson
Amy Thor
Mel Thoresen
Helen Thornton
Ann Thryft
Elizabeth Thurlow
Karen Tidwell
Lisa Tiemann
Toryn Tiger
Rejeana Tillery
Nate Tillman
Richard Tillman
Sandhya Tillotson
Cameron Tim
Ralph Timberlake
Michael Timko
Sally Timm
Don Timmerman
Roberta Timmerman
Amy Tinkle
Mark Tinkleman
Brooke Tiphanie
Cindy Tipton
Betty Tisel
Lisa Todd
Ahmad Tolbert
Rebecca Tolen
Tom Tomkins
Cathy Tompkins
Stoni Tomson
Barkley Tona
Tom Tongier
Natalie Toppino
Laurie Torkelson
Daniel Del Toro
Jennifer Torok
Michelle Torres
Rosa Torres
Robinson Totman
Lana Touchstone
Doris Toumarkine
Aleta Alston Toure
Arlene Towle
Patricia Tracy
Dennis Trainor Jr.
Maximus Trajan
Tiana Trammell
Elizabeth Tran
Khoa Tran
Kelli Trapnell
Paloma Trecka
Bill Treddway
Judith Trepp
Selina Trepp
Renee Triesler
Mark Triller
Dave Trippel
Adrien Trottier
Schuyler Trowbridge
Patricia Trudeau
Kyle Tsakiris
Leo P. Arnaboldi TTE
Sarah Vanderlip
Cathleen VanderPloeg
Cathy Vanderploeg
Jory Vandersloot
Debra VanEerd
William Vannatta
Suzi Varga
Virginia Vasquez
Marty Vaughan
Brenda Vauters
Adam Vazquez
Ruth Vazquez
Emily Vedaa
Alicia Vega
Nat Veiga
Esmeralda Velazquez
Jane Veldman
Helen Verno
Seth Vernon
Frank Vetrone
Jill Victory
Marissa Vigneault
Diya Vij
Dolores Villarreal
Donna Vishio
Deirdre Visser
Allison Vogel
Christiane Voisin
Cynthia Volkert
Ralph Vose
Kitty Vroom
Minh Vuong
Peter Waasdorp
Liza Wachter
Anita Wade
Jo Wade
Kristy Wade
Carrie Wadycki
Lisa Wagner
Martha Wagner
Nicole Wagner
Kevin Wah
Dave Wahler
Itai Weaver
Rashieda-Shukuraht Weaver
Gary Weber
Michael Weber
Sonya Weber
Curt Wechsler
Konrad Weeda
Barry Weeks
Justin Weeks
Lynn Weeks
Kevin Wegner
Julia Weichselbaum
Joshja Weidmann
Stacy Weigle
Janet Weil
Nathan Weiland
A.B. Weiner
Michele Weiner
Patricia Weinert
Richard Weingarten
Jami Weinstein
Stuart Weinstock
Jamie Weis
Anna Weiss
John Weiss
Peter Weiss
Roseann Weiss
Siobhan Weiss
Steve Weiss
Robin Weissbratten
Val Anne Welch
Molly Weller
Ian Wellinghurst
Andrea Wells
Janet Wells
Carleigh Welsh
Mary Kay Welter
Susan Wemett
Beverly Wendling
Jerry West
David Westberg
Alicia Westby
Paula Westerlund
Linda Wetzel
Shelley Wetzel
Meghan Whalen
Claudia Wheeler
Matthew Wheeler
John Wheeler-Rappe
Michael Whelan
References