Organizing for America
From KeyWiki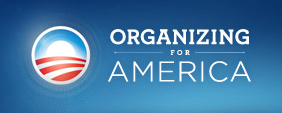 Organizing for America is the predecessor to Obama for America
Personnel
Fundraising for 2010 Midterms
On 30 August, 2010, Organizing for America sent out the following fundraising email:
Dear [Subscriber],
I'm Ann Marie Habershaw -- and as the chief operating officer here, I know you don't normally hear from me. But this election season, we're putting together one of the most ambitious campaign programs in American political history. We've never had this much staff on the ground in a non-presidential election, and we're doing everything we can to reach out to the 15 million people who voted for the first time in 2008 -- and get them back to the polls this fall. Such an ambitious program isn't cheap -- we know our Vote 2010 plan will cost at least $50 million. From office space, to salaries for field organizers, to ads and mail pieces -- the expenses add up. And, right now, looking at our budgets and projections, we don't yet have enough.
Tomorrow, August 31st, is the third-quarter fundraising deadline for federal elections, and we're just $242,000 short of our goal for this month. That's why I'm writing to you today. Can you make a donation of $5 or more by Tuesday at midnight? I was there in 2006 when Democrats took back the House of Representatives -- working as the COO of the Democratic Congressional Campaign Committee.mI saw what a well-oiled campaign machine can accomplish, and the resources necessary to carry out an effective plan.mSince taking back Congress in 2006 and expanding those majorities in 2008, we've seen the results of those fights -- from health insurance reform 100 years in the making that covers 32 million Americans, to Wall Street reform, which provides the strongest consumer financial protections in history. To protect those gains and keep moving America forward, we need to fight for the President's allies up and down the ballot this fall. We've got the plan to make it happen, but we need your help. Please make a donation of $5 or more by Tuesday at midnight to help us move forward.
Thanks,
Ann Marie
Ann Marie Habershaw
Chief Operating Officer
External Links
References