Oliver Fein
Jump to navigation
Jump to search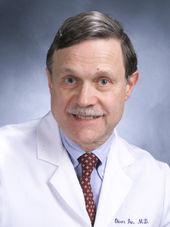 Template:TOCnestleft Dr Oliver Fein is a practicing general internist, and Professor of Clinical Medicine and Clinical Public Health at the Weill Cornell Medical College. He is also the Chair of the NY Metro Chapter of PNHP and President-Elect of National PNHP[1].
An Open Letter to the New New Left From the Old New Left
An Open Letter to the New New Left From the Old New Left.
Now it is time for all those who yearn for a more equal and just social order to face facts.
By Former leaders of the Students for a Democratic Society. April 16, 2020.
On April 13, 2020, Senator Bernie Sanders urged his supporters to vote for the presumptive Democratic nominee, former vice president Joe Biden. Writing as founders and veterans of the leading New Left organization of the 1960s, Students for a Democratic Society, we welcome Bernie's wise choice—but we are gravely concerned that some of his supporters, including the leadership of Democratic Socialists of America, refuse to support Biden, whom they see as a representative of Wall Street capital. Some of us are DSA members, but do not believe their position is consistent with a long-range vision of democracy, justice, and human survival....
We salute Bernie Sanders and our friends and comrades in DSA and in the diverse movements for social justice and environmental sanity that enabled them to rise. We look forward to joining together to build on and defend our accomplishments. And now we plead with all: Get together, beat Trump, and fight for democracy—precious, fragile, worth keeping.
The signers of this letter were founders, officers, and activists in Students for a Democratic Society between 1960 and 1969.
Signers included Oliver Fein.
DSA school
In 1991, the NYC Democratic Socialists of America's School for Democratic Socialism "explored the health care crisis and socialist alternatives" with Oliver Fein, Ronda Kotelchuk, Sid Socolar and Linnea Capps.[2]
Socialist Scholars Conference
Gene Carroll, NY Jobs with Justice, Oliver Fein, Physicians for a National Health Plan, Eric Larsen, New York Medical College, Edwin Levine, Gray Panthers, Martha Livingston, SUNY, Old Westbury were speakers on the The Movement for a National Health Care Program panel at the Tenth Annual Socialist Scholars Conference. The conference was held April 24-26, 1992 at the Borough of Manhattan Community College, New York City[3]
"Single payer" book
A book, "Caring for the Uninsured and Underinsured A Better-Quality Alternative: Single-Payer National Health System Reform" was released in 1994 by the Physicians for a National Health Program Quality of Care Working Group, Contributors included;
Gordon Schiff; Andrew Bindman; Troyen Brennan; Thomas Bodenheimer; Carolyn Clancy; Oliver Fein; Ida Hellander; David Himmelstein; Linda Rae Murray; T. Donald Rucker; Ron Sable; Jeffrey Scavron; Ronald Shansky; Ellen Shaffer; David Slobodkin; Steve Tarzynski; Steffie Woolhandler; Quentin Young.
How Class Works
At the How Class Works - 2002 Conference, panels included; 4.4 Class and Health
Oliver Fein, MD, Cornell University Medical School – Clinical Medicine and Clinical Public Health, and
Martha Livingston, SUNY College at Old Westbury – Health and Society
"Social Class, the Economic Determinants of Health, and the Health Inequalities Debate"
Single payer advocate
In 2008, Joanne Landy and Oliver Fein wrote, "We Can Do It! The Case for Single Payer National Health Insurance" a chapter in a forthcoming book Ten Excellent Reasons for National Health Insurance, eds., Mary E. O'Brien, M.D. and Martha Livingston, Ph.D. (New Press)[5].
The time has come for single payer National Health Insurance in the United States. We have excellent hospitals, skilled practitioners, the technological infrastructure -- and we're already spending enough money to insure everyone and to improve access to care for many who are covered today by inadequate plans. All we need is the political will.
Physicians for a National Health Program
In 2009 Oliver Fein M.D. was listed as President and as a Regional & At-Large Delegate for Physicians for a National Health Program.[6]
Healthcare-Now!
In 2009 Oliver Fein, President, Physicians for a National Health Program, NY served on the board of directors of Healthcare-Now! .[7]
References