Nick Maniace
Jump to navigation
Jump to search
Template:TOCnestleft Nick Maniace is a member of New York City Fight Imperialism, Stand Together, youth wing of the Workers World Party.[1]
"PACK THE COURT: DEFEND THE CUNY6, KHALIL & TAFFY"
100 Centre Street, New York, Thursday 9 January 2014, organized by Revolutionary Student Coordinating Committee, "PACK THE COURT: DEFEND THE CUNY6, KHALIL & TAFFY".
The CUNY 6 and Khalil and Taffy have open criminal cases with ongoing court appearances. All 8 students are set to appear in court on January 9th, 2014 at 9:00 am, at 100 Centre Street. We call upon all students, faculty, and members of the community to come out and pack the courts on January 9th in support of the CUNY 6 and Khalil and Taffy.
Those indicating support or attendance on Wherevent, included Yanett Ramirez, Denise Lupita Romero, Padraic O'Brien, Zulai Romero,Tommy Maggio,Gregoire Jacques, Far Han, Miguel Rodriguez, Ben Fredericks, Christian Laureano Peruyero Bracero, Narish Singh, Norman Clement, Nick Maniace,Ramiro Funez, Jesse Eyezen Marcus, Karsten Kvistad, Tony Troy Yashin, Freddy Gee, Nadine Aly, Ramya Ramana, Stephanie Zukasaka, Brad Sigal, Cathy Rojas, Josefina La China, Elisa Lorde, Bayu Patria, Harly Rodmarti, Freddy Bastone,Robert Moore,Elliot Vazquez, Josmar Trujillo, Andrew Pollack, Dan McKenzie, Micah Ascaso, Joslyn Alexis, Joe DeWeezy,Maria Volpe,Tony Troy Yashin, Neda Kit, Percy Lujan, Khalil Vasquez, William Simon Kang, Rajib Lovesramen Miah, Daniel Pana,Mariam Castillo,Rafael E. Pena, Akash Rahman, Agust Freeman, Roselle Valerio, Roselle Valerio, Analisa Svehaug, Tafadar Sourov,Juan Alberto Perez Vera,Elif Fatıma Gorken, Marisa Jalo, Linda Morales, Isis K. Colon, Sharmin Hossain, Nicole Husbands, Abdu Salman, Rey Valentin, Erick Moreno, Hoda Mitwally, Alice Feng, David Suker, Raj Maheshwari[2]
Anti-Petraeus demo
2 W 64th St,New York 29 October 2014, 17:30 -19:30.
Organized by : Revolutionary Student Coordinating Committee.
Last year students were suspended, a community center was illegally shut down and the City College campus turned into a police-run campus in order to suppress the movement led by CUNY students and faculty to drive ROTC and War Criminal David Petraeus out of our university. Now the Macaulay Honors College is inviting him to speak. Let's be there to let Petraeus know that CUNY rejects imperialism and its war criminals!
Many students an others indicated they would attend on the Whenever page advertising the event. They included Sharmin Hossain, Angie De LaGhetto, Nerdeen Kiswani, Zeina Alturk, Mila Lebron, Avia Michelle, Monique Thompson, Dalilah Freeman, Meli LaSalle, Coche Bomba, Shohag Ahmed, Donnie Donilon, Hasan İncedere, Michael Bellamy, Katrina Cortes, Sabin Rene Figaro, Thalmann Pradeep Pereira, Myles Glynn, Daniela Robles Martínez, Ayumila Hilai, Khalil Antonio Vasquez, Jeff Camp, Ateo Laureano Bracero Peruyero, Erick Moreno, Scott Williams, Bernadette Ellorin, Susie Abdel, Dan Cione, Abdu Salman, Percy Lujan, Rajib Lovesramen Miah, Vishal Singh, Avia Michelle, Marc Durougeot, Christopher Rieth, Rayn Cornielle, Louis Oprisa, Mike Legaspi, Bayu Patria, Merlin Miano Patramani, Shake Zula, Sabiha Azad, Jan Makovec, Josmar Trujillo, Kjell Gunnar Larsen, Shandell Is, Jasper Washa, Richard Finkelstein, Jared Flanery, Jose LaSalle, Behrooz Navaii, Alexi Shaaloom, Nick Maniace, Rey Valentin, Uthkarsh Dev, Owsspag Apollo, Rani Ghosson.
NYC FIST Forum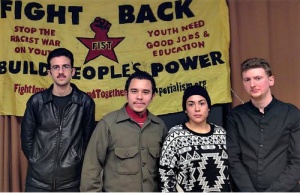 Four leaders of the youth group Fight Imperialism, Stand Together spoke at a joint forum sponsored by FIST and Workers World Party on Jan. 2 2015, at the Solidarity Center in New York City. The forum was entitled, "Smash the low-wage police state." The main presentations were given by, Nick Maniace on "Hollywood's racist attack on the Korean revolution"; Ramiro Funez on "Wall Street's school to prison pipeline"; Claudia Palacios on "A brief history of police in the United States"; and Caleb Maupin on "Low wages, police terror and the necessity of revolution."[3]
SYNA recruiting
On April 8th, 2017 in Union Square SYNA activists Caleb Maupin, Dakotah Lilly, Dyln Namm and Nick Maniace were hard at work handing out flyers, talking to New Yorkers about Syria, the United States government, and politics in general, selling the book "What's next for the Political Revolution", and otherwise recruiting members for SYNA. Hundreds of flyers were given out and the overall consensus of the public varied from saying the United States of America needs to keep its military out of foreign countries affairs, to fully supporting the United States and its foreign policy. Overall the day was a huge success for the Students and Youth for a New America as we made many contacts from nearby colleges and other interested individuals.[4]
New York comrades
Joe Catron December 17, 2017 ·
With Jake Holtzman, Bill Dores, Naila Smith, Sofia Adams, Nick Maniace, Henry Luna, James Claire, Brendan Boru Lamhfada, Cosmia Tereshkova, Christian Cobb, Brad Holhut, Jessica Lee and Sara Flounders.
Palestine protest
Joe Catron November 22, 2017
With Nick Maniace, Anne Pruden and Christian Cobb.
Best Buy protest
Joe Catron May 7, 2017:
With Adnan Farsakh, Kefah Elabed, Nadz AustriaMartinez, Sayel Kayed, Toni Arenstein, Christian Cobb and Nick Maniace at Best Buy.
Comrades
Students and Youth for a New America March 2 2019:
With Kiki Dewar, Nick Maniace and Dakotah Lilly.
References