New York City Democratic Socialists of America
From KeyWiki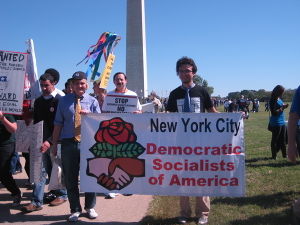 New York City Democratic Socialists of America are affiliated to Democratic Socialists of America.
NYC Delegates to 2015 national Convention
Prominent members of DSA NYC Local
A circa 1983 New York City Democratic Socialists of America Local report to National Office identified Assemblymembers Jerry Nadler, Eileen Dugan and Denny Farrell as members of the Local.
It also named Councilmembers Ed Wallace, and Ruth Messinger.
Organizers of DSA NYC in 2017
1990 Debs Dinner
In 1990, the NYC DSA local gave out its Eugene Debs/Norman Thomas award March 21 at a dinner honoring David Livingston, president of UAW's District 65.
Speakers included UAW International President Owen Bieber and Manhattan Borough President Ruth Messinger.
Also honored was Steve Max, Curriculum Director at the Midwest Academy, who received the first Paul DuBrul Award for his critical role in developing the political strategies of the citizen action movement.[3]
1990 endorsements
In 1990 New York City Democratic Socialists of America's SA PAC endorsed Deborah Glick in her campaign to win the vacant Assembly seat in Greenwich Village. It also endorsed Jack Lester over Republican State Senator Roy Goodman, and DSAer Eugene Prosnitz, who was running for Civil Court Judge from the East Side.[4]
DSA concert
On April 23, 1991 Democratic Socialists of America brought together a crowd of at least 800 to the Riverside Church in New York City to hear Billy Bragg, Pete Seeger, Gretchen Reed, Robin Holcomb, and Kate McGarrigle and Anna McGarrigle. Amid the stunning atmosphere of the church, the performers entertained and inspired the audience with songs and stories of the struggle for social justice. DSA's Rafael PiRoman served as Master of Ceremonies and Manhattan Borough President Ruth Messinger introduced the event. The concert was sponsored by Youth For Jobs, Peace and Freedom, a project of the Institute for Democratic Socialism and the DSA Youth Section.[5]
1991 Council endorsements
New York City DSA endorsed 13 candidates in a crowded city council election.
The local saw its vision of a progressive coalition In city politics realized by The Majority Coalition for a New New York, which organized an independent political campaign for progressive city council candidates. One candidate. Craig Miller, was a DSA member .[6]
In a hotly contested race in 1991 in Greenwich Village that divided many long-time allies in the progressive community, New York City Democratic Socialists of America picked Tom Duane, a progressive white gay man with a long history of community activism, over Liz Abzug, a progressive white lesbian.
DSA judged her lack of activism in the community to be her fatal flaw.
DSA also devoted significant resources to helping a DSA'er, Craig Miller, challenge ac long-time incumbent who had switched districts.
We got on the phones, calling members that had been to the endorsement meetings or who had indicated interest earlier. We also sent postcards to almost all our members just before the primary, reminding them to vote for our candidate.
In the end, some twenty DSA members were involved in the campaign of Guillermo Linares, a Dominican school board president running in an open seat in Manhattan. Members carried his petitions, coordinated volunteers, phonebanked, organized a fund raising party, and worked on election day. Contrary to the predictions of the political pundits, he won the primary by a 300-vote margin.
DSA also played crucial role turning the tide in a corner of the district for Una Clarke, a Jamaican child care worker and union activist who won the primary in her Brooklyn district by thirty-four votes
Of the thirteen people DSA endorsed, eight won the primary and "will probably win the general election". (Democratic primaries virtually guarantee election in most of New York City.) Four won open seats, two incumbents won, two didn't face primaries and a fifth, surprisingly lost. All of the challengers DSA backed -- including Miller - lost.[7]
Honoring the Sidels
New York City Democratic Socialists of America held a fundraising bash on December 7 1992, at which longtime activists Ruth Sidel and Victor Sidel were awarded the Paul Du Brul Memorial Award. Approximately 150 people gathered to honor the Sidels, to enjoy a performance by Pete Seeger and Randy Harris, and to hear remarks by Manhattan Borough President Ruth Messinger and other political and labor leaders.[8]
"Our 100 Days or Theirs?"
On January 15 1993 New York City DSA held a forum entitled "Our 100 Days or Theirs?" at which the meaning of the Clinton victory for radical activists was discussed. Speakers included DSA vice chair Jim Chapin, Noreen Connell of the Education Priorities Panel, and Gale Brewer, the federal liaison for New York City.[9]
Officers 1993
Executive committee;[10]
1993 Council elections
In 1993 New York City DSA worked in support of the re-election campaign of David Dinkins, and also on several Council elections, in the hope of boosting progressives' strength on that body.[11]
1993 Debs dinner
The New York City local's 1993 annual Debs-Thomas-Harrington dinner was held June 24. Honorees were Dennis Rivera, the president of Local 1199, and Deborah Meier, the co-director of the Central Park East Secondary School.[12]
Communist history
During the fall of 1994 New York City Democratic Socialists of America sponsored a series of lectures on the history and meaning of Soviet communism. The series was led by D SA Vice Chair Jim Chapin, who then worked as a political adviser to New York City Public Advocate Mark Green.[13]
1995 awards dinner
In 1995, New York City Democratic Socialists of America local's annual dinner was held June 7 and honored Jim Butler, the President of Local 420, the New York Municipal Hospital Employees Union, and Fran Barrett, founder and director of Community Resource Exchange.[14]
DSA May Day "bash"
The Cathedral of St. John the Divine was the site of New York City DSA's 1996 May Day "bash". New York City Council member Guillermo Linares received the Paul Dubrul award for community action and leadership while UAW Region 9A Director Phil Wheeler garnered the Debs/Thomas award.
Barbara Ehrenreich, a DSA founder and honorary chair, was the recipient of a special award honoring her for her contributions as a leading feminist, cultural critic, and political satirist. Over 150 people joined in the celebration, including special guests Dolores Huerta of the United Farm Workers, DSA Vice Chair Jose LaLuz, Manhattan Borough President Ruth Messinger, and Connecticut Secretary of State Miles Rapoport.[15]
2008 elections
DSA and YDS members were especially active. Some got up "at the crack of dawn," says Jeff Gold, to take buses to support Obama in various locations in Pennsylvania, sometimes side by side with experienced trade unionists from Working America and at other times with first-time campaign volunteers. They also worked with the social democratic Working Families Party, which ran much of the New York Democrats' field operations, to help the Democrats win their first majority in the state legislature since the mid-1960s . DSA members living in rent-regulated housing in Queens and Long Island were especially active in behalf of pro-tenant Democrats on the WFP ballot line. Another member traveled all the way to south Florida to help turn out Jewish voters for Obama, especially during early voting, when it was easier to address problems at the polls.
Many of the DSA members who reported their experiences said they enjoyed working with a wide variety of people and the opportunity to see the awesome Obama campaign machine in action. They were exhilarated by the unprecedented enthusiasm expressed by newly energized volunteers and voters. "I'm a seasoned volunteer of 25 years..., but it was different this time," said one. They strengthened ties with local grassroots organizations, and helped to elect some progressives who, we hope, will support DSA's Economic Justice Agenda. But to paraphrase FDR, now we have to get out and make them do it.[16]
"Socialized medicine" forum
The New York City Democratic Socialists of americal ocal's most successful event in 2008 was a forum called "Socialized Medicine? You Bet!" at Judson Memorial Church, with NYS Assembly Dean and Health Committee chair Dick Gottfried and DSAers Naomi Zauderer of the New York Professional Nurses Union, Jeff Gold of the Health Care for All Campaign, and, from the Midwest Academy, "organizing legend" Steve Max. The local has joined the campaign against the privatization of two health insurance programs (GHI and HIP) that serve 93% of city workers and retirees as well as other New Yorkers. They held a second forum on that issue with YDS and the N.Y. chapters of Democracy for America and Progressive Democrats of America. [17]
2015 NYC DSA leaders
In 2015, Paul Bedard, Frank Llewellyn, Shannon Sorhaindo, Rahel Biru, Jeevan D'souza were members of the New York City Democratic Socialists of America steering committee.[18] ·
Fourth Democratic Primary Debate Watch Party
Sunday 17 January 2016, Organized by : Theater in Asylum and NY DSA the "Fourth Democratic Primary Debate Watch Party" was held at 192 2nd Ave, New York.
Theater in Asylum, (which was founded in 2010 by Paul Bedard and Katie Palmer), with the NYC chapter of the Democratic Socialists of America, is preparing to create theatrical adaptations of the Democratic Primary Debates. With a small army of actors, designers, dramaturgs, and support staff, we will watch and analyze the debates, devise a piece, and present it live in NYC... join us for the first step in making it: a Watch Party!
Those indicating attendance, on Wherevent included Camara McLaughlin, Lucy Myrtue, Alex Max Caring-Lobel, Jessie Bangarang Atkinson , Mandy Robbins, James Cajuste, Jeevan D'souza, Chelsea Langford, Alexis Roblan, Rick Fudge, Laura Aristovulos, Calandra Daby, Yonit Friedman, Leah Alfieri, Josh Youngerman.[19]
Creative Comrades (NYC-DSA Media)
Creative Comrades (NYC-DSA Media) Closed Facebook Group, as of September 1, 2017;.[20]
Creative Comrades is a group for NYC-DSA Media where members can:
1) Ask questions. 2) Talk about projects. 3) Pitch ideas. 4) Get advice. 5) Post jobs. 6) Collaborate. 7) Borrow gear. 8) Share resources. 9) Talk politics.
Please keep conversations respectful and be mindful not to use sexist, racist, or classist language. If you see any inappropriate content, please message us immediately at media@dsa.nyc and we will resolve the issue.[21]
Admins
Members
More members had been added by October 15.
Zack Kelaty
Add Friend Leen Marie
Jaime Lutz
Add Friend Poncho Eduardo Martinez
Add Friend Chris Maue
Patrick T Shepherd
Add Friend Dane Cardiel
Add Friend James Faller
Add Friend Brendan O'Connor
Add Friend Frank Tian
Add Friend Laura Lannes
Add Friend Thomas Niles
Add Friend Tate Uh
Add Friend Annie Shields
Add Friend Brad Hanford
Add Friend Kristen Williamson
Add Friend Kay Oss
Add Friend Phl Eleventhirtyeight
Add Friend Ryan Smith
Add Friend Luke Thibault
Add Friend Keith Dunn
Add Friend Kyle Sirell
Maureen Silverman
Add Friend Anna Niess
Jennifer Lenow
Add Friend Aneesh Bhoopathy
Add Friend Nell Alexandra Johnson
Add Friend Madeleine Esme
Add Friend Megan Smith
Add Friend Sara Hinkley
Add Friend Noah Litvin
Add Friend Matthew Hochler
Sam Escobar
Add Friend Jake Fertig
Add Friend Charlie Heller
Add Friend Joe Schott
Add Friend Kate Leib
Add Friend Molly Cressy Beer
Add Friend Neal Meyer
Add Friend Jesse Shayne
Add Friend Alex Ptak
Add Friend Danny Cooper
Add Friend Annalisa Wilde
Add Friend Charlotte Albrecht
Add Friend Angelica Alzona
Add Friend Natascha Elena
Add Friend David Bradley Isenberg
Add Friend John Michael Colón
Add Friend Josh Youngerman
Ariel Zakarison
Julia Salazar
Dana Steer
Add Friend Carter Stanislaw
Add Friend Carly Hoskins
Add Friend Jared Flaming
Zoë Beery
Add Friend Andrew Callaway
Add Friend Jon Demiglio
Add Friend Sophie Weiner
Add Friend James Capozzi
Leslie Guthrie
Add Friend Cheryl Anunwa
Add Friend Krista Montgomery
Rodrigo Aaron Sanchez
Add Friend Sn Scnlan
Add Friend Sasha Safir-Temple
Add Friend Édouard Urcades
Add Friend Lazar Bloch
Add Friend Adam Katzman
Susan LK
Add Friend Donald Borenstein
Anna Kovatcheva
Add Friend Jessae Brown
Add Friend Mike Rawson
Add Friend Brendan Schlagel
Add Friend Matt Honor
Add Friend Oskar Peacock
Add Friend Francisco Díez Buzo
Add Friend Michael Murphy
Christian Tyler
Chris Maisano
Add Friend Dana Li
Add Friend Colleen Tighe
Add Friend Courtney Menard
Add Friend Joshua Bupp
Add Friend Hannah Bananuh
Add Friend Hannah Schutzengel
Add Friend Ben Chabanon
Add Friend Juan Escalante
Add Friend Ryan Beckley
Add Friend Kevin Fleischman
Add Friend Will Kempner
Add Friend Patrick Mannion
Add Friend Kelsey Haight
Add Friend Luisa Santos
Add Friend Cassidy Dawn Graves
Rich Azierski
Nikita K. Carpenter Jr.
Add Friend Zack Auron
Add Friend Mary Seath See More
Elijah Stevens
Add Friend Jonathan Schear
Add Friend Hunter James Boone
Add Friend Royce Brown
Add Friend Katie Halper
Add Friend Alex McCarron
Rita Orlov Rosenfeld
Add Friend Lizzie Mulvey
Add Friend Aviva Oskow
Add Friend Seth Pollack
Add Friend Peter Fitzgerald
Add Friend Lucas Heinrich
Add Friend Matthew Bower
Add Friend Benjamin Koditschek
Add Friend Jordan Brown
Add Friend Michael Grochowski
Brandon Hauer
Add Friend Alex Beekman
Add Friend Raymon B. Starwars
Christopher Person
Add Friend Kyle Parsons
Add Friend Yvonne Martinez
Add Friend Woody Litman
Add Friend Justin Charles
Add Friend Heewa Barfchin
Add Friend Tom Smo
Add Friend Paul Swartz
Add Friend Rachel Millman
Add Friend Jon Schaff
Add Friend Andrea Guinn
Add Friend Noël Anderson
Add Friend William Gruger
Add Friend Francis Reynolds
Add Friend Chelsea Elaine Scott
Add Friend Kyle Appelgate
Add Friend Karen Vellensky
Add Friend Kyle Levenick
Add Friend Jonah Einstein
Add Friend Sarah Adams
Add Friend Lena H. Chandhok
Add Friend Colin Barrett
Katie Sharing
Kate Bryant
Add Friend Antonio M P Coelho
Add Friend Alice Bee
Add Friend Chris Wade
Add Friend John Boles
Chris Tyler
Add Friend Sam von Hardenburgh
James Thacher
Add Friend Dev McManus
Add Friend Jonathan Beilin
Julian Graham
Add Friend Nate Schuster
NYC Democratic Socialists of America Public Group
NYC Democratic Socialists of America Public Facebook Group, as of July 20, 2017;
Are you a socialist in the city? Join your comrades in the New York City Democratic Socialists of America. We're part of the biggest socialist organization in the United States. Help us put democratic socialism on the New York City map![22]
References