National Council of La Raza
From KeyWiki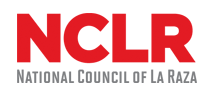 The National Council of La Raza is a private, non-profit, and non-partisan organization "focused on reducing poverty and discrimination, and improving opportunities, for Hispanic Americans." It was established in 1968 and is headquartered in Washington, DC, but it has operations in Atlanta, Chicago, Long Beach, Los Angeles, New York, Phoenix, Sacramento, San Antonio, and San Juan, Puerto Rico.[1]
Its current President is Janet Murguía.[2]
Board of Directors
Executive Committee
General board
Affiliate council
CALIFORNIA:
Alfredo Villaseñor, Vice Chair and Executive Director of Community Child Care Council of Santa Clara County
Maria Quezada, Executive Director of California Association for Bilingual Education
FAR WEST
MIDWEST
NORTHEAST
Maria Matos, Executive Director of Latin American Community Center, Inc.
Nicholas Torres, Executive Director of Congreso de Latinos Unidos, Inc.
SOUTHEAST
Sonia Gutierrez, Executive Director of Carlos Rosario International Career Center
Tony Asion, Executive Director of El Pueblo, Inc.
TEXAS
Richard Farias, Executive Director of Tejano Center for Community Concerns
Mary Capello, President and CEO of the Texas Migrant Council
External links
References