Nassau County Democratic Socialists of America
From KeyWiki
Nassau County Democratic Socialists of America
Working with LIPC, Democrats
1990 activity
Nassau County DSA Saturday Seminars heard Hofstra University economics professor R. Guttman discuss "The Social Security Tax and other Tax Inequities" March 31; Trudy Goldberg, director, Adelphi University Center for Policy, on "It's Time for a 'New Deal'" on April 28; and Martin Melkonian, economics professor at Hofstra, May 19 on "Economic Reconversion of Large Military Plants: Reversing the Shrinking Economy."[1]
1991 activity
Nassau DSA's successful Saturday seminars continued in March and April with Patrick Kelly speaking on the new Germany and Bill Spinrad discussing a new political agenda for the United States.[2]
"What Do We Want in the First 100 Days"
In early 1993, Nassau County DSA and the Long Island Progressive Coalition co-sponsored a public forum entitled "What Do We Want in the First 100 Days and What Can We Do to Help Get It?" Over 275 people attended this forum, at which DSA Honorary Chair Barbara Ehrenreich and Hofstra University Professor Michael D'Innocenzo spoke.[3]
Officers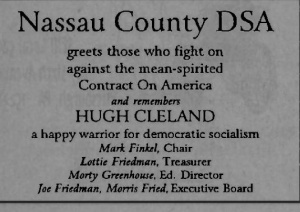 In 1995;[4]
References