Nancy Kleniewski
From KeyWiki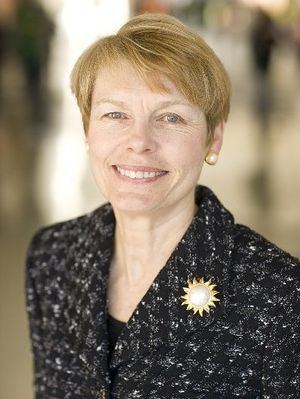 Nancy Kleniewski is the president of SUNY College at Oneonta.[1]
Education
Nancy Kleniewski received her B.A. from Emmanuel College and her M.A. and Ph.D. from Temple University.[2]
Career
Nancy Kleniewski taught sociology for 15 years at SUNY Geneseo where she also began her administrative career, serving as Associate Dean of the College and Executive Assistant to the President.
In 1996 she was appointed Dean of Fine Arts, Humanities, and Social Sciences at the University of Massachusetts Lowell.
In 2002 she became Provost at Bridgewater State College, where her major accomplishments were in leading the campus's strategic plan; developing an enrollment management unit; initiating a service-learning program; improving the transition process for transfer students; and instituting a comprehensive program for faculty support and development.[3]
Democratic Agenda
More than 1,200 people attended the Democratic Socialist Organizing Committee initiated Democratic Agenda Conference held November 16-18, 1979, at the International Inn and Metropolitan AM Church in Washington 1 DC. The conference focused on "corporate power'; as the key barrier to "economic and political democracy," concepts many Democratic Agenda participants defined as "socialism.'
The Democratic Agenda meetings attempted to develop anti-corporate alternatives" through influencing the direction of the Democratic Party during the period leading to the July 1980 Democratic National Convention in New York.
Workshops included "Housing:Tenants' Movements" - Nancy Kleniewski, moderator; John Atlas, Ruth Yanatta Goldway - .[4]
DSA Conference delegate
In 1983 Nancy Kleniewski was a Rochester, New York delegate to the Democratic Socialists of America conference in New York City, October 14-16, 1983[5]
DSA Feminist Commission
In 1985, Jan Breidenbach, Angie Fa, Nancy Kleniewski, Josephine Martinez, Lillie McLaughlin, Penny Schantz and Glenn Scott were listed on the National Executive of the Feminist Commission of the Democratic Socialists of America.[6]
In 1986 she was listed as a member of the Commission.[7]
DSA NPC
In 1991, Nancy Kleniewski was member of the Democratic Socialists of America, National Political Committee.[8]
DSA contact
In 1993 Nancy Kleniewski was Rochester, New York contact for Democratic Socialists of America.[9]
References