Margaret Flowers
From KeyWiki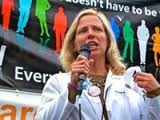 Margaret Flowers M.D. is a pediatrician and mother of 3 teens from Baltimore, MD. Margaret left medical practice in 2007 to advocate full-time for single payer health care. She served as Congressional Fellow for Physicians for a National Health Program and is on the board of Healthcare-Now!. She is co-director of ItsOurEconomy.us She has organized and participated in protests for health care, peace and economic justice which have included arrests for nonviolent resistance.[1]
Labor Campaign for Single Payer
In March 2009 the Labor Campaign for Single Payer Conference was held in Washington DC. Attendees included Anne Feeney, Kay Tillow and Walter Tillow, Jerry Tucker, Donna DeWitt, David Newby, Donna Smith, Tim Carpenter from Progressive Democrats of America, Dr. Margaret Flowers, John Conyers.[2]
California Single Payer conference
July 17, 2010, at the UCLA Faculty Center, Physicians for a National Health Program held The Summer Conference, "our first annual conference for the California single payer community". The conference was a collaborative effort of many organizations from the State Strategy Group and included presentations from state and national leaders in the single payer movement: Walter Tsou, Don McCanne, Margaret Flowers, Mark Leno, Sheila Kuehl, Michael Lighty, Paul Song, Andrew McGuire, Paul Hochfeld and more.[3]
October2011.org
Key organizers of the October2011 movement include;[4]
TPP Forum
On Tuesday, November 10, 2015, the Big Apple Coffee Party and All Souls Peace & Justice Task Force presented a forum examining the TPP and how it will affect our lives if approved by Congress.
The panel of experts included Margaret Flowers, healthcare reform activist and co-founder of Popular Resistance; Jim Hightower, syndicated columnist, author and publisher of the Hightower Lowdown; Lori Wallach, director of Public Citizen's Global Trade Watch; and Kevin Zeese, political activist and co-founder of Popular Resistance. The event was moderated by Zephyr Teachout.[5]
Anti TPP
Alison Rose Levy wrote in Facebook, 11/12/2016;
Hooray for the Flush the TPP Friends of the Earth U.S. and TradeJustice New York Metro Progressives-- with a little help from our friends, Margaret Flowers Kevin Zeese Adam Weissman William Waren Andrea Miller Arthur Stamoulis Stan Sorscher Lauren Steiner Elizabeth Warren Mary Ellen Persuit Jeanne Marie Dauray Mara Cohen Arthur Stamoulis Ilana Solomon Ben Beachy Evan Greer Tom Kruse Susie Chasnoff Celeste Drake Nancy Russell Strong Harriet Heywood Wendie W. Goetz and of course---- Lori Wallach and everyone at Global Trade Watch!!!
People's Congress of Resistance endorsers
Party for Socialism and Liberation - PSL, August 9, 2017;
Conveners, and Endorsers (organizations and individuals) of the People's Congress of Resistance as of August 9, 2017 included Margaret Flowers , Co-Director, Popular Resistance.
References