Lucia Lin
From KeyWiki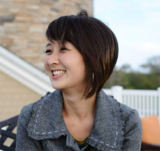 Lucia Lin is a San Francisco activist.
Ferguson report back HangOut
Resistance in Ferguson, led primarily by young Black people, has continued for more than two months, with direct action, organizing, base-building and other forms of resistance. To date, hundreds have been arrested seeking justice—organizers want to make sure there is not only not one more Mike Brown, but also not one more Darren Wilson.
LeftRoots sent a delegation to St. Louis to lend our support to the leaders from organizations like Millennial Activists United, Hands Up United, Organization for Black Struggle, and Missourians Organizing for Reform and Empowerment. We know that to turn this from a moment into a movement, we will need to connect our seemingly isolated fights around gentrification, workers rights, police violence, education justice and more into a strong, resilient and connected movement that can transform our communities, our country and our world.
The program will include reflections from Alicia Garza, Neva Walker, Christine Cordero, Lucia Lin and Steve Williams as well as others who participated in the Weekend of Resistance.[1]
Solidarity Summer School 2015
Solidarity Summer School 2015 workshop;
The Revolution Will Not Be Funded: Grassroots Organizing and Non-Profits
In their 2007 book, The Revolution Will Not be Funded, INCITE: Women of Color Against Violence presented a collection of essays that raised an alarm about the "non-profit industrial complex" which, they argued, posed clear and present dangers to grass-roots organizing projects. Yet, community-based non-profit organizations, from workers' centers to immigrant rights and environmental justice groups, are organizing some of the most exciting struggles and taking on the most pressing issues facing working-class people. This workshop will be an opportunity for participants to confront the challenges that INCITE has posed and to identify the organizational and strategic elements of transformative organizing work.
LeftRoots National Strategy Committee
The LeftRoots National Strategy Committee - HangOut Planning Team (Claire Tran, N'Tanya Lee and Lucia Lin, 2015.[3]
It Takes Roots People's Caravan
It Takes Roots People's Caravan took place in July 2016. Grassroots Global Justice Alliance launched the It Takes Roots to Change the System People's Caravan from the RNC to the DNC. Nearly 40 community leaders and allies from the US and Honduras traveled in a bus from the Republican National Convention in Cleveland to the Democratic National Convention in Philadelphia, stopping along the way to build with communities in Pittsburgh and Baltimore fighting for environmental and racial justice.
Caravanistas included Lucia Lin, Chinese Progressive Association (San Francisco), CA.
"Trump's Victory Is a Wake-Up Call to the Left"
"Trump's Victory Is a Wake-Up Call to the Left: Did we do enough in 2016? And how can we build a broader electoral movement?" was written by Calvin Miaw (Lynn Koh) for In These Times, Nov 18, 18, 2016;
Today we have a number of inspiring movements (and encampments!) that will continue under the Trump administration. We have incredible multiracial alliances—from the National Domestic Workers Alliance to Grassroots Global Justice—all across the United States. We have cutting-edge work in electoral politics through our mass organizations at the local level (like San Francisco Rising or the South Bay Labor Council) reaching into the state level (with New Virginia Majority and New Florida Majority). There's a lot going for us, but whether we are able to build a worthy successor to the Rainbow, which replicates its achievements while avoiding its quite obvious failures, depends on us moving beyond what we've been doing.
Special thanks to Kayan Cheung-Miaw, Lucia Lin, David Monkawa, Dan DiMaggio, and Joseph Schwartz for feedback on this article.
Staff
Young Workers United staff as of September 13, 2018:[4]
References