Louise Thompson Patterson
From KeyWiki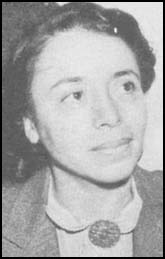 Louise Thompson Patterson was a Chicago Communist Party USA leader and wife of William L. Patterson.
Citizens' Committee to Aid Packing-House Workers
On April 12, 1948, Louise Thompson Patterson was listed as a member of the Communist Party USA dominated Citizens' Committee to Aid Packing-House Workers which was based in Chicago, Illinois.[1]
The Council on African Affairs, Inc.
The Council on African Affairs, Inc. officers circa 1950;[2]
Herbert Aptheker Testimonial Dinner

On April 28, 1966 Peter Hawley, Chairman; Harry Epstein, Treasurer and Louise Thompson, Secretary were members of the Arrangement Committee for the Herbert Aptheker Testimonial Dinner. The dinner was held on the occasion of Herbert Aptheker's 50th birthday, the publication of his 20th book, and the 2nd anniversary of the American Institute for Marxist Studies. It was held in the Sutton Ballroom, The New York Hilton, Avenue of the Americas, 53rd to 54th Street, New York City. Most speakers, organizers and sponsors were known members or supporters of the Communist Party USA.[3]
Communist Party Affiliation
In Chicago on October 27, 1971 - The Presidential Ballroom of the Midland Hotel was packed with more than 400 people last Friday to mark the 8Oth birthday of Wiliam L.Patterson, the man who rocked the world with his charge of genocide against the U.S. imperialists. Spokesmen for the committee sponsoring the banquet told the Daily World that many who had delayed in getting reservations had to be turned away. Veterans of the working class movement said they could not remember an occasion bringing together such a broad spectrum of workers, trade unionists and professionals, in a tribute to a Communist leader.[4]
According to the World[5]-sharing the head table with Patterson and his wife; Louise Thompson Patterson, were Ishmael Flory, master of ceremonies and chairman of the Banquet Committee; Henry Winston, chairman of the Communist Party; Claude Lightfoot and Arnold Johnson, CP leaders; Mrs. Sallye Davis, mother of Angela Davis, Pearl Hart, civil liberties attorney, Rev. John Hill, chairman of the Aliance to End Repression, Ernest DeMaio, director of District 11 of the United Electrical Workers; Jack Kling, secretary of the Illinois CP; Lynn Stinnette, Illnois chairman of the Young Workers Liberation League, and Betty Smith and Tommy Dennis, who led delegations from Minnesota and Michigan respectively.
References