Liberty Hill Foundation
From KeyWiki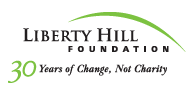 Liberty Hill Foundation is based in Los Angeles.
IPS partner
Liberty Hill Foundation is a partner organization of the Institute for Policy Studies[1].
Donors
The 'Liberty Hill Foundation received grant funds from the McKay Foundation in 2006.
History
When Liberty Hill began in 1976, it was a "daring new foundation that turned philanthropy on its head. Today it is a national leader in social justice that other organizations watch and emulate".
Liberty Hill's goal was never charity. It is change.
Four young people - Sarah Pillsbury, Win McCormack, Anne Mendel, Larry Janss - had the "guts and vision to launch this experiment. They invented an organization that would underwrite the delicate and difficult work of long-term social change by investing in grassroots community organizing and leadership. Liberty Hill raised expectations and eyebrows[2]."
Since then, organizing and advocacy powered by Liberty Hill has changed national policies, launched movements, transformed neighborhoods, and nurtured hundreds of outstanding local leaders.
Liberty Hill Firsts
In 1980, we were first to fund dockworkers suffering from White Lung disease. Our support sparked the national movement to regulate asbestos and win compensation for millions of exposed workers.
In 1994, we were first to fund a movement for living wages. Our early investment sparked new laws that raised wages for 25,000 poverty-wage workers and moved them across the poverty line. Our continued investments have won wage increases for hotel workers, taxi drivers, grocery workers, garment workers and other hard-working men and women.
In 1996, Liberty Hill was first to fund LA's new environmental justice movement. Every Californian breathes easier as a result. We've won millions in pollution reduction programs, as well as new regulations to protect the health of Californians most exposed to pollution's deadly consequences.
In 2001, our long-term investments in student-led school reform resulted in a L.A. Unified School District commitment to overhaul course offerings at L.A.'s lowest-performing schools. Without Liberty Hill, thousands of students would continue to graduate high school without the courses required for college admission.
United Against Black Genocide
A 1983 Liberty Hill Foundation grant for $1,000 went to support United Against Black Genocide: "United Against Black Genocide is an organization formed to voice the concerns of the Black community of South Central Los Angeles over inadequate health services in the neighborhood and the chokehold deaths of residents at the hands of the Los Angeles Police Department. UABG is concerned about the pattern of these deaths, in which 14 of the 17 victims have been young Black men, and believes that they are a result of racist attitudes and practices of the police department. This grant was provided to help establish the organization's office and to promote better health care in the Black community." Liberty Hill allies have long focused on police violence against Black Angelenos, most recently through our Rapid Response Fund for Racial Justice.[3]
Board of Directors
Board members as of 2009[4];
Advisory Board
Advisory board as of 2009:[5]
2011 Advisory Board
Kafi Blumenfield, wife of California State Representative, Bob Blumenfield, is the President and CEO of Liberty Hill Fund in 2011.[6]
External links
References