Lawrence Mishel
From KeyWiki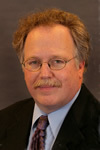 Lawrence (Larry) Mishel...
Economic Policy Institute
Larry Mishel serves[1]on the Board of Directors of the Economic Policy Institute and is the current President of the organization.
Mishel came to the Economic Policy Institute in 1987. As EPI's first research director, then as vice president, and now president, he has[2]played a significant role in building EPI's research capabilities and reputation.
He has researched, written, and spoken widely on the economy and economic policy as it affects middle- and low-income families. He is principal author of a major research volume, The State of Working America (published every even-numbered year since 1988) which provides a comprehensive overview of the U.S. labor market and living standards.
Mishel is frequently called on to testify and provide economic briefings to members of Congress and appears regularly as a commentator on the economy in print and broadcast media.
DSA connections
Lawrence Mishel has long been linked to Democratic Socialists of America (DSA).
In 1987, author Larry Mishel, was a member of Democratic Socialists of America. [3]
In 1992 Larry Mishel was a member of the DC-MD-NoVA Democratic Socialists of America.[4]
Larry "Michel" of the Economic Policy Institute was described as a DSA member[5]in 1996 by Chicago DSA official Ron Baiman.
David Starr, the IPA Research Director (who has worked with the Economic Policy Institute run by DSA member Larry Michel)...
On March 12 1993 D.C./Maryland/Northern Virginia DSA local held a forum entitled "The Economy, Stupid: A Left Response to Clintonomics," with Thea Lee and Larry Mishel of the Economic Policy Institute. [6]
In 2002 Democratic Socialists of America organized[7]a September 20-22 event in Washington DC entitled "Confronting America's Low-WageEconomy." The conference also kicked off DSA's national campaign to focus attention on the problems of low-wage workers with a series of presentations and workshops setting forth the issues and possibilities for activism.
Friday night's outreach event, "The Other America: What has changed in 40 years," featured DSA vice chair and welfare expert/author Frances Fox Piven, Lawrence Mishel, Executive Director of the Economic Policy Institute, Peter Edelman of Georgetown University Law Center, a Clinton administration official who resigned in protest against Clinton's signing the welfare "reform" bill and Tom Woodruff, Executive Vice President of SEIU.
Lawrence Mishel contributed an article to DSA newsletter Democratic Left ,Summer 2003 entitled "The Jobs Crisis in 2003".[8]
In 2010, Mishel was still a DSA member.[9]
Campaign for America's Future
In 1996 Lawrence Mishel, Economic Policy Institute was one of the original 130 founders of Campaign for America's Future.[10]
On May 24, 2007, Agenda for Shared Prosperity, a project of the Democratic Socialists of America-dominated Economic Policy Institute, sponsored an event entitled "Getting Real About Families". Speaking at the event were Rep. Rosa DeLauro, introduced by Lawrence Mishel, Heidi Hartmann, introduced by Harold Meyerson, and Janet Gornick.[11]
Feb. 2009 EFCA statement
On February 24, 2009 Richard B. Freeman, Frank Levy and Lawrence Mishel, issued an Economic Policy Institute Employee Free Choice Act Statement on the Economic Policy Institute website, calling for the passage of the pro labor union Employee Free Choice Act.[12]
Statement endorsers included Lawrence Mishel, Economic Policy Institute.
Global Progressive Forum, Brussels 2009
Progressives from all over the world are getting together in Brussels on April 2-3, 2009 at the Global Progressive Forum to discuss how to create a better globalization for people[13]
17.00-18.30 Workshop 16 - Progressives; the way forward, followed by Closing Ceremony (Hemicycle)
National Jobs For All Coalition
In 2010, Lawrence Mishel, was listed as serving on the advisory board of the Democratic Socialists of America dominated National Jobs For All Coalition.[14]
"Employment: A Human Right"
Following the establishment of the Congressional Full Employment Caucus February 2014, Congressman John Conyers (D-Mich.) and Congresswoman Frederica Wilson (D-Fla.) are hosting a forum entitled, "Employment: A Human Right," moderated by Christina Bellantoni, Editor-in-Chief of Roll Call, this Wednesday, February 5th from 2 -- 3pm in 2226 Rayburn House Office Building. Esteemed panelists for this forum included: Dean Baker the Co-Director and Co-founder of the Center for Economic and Policy Research; John Cavanagh, Director of the Institute for Policy Studies; Phil Harvey, Professor of Law and Economics at Rutgers University; Thea Lee, Deputy Chief of Staff of the AFL-CIO; and Lawrence Mishel, President of the Economic Policy Insitute.[15]
"Progressive Agenda"
Signers of New York City Mayor Bill de Blasio's May 12, 2015 launched The Progressive Agenda to Combat Income Inequality included Lawrence Mishel- Economic Policy Institute.[16]
Retail Justice Alliance Steering Committee
As of 2015 the Retail Justice Alliance Steering Committee included;[17]
References