Kris Hamel
From KeyWiki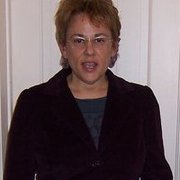 Kris Hamel is a member of the Detroit , Workers World Party.
WIDF
In May 2007, under the theme "Women of the World: a vital force against neoliberal globalization, terrorism and imperialist wars; for equality, social and economic justice and for peace," more than 1,000 women representing organizations from five continents met in Caracas, Venezuela, from April 9 through 14. They were joined by thousands of Venezuelan women who hosted the 14th Congress of the Women's International Democratic Federation.
Many women went from the U.S. The largest delegation was organized by African-American artist Vinie Burrows, who is also the WDIF representative to the U.N., and the National Women's Fightback Network of the International Action Center, an affiliate of the WIDF.
The Burrows delegation included representatives of the Granny Peace Brigade and the Women's International League for Peace & Freedom. The NWFN delegation included Susan Abulhawa, Palestinian writer and director of Playgrounds for Palestine; Brenda Stokely and Anna Wilson from the labor sector; Patricia Dahl, who works in solidarity with Colombia; Nellie Hester Bailey, co-founder and director of the Harlem Tenants Council; Sara Ann Mokuria, LeiLani Dowell, Liza Green, Jill Hill, Kris Hamel, Minnie Bruce Pratt, all from the NWFN.[1]
Moratorium NOW!
On Sept. 17, 2008, the Moratorium NOW! Coalition to Stop Foreclosures and Evictions sponsored a rally at the Michigan State Capitol, demanding the State Legislature enact SB 1306, a two-year foreclosure moratorium bill. Represented at the rally was UNITE HERE, Change to Win, United Auto Workers, Service Employees International Union, American Federation of Teachers, Green Party of Michigan, Detroit Greens, the Cynthia McKinney presidential campaign, Students for a Democratic Society, National Lawyers Guild, Workers World Party, Food Not Bombs, Critical Moment, Michigan Emergency Committee Against War & Injustice, Michigan Welfare Rights, Call 'Em Out, Latinos Unidos of Michigan, Grand Rapids Latino Community Coalition, Joint Religious Organizing Network for Action and Hope, Adrian Dominican Sisters & Associates for Peace. The following led or spoke at the rally: Sandra Hines and Abayomi Azikiwe of the Moratorium NOW!; Kris Hamel; Reverend Ed Rowe, Central United Methodist Church; State Representatives Gabe Leland, Shanelle Jackson, Bettie Cook Scott and Steve Tobocman; State Sen. Martha G. Scott; Rubie Curl-Pinkins and her daughter Nikki Curl; Jerry Goldberg, people's attorney and coalition leader; Juan Daniel Castro, Grand Rapids Latino Community Coalition; Linette Crosby; Larry Holmes, a leader of the Troops Out Now Coalition; Robert Pratt of UNITE HERE; and Rosendo Delgado of Latinos Unidos of Michigan.[2]
Moratorium NOW! is affiliated with the Bail Out the People Movement and is controlled by the Workers World Party. The organization's office is located at the Central United Methodist Church and holds meetings there.[3][4]
Workers World Party
Program Schedule for National Conference of Workers World Party: 50 Years in the Struggle for Revolution and Socialism.[5]
Sunday, November 15
Continuing Floor Discussion from Saturday Chair: Richard Kossally
Final Plenary Session: Building a Revolutionary Proletarian Party
Chair: Joyce Chediac; Speakers: Kris Hamel, Steve Kirschbaum, Dee Knight, Richard Kossally, Mike Martinez
Anti-Trump rally
Kris Hamel August 9, 2016 with Michael Raymond Mchahwar, Joe Mshahwar and Tomisław Michalak at Cobo Center, Detroit.
References