Ken Cockrel, Sr.
Jump to navigation
Jump to search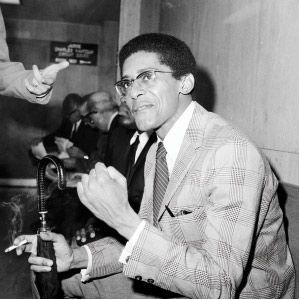 Template:TOCnestleft Ken Cockrel, Sr. served as one of Detroit's most powerful voices for social justice in the 1960s and 1970s. A self describe Marxist-Leninist, Cockrel "relentlessly challenged the racial and economic status quo in Detroit through his defense of African Americans in the courtroom, as an activist against police brutality, and then during a term as a city council member". Through his efforts on behalf of the people of Detroit, Cockrel became a leader in the city and was widely touted as a future mayor at the time that he died suddenly from a heart attack.[1]
Ken Cockrel was married to Sheila M. Cockrel and was the father of Kenneth V. Cockrel, Jr.
Early life
Cockrel was born in 1938 in Royal Oak Township. His father worked at the Ford Highland Park plant and his mother was the first African-American graduate of Lincoln High School in Ferndale, Michigan. Both his parents died when Cockrel was twelve years old and he went to live with relatives in Detroit. Cockrel attended Northwestern and Central High Schools but dropped out when he was seventeen. He served in the United States Air Force as an airman second class. After his discharge in 1959, Cockrel entered Wayne State University and graduated in 1964 with a degree in political science. He immediately enrolled in Wayne State's law school and received his law degree in 1967.[2]
Revolutionary Union Movement
In 1968 and 1969, former Wayne State students such as General Baker, Marian Kramer, Ken Cockrel, Ken Hamblin, Luke Tripp, Charles Johnson, and others organized the Revolutionary Union Movement in Detroit's auto plants, which culminated in the League of Revolutionary Black Workers. Some of the organizers who split from the League joined former SNCC leader James Forman and founded the Black Workers Congress.[3]
Legal activism
After receiving his law degree, Cockrel became a partner in the law firm of Philo, Maki, Cockrel, Rubb, Spearman, and Cooper and immediately launched a legal career that would change the social and political landscape of Detroit. Through a series of highly publicized cases, Cockrel highlighted the oppressive social structure under which Detroit African Americans lived. In his first such case, Cockrel, defended Alfred Hibbitt, who was accused of shooting two police officers in a 1969 shootout at the New Bethel Baptist Church. Cockrel won an acquittal for Hibbitt by citing the racist activities of the Detroit Police Department. Cockrel burst into the consciousness of all Detroit during the trial when he was charged with contempt for calling the presiding Recorders Court judge a 'lawless, racist, rogue bandit, thief, pirate, honky dog fool." He successfully defended himself against the contempt charge, partly by exposing that the Wayne County Jury Commission systematically insured that juries were overwhelmingly white, male, and middle class. In 1970 Cockrel successfully defended James Johnson who shot and killed a co-worker at a Chrysler auto plant. Cockrel won an acquittal by demonstrating the oppressive working conditions at the plant, which he argued pushed the defendant to a mental breakdown that resulted in the shooting. Cockrel also became the leader of the citizens group that led the protests against the Detroit Police Department's STRESS (Stop the Robberies-Enjoy Safe Streets) unit, which had a long record of police brutality in the African-American community. His successful defense of Hayward Brown, who was accused of shooting a Detroit police officer, hinged on demonstrating that Brown fired in self-defense because the actions of the STRESS unit had created a climate of fear among Detroit's African Americans. Coleman Young disbanded the STRESS unit when he became mayor in 1974.[4]
Council work
Cockrel was elected to the Detroit City Council in 1977 where he continued his fight for social justice. He was particularly vocal in his opposition to the granting of tax abatements to businesses in an attempt to keep them in the city. Cockrel retired from the Council in 1982 and returned to private legal practice. Cockrel's dedication was recognized by a variety of organizations. In 1973 he received the Distinguished Achievement Medal from the Detroit branch of the National Association for the Advancement of Colored People and the Outstanding Leadership Award in Civil Affairs from the Cotillion Club. In 1976 he received the Frank D. Reeves Award from the National Conference of Black Lawyers.[5]
Palestine Human Rights Campaign
A brochure came out in early 1978 announcing "A National Organizing Conference" sponsored by the Palestine Human Rights Campaign to be held on May 20-21, 1978, at American University, with the theme of "Palestinian Human Rights and Peace".
The list of "Sponsors" was a mix of a several groupings including the Communist Party USA and its sympathizers, the World Peace Council, the Hanoi Lobby, black extremists, mainly marxists, radical Christians, and Arab/Arab-American organizations, plus a few phone-booth sized pro-Palestinian Christian groups.
Individual sponsors of the event included Ken Cockrel, Sr., Detroit City Council.
References