Juan Lopez
From KeyWiki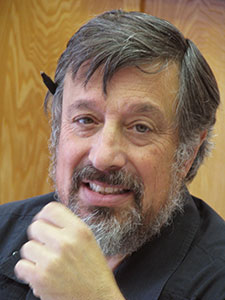 Juan Lopez is chairman of the Communist Party USA in northern California and statewide coordinator. He has been a labor and community activist during the nearly forty years he's lived in Oakland. He was formerly a member of the Teamsters Union and a shop steward.
WEB DuBois Clubs of America
In 2014, Juan Lopez was listed a a friend on the DuBois Clubs Facebook page.[1]
Communist Party Labor Day call
The Communist Party USA paper People's Weekly World issued a statement to mark Labor Day 1995, entitled "We honor the dead and fight like hell for the living."
Of the more than 100 endorsers listed, almost all were identified members of the Communist Party USA.
Juan Lopez, Oakland, was on the list.[2]
Endorsed Communist Party Call
On March 30 2002 the Communist Party USA paper People's Weekly World called for a national holiday in honor of late Farm Workers Union leader Cesar Chavez. The article was followed by a long list of endorsers[3]including Juan Lopez, Almost all endorsers were confirmed members of the Communist Party USA.
Communist Party USA
In September 2006 the People's Weekly World[4]listed several members of the California Communist Party USA.
Abe Blashko, Leo Blashko, Lilo Heller, Sara Alchermes, Armando Ramirez, Cassandra Lopez, Danny Morales, Gail Ryall, Jacqueline Cabasso, John Kitchenka, John Reiger, Juan Lopez, Marilyn Bechtel, Siri Margerin .
Chicano movement
The 40th Anniversary Commemoration Committee of the Chicano Moratoriums was formed in the summer 2009 by the Chair of the National Chicano Moratorium Committee of August 29, 1970 along with two independent Chicano Movement historians whom although not of the baby boomer generation, have become inspired by the Movimiento.
The organization posted a list of significant "Chicano movement" activists on its website which included Juan Lopez, of People's World.[5]
Ad-Hoc Left Committee
POLITICAL HIGHS, ECONOMIC LOWS: MANAGING U.S. DECLINE
Featuring Gary Younge, Author of "No Place Like Home: A Black Briton's Journey Through the Deep South"
THURSDAY, APRIL 30 2009 St. John's Church, San Francisco
Like previous events sponsored by this Ad Hoc Committee, this program is aimed at fostering dialogue and debate among leftists who see themselves operating within the left-wing-of-the-Obama-motion political space. If there are people sharing this broad viewpoint who you believe would be interested in participating in this conversation, we encourage you to extend this invitation to them.
Ad-Hoc Left Committee: Carl Bloice, Linda Burnham, Max Elbaum, Michelle Foy, Juan Lopez, Calvin Miaw, Giuliana Milanese, Maria Poblet, Tim Thomas, Mei-ying Williams, Steve Williams.[6]
Working for Ami Bera
Mik Diddams, Alex Farr, Michelle Kern, Nell Ranta, Juan Lopez, and several other Northern California Communist Party USA members also worked for Ami Bera in District 7, in the 2014 elections.
Stepping down
In 2014 Juan Lopez stepped down from his national leadership role with the party.
According to John Bachtell;
Juan marched in Selma during the Civil Rights movement, was editor of Voz del Pueblo, is the longtime district organizer for Northern California and has helped rebuild the Party throughout the western states.
Juan also an accomplished writer, and has made important political and ideological contributions on a range of issues including politics, the labor movement, immigration reform and the environment. [7]
References