Joseph A. Moore
Jump to navigation
Jump to search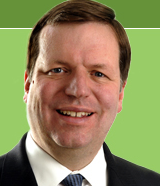 Template:TOCnestleft Joseph A. Moore is Chicago, IL Ward 49 Alderman with the Democratic Party.[1]
Progressive Chicago
A Progressive Chicago report to Keith Kelleher, dated October 27, 1993 listed several more contacts and potential members of the organization.
It stated that Alderman Joe Moore had agreed to participate and that State senator Alice Palmer was interested and was awaiting a call from Peter McClennon.
Members had been allocated people to contact;
Others targeted for contact, but not assigned, included Clem Balanoff, Sue Purrington of NOW, Jane Ramsey at JCUA, Erlean Collins, Westside Black elected officials and PUSH, TWO and Joe Gardner's Project Hope.[2]
Illinois Public Action
In 1996 members of the 120 strong board[3]of Illinois Public Action included Quentin Young, Congressmen Luis Gutierrez and Lane Evans, Chicago alderman Joe Moore and Peoria alderman Frank McNeil, State Senator Alice Palmer, State Representative Jan Schakowsky and Cook County Clerk David Orr.
Citizen Action of Illinois
In 1997 Joe Moore served on the board of directors of Citizen Action of Illinois.[4]
DSA endorsement
Among the Chicago Democratic Socialists of America endorsed candidates[5]in the 1998 Chicago municipal elections were Toni Preckwinkle (4th), Michael Chandler (24th) and Joe Moore (49th) who easily won re-election with landslide victories.
Anti Iraq War activism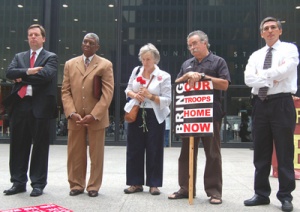 Supporting Obama in 2004 U.S. Senate campaign
While outside the Democratic Party mainstream, Barack Obama was able to win his 2004 U.S. senate race by stitching together a coalition of socialist/communist dominated unions and "community organisations".
Obama has also received the backing of several independent Latino elected officials led by State Sen. Miguel del Valle, Rep. Cynthia Soto and Alderman Ray Colon. Alderman Joe Moore also backed Obama, as did USAction leader William McNary.
From the From the Communist Party USA paper Peoples Weekly World February 28th 2004;
The race for the Democratic nomination for the open U.S. Senate seat in Illinois has boiled down to a three-person race, according to polls. Millionaire Blair Hull has a slight lead after pouring $18 million of his own money into an advertising blitz. State Sen. Barak Obama and State Controller Dan Hynes trail him, with a large undecided vote remaining. The primary will be held March 16.
Of all the candidates, Obama can boast the most diverse support. While Hynes has the backing of the state AFL-CIO and the bulk of the Democratic machine, Obama has the support of several key unions including the American Federation of State, County, and Municipal Employees; Service Employees; Hotel Employees and Restaurant Employees; the state American Federation of Teachers; Chicago Teachers Union and Teamsters Local 705, the second largest in the country. Obama has a 90 percent voting record on labor issues in the Illinois Senate.
In addition to widespread support in the African American community, Obama has also received the backing of several independent Latino elected officials led by State Sen. Miguel del Valle, Rep. Cynthia Soto and Alderman Ray Colon. Alderman Joe Moore from the North Side is also backing him.
Crossroads Fund
In 2007, Joe Moore was an honorary host for the 25th Anniversary of the Crossroads Fund.[6] The fund, founded in 1981 supports community organizations working on "issues of social and economic justice" in the Chicago area.
Progressives for Obama
In 2009 Joe Moore 49th Ward Alderman, Chicago was listed as a signer of the Progressives for Obama website.[7]
Endorsed Communist Party affiliate's State Rep. run
On June 25, 2011, Communist Party USA affiliate Rudy Lozano, Jr. announced his second bid for State Representative, for the 21st District.[8]
Lozano's listed endorsers were;
External links
References