Jews United For Justice
From KeyWiki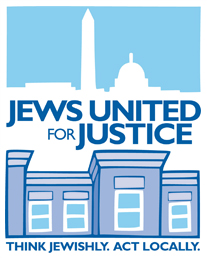 Jews United for Justice was created in April, 1998, by a small group of Jews in the greater Washington, D.C. area.
Campaigns
Current Campaigns
Fair Purple Line : Ensure that the proposed light rail Purple Line benefits communities along its route and does not price residents out of their homes and businesses
Respect DC : the Living Wages, Healthy Communities Coalition demands that Wal-mart agree to paying a living wage and treating workers and communities with dignity
Invest in DC : balance the DC budget through progressive taxes and new revenue
Upcoming Campaigns and Events
April 10, 2011: The Labor Seder gathers the Jewish and progressive communities at Passover through a seder linking the Jewish freedom story to present struggles.
Summer 2011: the Paid Sick Days for Restaurant Workers Campaign, led by the Restaurant Opportunities Center, advocating for the right to sick leave for DC restaurant workers excluded from the 2008 Sick and Safe Days Act.
Summer 2011: Labor on the Bimah engages over 40 congregations each Labor Day Weekend in workers' rights education.
Ongoing Projects
Anti-Racism Working Group highlights of race issues in the DC area and within the Jewish community, Tikkun Leil Shabbat, partner minyan/prayer group draws dozens of attendees for songful Friday night services, followed by a social justice teaching and a potluck dinner. (every three weeks)
JUFJ in Northern Virginia is organizing new members in Arlington and Alexandria to take action for immigrants' rights. The Jeremiah Fellowship educates and trains youth to become the next generation of Jewish social justice change makers. (2010-11 cohort in progress)
Justice and Jewish Thought is a, salon-style discussion series about contemporary justice issues. (spring 2011 cohort in progress)
Past Campaigns
Domestic Worker Rights
DC Voting Rights
Day Laborer Justice
Mandatory Inclusionary Zoning
Eviction Prevention/Emergency Assistance
Hotel Worker Rights
Living Wages in DC and Montgomery County
Parking Worker Rights
Personnel
Board Members
Staff
References