Jake Bell
From KeyWiki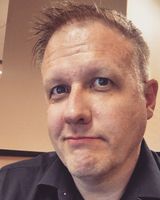 Jake Bell, is a member of the Phoenix Democratic Socialists of America.[1]
NPC candidate
In August 2017 Jake Bell stood for election to the Democratic Socialists of America National Political Committee, at the National Convention in Chicago, from Phoenix Democratic Socialists of America.[2]
Since February, I have been working to build the DSA Phoenix chapter, the first DSA chapter in Arizona history. In the ensuing months, a few of our members have referred to me as the "Johnny Appleseed of Arizona socialism" for the drives I've made to Tucson and Flagstaff to help local chapters take root to our south and north.
I currently make a living writing user guides and other technical documents for software that's used to help run self-storage facilities, which, fortunately, leaves me plenty of time to maintain the @DSA_Phoenix social media accounts for roughly 17 hours a day. In the past, I have paid my bills as a children's author who's sold over 125,000 books, a union pipefitter (UA Local 469), and a reporter for television and radio.
I have two degrees, but when I was accepted to the PhD program at Arizona State University's Cronkite School of Journalism in 2013, I had to decline because I am already carrying more student loan debt than I'll pay off in my lifetime from my MBA. As a single dad with a daughter two years away from starting college, one of my most selfish interests in socialism is trying to help her, her classmates, and anyone else who wants to learn from being burdened for life as a result.
I began my political organizing work stuffing envelopes in John McCain's senate office across the street from the Mesa Public Library when I was in 7th grade. I went on to briefly volunteer with McCain's primary campaign in 2000.
Last year, after fighting a losing battle for Bernie, I was more energized than I had been by winning with Obama. Determined to continue the fight, I discovered DSA.
For months, I waited for someone who knew what they were doing to start a Phoenix chapter, but it never happened. Finally, I signed up New York for the YDS Revolution at the Crossroads, where I became known as "that old guy who flew in from Phoenix with his daughter." I took the lessons about organizing from that event, returned to Phoenix, and found a group of comrades ready to start a chapter.
In the months from that meeting to today, I have recruited dozens of new members to our chapter. I have set up and attended the inaugural meetings of the DSA Tucson (organizing committee has recently submitted bylaws) and DSA Flagstaff chapters. I have been the primary contact for our chapter, and have coordinated efforts with Progressive Democrats of America, CAIR, Lucha, Puente, Unite Here, Civic Engagement Beyond Voting, and other progressive groups in Phoenix on actions such as demonstrations at Senator Jeff Flake's office, the CWA's AT&T strike, and several community service events to feed poor and homeless Arizonans.[3]
Democratic Socialists of America Unity
Jake Bell supported the Democratic Socialists of America Unity grouping, established for the 2017 Democratic Socialists of America National Convention in Chicago.[4]
DSA Immigrants Rights Committee
In September 2017 Jake Bell of Phoenix Democratic Socialists of America, was a member of the Democratic Socialists of America Immigrants Rights Committee.[5]
References